Amazon is not only famous for its speedy and reliable delivery services. It is also famous for its technology line up, which can make your life a lot more comfortable and convenient. One of the most well-known products is the Amazon Echo Devices. Even though they release the new edition every year, Amazon customers, can't resist to upgrade their current one. Prime members can have the most benefit if they own one too. It is so simple to set up, easy to use. The best part is it can integrate with a lot of different device. Thanks to its smart AI – Alexa – the Amazon Echo Devices is capable of turning your home into a smart one.
In today's how-to article, we will show you how to set up an Amazon Echo Devices. Of course, the most important thing, is you have to own one first. Here are the step by step instruction.
Step 1: Download and open the Alexa app (Android – Google Play) and iOS(App Store) on your smartphone or tablet. The app should be free to install. If it asks you to purchase, then you are downloading the wrong app.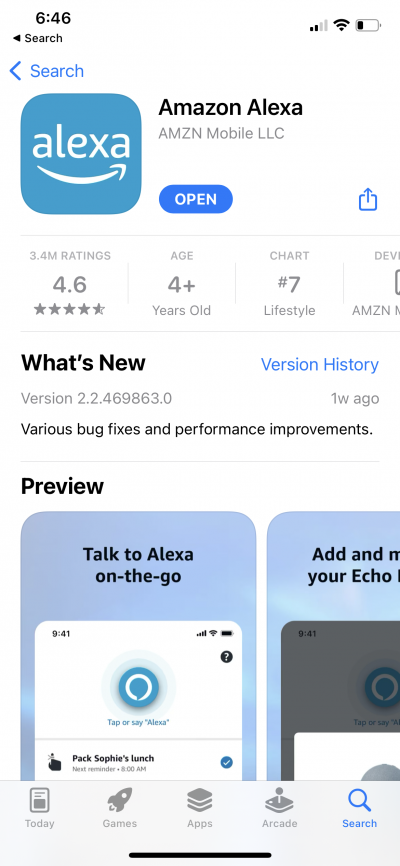 Step 2: Wait for the app to finish downloading and installing. Open the app and you will see the following interface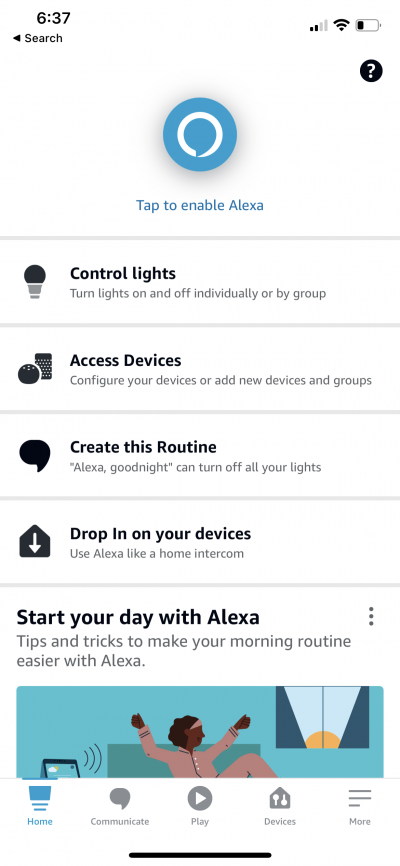 This is the HOME interface. On here, there are a lot of shot cuts that you can do with Alexa devices. You can control lights, access and configure connected devices, use Alexa-devices as home intercoms and so on.
Step 3: Press the Devices tab at the bottom of the screen. This is where you can manage and connect new devices.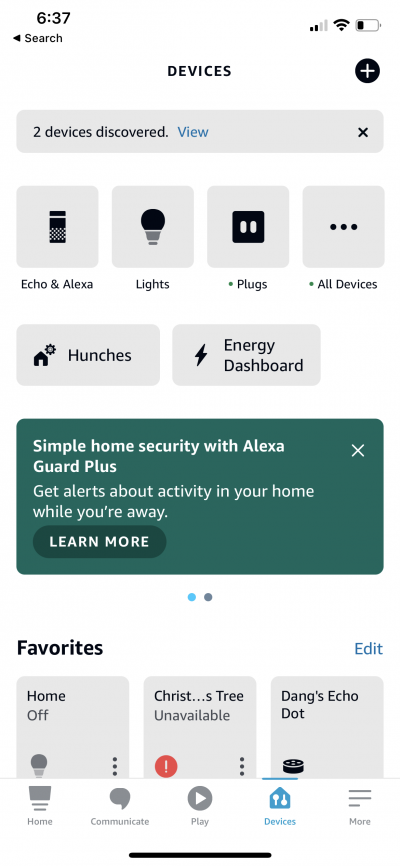 On this screen, you can also see Device's status as well.
Step 4: In the top right corner, there will be a plus sign. Press that button to add the new device. This is also where you can add other Alexa enabled devices as well.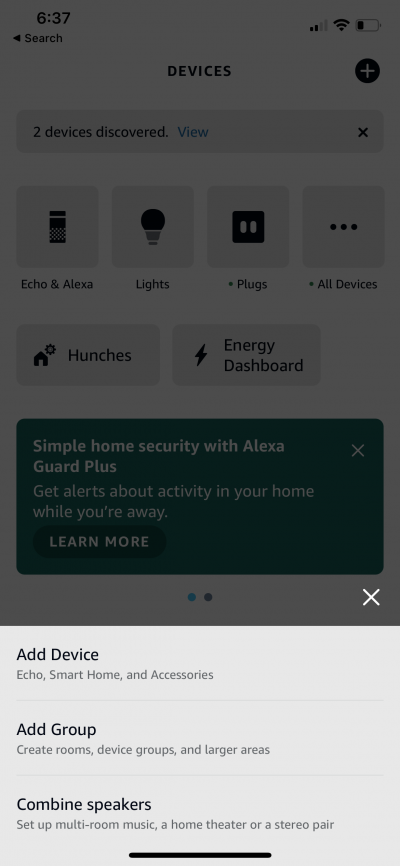 Step 5: "Add Device."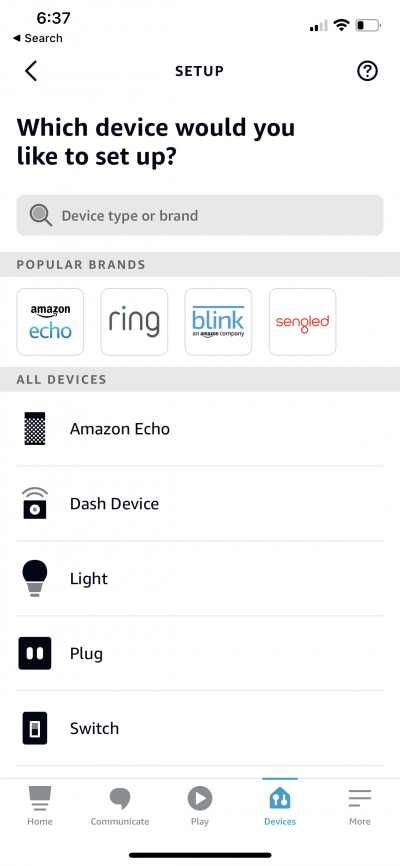 After selecting Add Device, the app will present you a lot of different options. In here, you can set up light, Dash devices, smart plug, smart switch, etc.
Step 6: Press the Amazon Echo icon, followed by the Echo Dot / Echo / Echo Plus icon that appears on the next screen.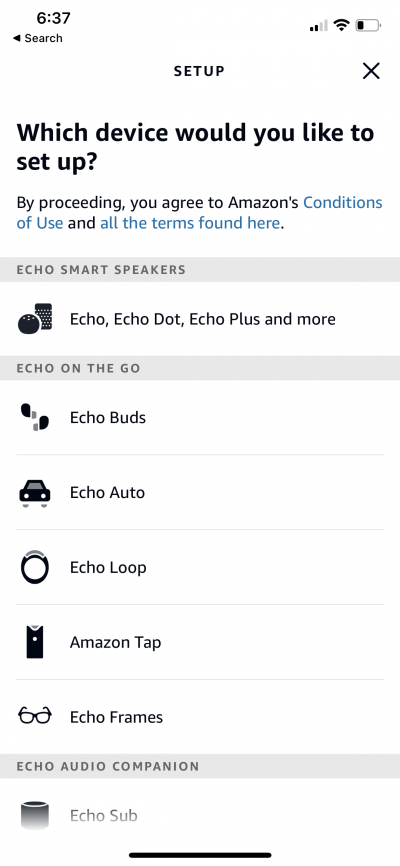 Step 7: For this step, you need to plug in your Amazon Echo device. At first, it will have the blue light. After that, the light will change to orange. Don't worry about it, it just goes to the SETUP mode. You also need to ensure your smart phone is having this screen as well. After your Amazon Echo device displays orange light, click Next button.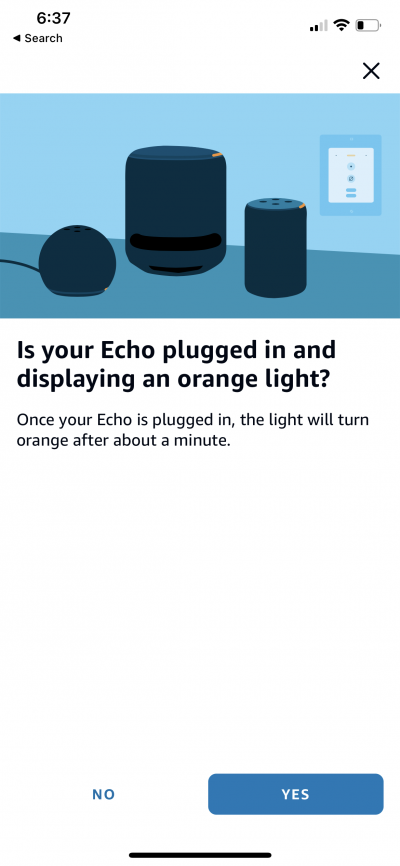 Step 8: The phone will search for your device to connect it. Once it appears on your device, please select it. You'll be prompted to go to your Wi-Fi settings. Once there, select the network called "Amazon-XXX." Then, return to the Alexa app.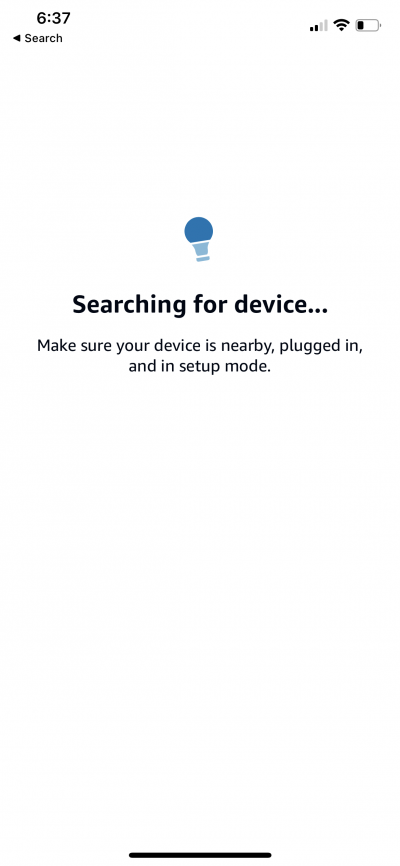 Step 9: At this step, you will have to select one of your WiFi network. If you want to connect all your smart devices to Alexa later, make sure they are all in the same network. It is not a problem if the network requires password.
Step 10: After successfully connecting to the network, you can select an external speaker for your Amazon Echo Device. This is an optional step so feel free to skip it.
Step 11: You can also create the Room where your Alexa is. Feel free to create a new one if needed.
Troubleshoot: you might run to the problem as the below image. This happens when the smart phone is unable to find your Amazon Echo device. If you have the 1st or the 2nd generation Echo device, you can enter Manual Setup. Also, make sure to stay close to your Amazon Echo devices during this set up as well.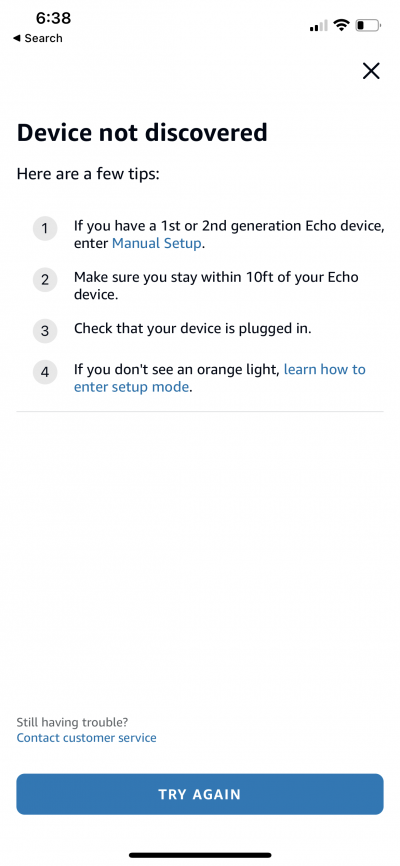 Troubleshoot for 1st / 2nd generation device: 
the most important part of manually setting up Amazon Echo device is the local network permission. Make sure that you grant permission to the Amazon
Echo
device to connect to your network.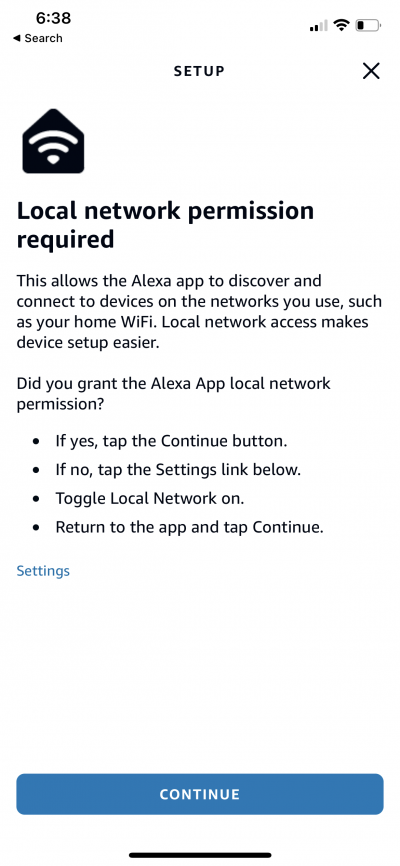 And that is how you set up your Amazon Echo devices. This is the first step in having a smart home. I hope you find this article useful.
You can also purchase the latest Amazon Echo at this
link
If you can't find me at the table coding, then you can find me at another table playing boardgames. I want to share the fun, the intense, the `ah-ha` moments, the sabotage, the nerve wracking experience … that Boardgames can offer to the community.