Software and Hardware provider Hewlett-Packard (HP) company has came up with a business tablet that is the HP ELITEPAD 900 for the market. By keeping an eye on iPad and other tablet success and usage, HP has developed a new ElitePad tablet that merges features of both computer and tablet in this new device.  We have heard of tablets, phablets (phone tablets), would this be called a lablet?. HP presented this tablet with two kinds of memory options that are 32 GB storage which will cost you around $799 and 64 GB storage which will cost you $900.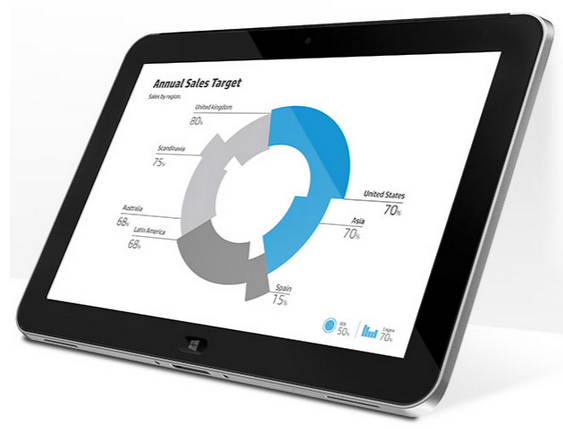 Features of the HP ElitePad 900 :
Device and Display:
The HP ElitePad 900 is consists of aluminium which makes it a stronger and gives a classy and fabulous look. It's weight is equal to that of iPad which is 630 gm. The Elitepad is equipped with resolution of 1280 x 800 pixels with 10.1 inch of touchscreen display which isn't the best in class but should be sufficient. You will experience a high quality screen with the gorilla glass 2 layer that gives protection from scratches and brushes. The HP ElitePad 900 display has all the main features that will provide you a better experience with the Windows 8 Operating System. It provides fantastic viewing angles which are quite impressive and shows off good colors even at difficult angles.  The Apple ipad has a 9.7 inch display area, so you will appreciate the 10.1 inch screen.
Camera:
The ElitePad has a 1080p front facing camera and an 8 megapixel rear camera with LED flash.  (Yep flash on a tablet camera).  The ElitePad also includes YouCam – The ultimate webcam software  that give you an amazing video chat experience. The camera quality of this device is definitely better than an iPad.
OS and Processor:
The ElitePad 900 runs on Windows 8 Pro Operating System with 1.8 GHZ dual core processor and 2 GB RAM that provide the capability of multitasking and faster processing. As compared to this apple iPad has an 1 GHZ of cortex A9 processor and consist of iOS 6 operating system.  Now this is Windows 8 Pro and not Windows RT so this will provide you the full Windows 8 experience.
Connectivity:
For connectivity purposes the ElitePad tablet  has a USB port, supports WiFi (a,b,g,n) and supports NFC. The tablet also provides HDMI port connectivity.
The battery on the ElitePad 900 claims it will give you around 8 hours of life. With extra battery life this tablet can run for 16-17 hours continuously. Interesting thing is that HP has also given an exclusive tablet pen. Using a pen we can write on tablet screen and send an instant message.  Taking this tactic from the Samsung Galaxy Note perhaps?
Conclusion and Verdict:
HP ElitePad 900 definitely has a high end finish and design elements that make it is quite easy to handle . The Windows 8 Pro OS provides a high quality UI which makes it convenient to use and makes this a very viable business tablet. The HP ElitePad is a new generation of tablet mostly useful to business or corporate world, but could play value to anyone who wants the convenience of a tablet and the power of Windows 8 Operating systems.  If you want to stay on Windows instead of buying into the Apple iOS (if you are one who hasn't yet), then this could be the tablet for you)
Feel free to ask questions and share views about the HP ElitePad 900.
I loves to blog about Android, Blogging Tips, Reviews of Products, Software, Gadget, how to articles and many more thing. My other interests includes playing cricket, Web Designing and Music. Catch me on Twitter and on Facebook