We are influencers and brand affiliates.  This post contains affiliate links, most which go to Amazon and are Geo-Affiliate links to nearest Amazon store.
When it comes to gaming on the PC it's great because you have so many options as far as exactly what you can have put into your computer these days from the graphics cards to the sound, it's really up to you. However that can get a little expensive when it comes to building your own gaming PC. So if you are looking for a PC that is just ready to go and will suit your gaming needs look no further as I explain to you why you should purchase the HP Envy Phoenix.
Features
The first thing you will immediately notice about HP Envy Phoenix h9-1320t  is as soon as you power it on it presents a beautiful red LED light on the right side through a transparent window which gives it that look and feel of what I expect a gaming PC to look like. On top of the tower there is a curved surface that houses 2 USB 3.0 ports as well as a headphone and microphone jack. On top of the tower towards the front right is where you will find a very unique spot for the Power button. Coming down the front of the tower are some indicators that will let you know when your hard drive is being accessed as well as if the built-in 802.11a/b/g/n Wi-Fi is connected. The tower also features a CD/Blu-Ray RW Drive and and an expansion bay for those who want to have an extra CD/DVD/Blu-Ray drive.
Also on the front of the tower there is a red LED light that seems to divide the top front half of the tower from the bottom. Just below that is a compartment that slides down to reveal xD/Smart Media port, Compact Flash port, SD and Pro Duo ports. Not to mention this compartment also has four USB 2.0 ports. The finish of the tower is a very metallic black finish so it will look great in pretty much any setting. The back of the tower includes four more USB 2.0 port as well as another pair of USB 3.0 ports altogether giving the user a total of 4 USB 3.0 ports and 8 USB 2.0 ports which should not be a concern when it comes to having plenty of places to plug in any of your USB devices.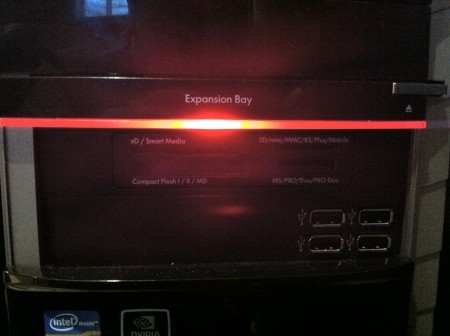 Another great thing about the HP Envy Phoenix h9-1350 is that is does in fact come with an HDMI port so you can plug it right into your TV if you want to play your games that way. It also has a VGA, DVI and DisplayPort outputs in case your monitor does not feature those as well. Also there is a optical connection for digital 7.1 surround sound which works great considering the integrated Beats Audio that the Phoenix also includes. The Phoenix come with a 2TB HDD which will give gamers plenty of space to hold all of their games as well as music, movies and more. Windows 8 does come pre-loaded with the PC and there is even an included fifteen month subscription of Norton Internet Security and a lot of other software that comes pre-loaded that most PC's don't even offer. The Phoenix does have a limited two-year warranty as well.
Performance
Being a gamer myself I made certain that I took this PC to it's limits. The Phoenix was able to run games very smoothly and with no issues that I found whatsoever. I played Skyrim on it and was able to have the setting on Ultra High, the Phoenix was able to handle it  quite well. The PC does have 12GB of RAM, a Intel Core i7-3770K processor that is powered by a 600W power supply and a 2GB NVIDIA GeForce GTX 680 graphics card that has 2GB of memory, and of course all of which can be upgraded. I spent most of my time with the PC seeing just so far I could push it graphically and just to see how well it works with quite a few games on the system. I can definitely say that this PC has had no issues with any programs I ran on it or any games that I played. It was able to handle a 1920×1080 resolution with games like NBA 2K13 and Skyrim like I mentioned before.
Now it's time for those benchmarks! I used a very easy to use and free benchmark PC software called "NovaBench" when push to it's limits here are the results this PC was able to pump out:
Microsoft Windows 8
 Intel Core i7-3770K 3.50GHz running at 3501 MHz
 NVIDIA GeForce GTX 680 GPU
12227 MB System RAM 
– RAM Speed: 13768 MB/s
CPU Tests 
– Floating Point Operations/Second: 205817944
– Integer Operations/Second: 924425240
– MD5 Hashes Generated/Second: 1319661
Graphics Tests 
– 3D Frames Per Second: 2366
Hardware Tests 
– Primary Partition Capacity: 1841 GB
– Drive Write Speed: 214 MB/s
Overall
If you are someone who is looking to simply purchase a gaming PC without all the possible hassle of trying to build your own for a decent price and want some of the best gaming graphics a desktop PC can provide I highly recommend the HP Phoenix Envy. It is a very easy to use PC which works great not just for the gamer, but for the entire family to enjoy. 
Disclaimer: HP sent me this HP Envy Phoenix h9-1320t to review. The opinions are 100% mine alone.  The HP Envy Phoenix h9-1320t is not available on Amazon.com but the 1350 model is and is very equivalent except with the AMD 7670 graphics card.
We are influencers and brand affiliates.  This post contains affiliate links, most which go to Amazon and are Geo-Affiliate links to nearest Amazon store.
I've been writing and covering many forms of entertainment such as comedy shows, and arcade bars as well as reviewing video games and more for the past decade. I love to write and I am blessed to be able to have the opportunities that I have had in the entertainment and technology fields.