We are influencers and brand affiliates.  This post contains affiliate links, most which go to Amazon and are Geo-Affiliate links to nearest Amazon store.
In order to gain more engagement, businesses are integrating their Instagram accounts with WordPress. In order to do so, they are making use of popular and simple Instagram WordPress themes that will help them to do their work in an easy manner. Unlike any other social media network, Instagram focuses on the visual content only. You can share videos and images on Instagram and if you choose all the right and ideal tools, you will be able to display all your content on the WordPress website as well.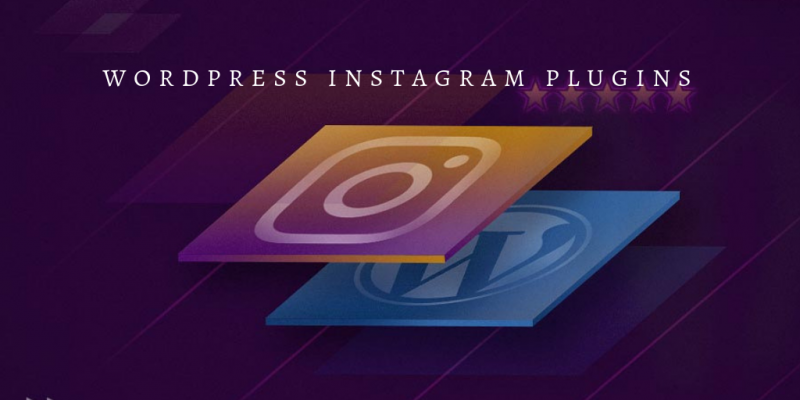 It does not matter if you're looking for a stylish or a simple manner of displaying the latest and unique content that you have posted on the Instagram profile; there are numerous WordPress themes that can help you. However, the simplicity factor is not associated with all the WordPress themes. This is why it is important to have a proper knowledge about the best possible WordPress themes that can be installed and set up in an easy manner, without having to go through any complications.
EasyNote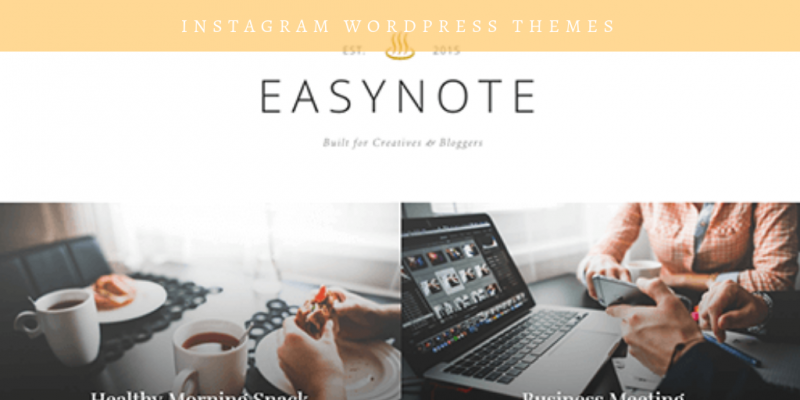 This theme provides you a simple manner of adding the Instagram widget. You can add it directly to the footer of this WordPress theme. It has a clean and minimal design, which provides with a lot of room for breathing. The layouts are also ideal and it is absolutely perfect for a number of formats of different kinds of articles. You can also upgrade the navigation system in a convenient manner.
Instagram Journal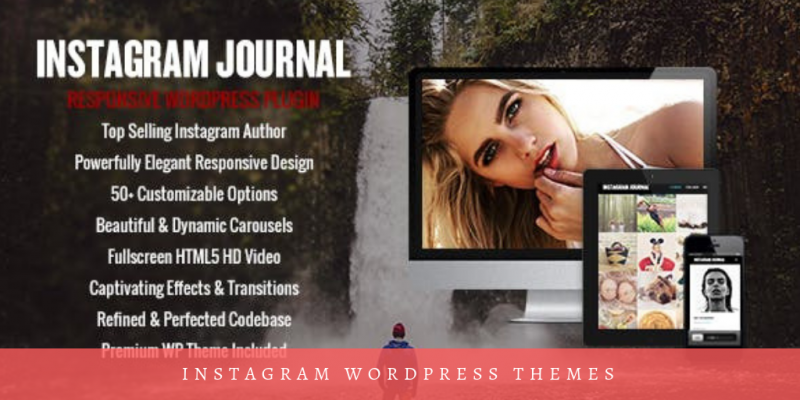 This is an ideal WordPress theme, which provides you with all the ideal tools that are required for publishing the Instagram content, which you have posted recently on separate websites. It is not just a theme but it is also a plug-in and you can use it if you are starting your website for the very first time.
PressGrid
PressGrid is one of the most unique WordPress themes, which is known to come with the front end system of publishing. This theme is considered perfect especially if you are setting a website up for your Instagram community or any other social networking community. It further comes with the embedding system, for the Instagram and Twitter posts. It is also known to support a number of formats of posts, that include audio, video, and quotes. As an added bonus, the theme consists of the unique reaction system, which allows your followers to rate all your posts with different emojis, and this particular feature is similar to that of Facebook.
Nubia
Nubia is another minimal blogging theme, which is known to feature a beautiful and stylish layout for your blog. This feature helps in providing a lot of focus to the image thumbnails. This is why; most of the bloggers consider this to be a perfect theme that goes with the Instagram account, especially if there are lifestyle or travel bloggers. You will also get a stylish and amazing Instagram feed and it also includes the author widget.
Gallery
Gallery is an extremely powerful theme, which comes with the card style blog in a grid layout. The theme is the best when it comes to creating a website especially for the food recipe blogs or the fashion design blogs. It also consists of multiple layouts for the image gallery and is powered by the plugins known as Envira Gallery. If you have just started and you're looking for something simple and convenient to use, this is the one that you should consider.
Portada
It is not an easy task to locate an Instagram WordPress theme that is not only simple but also elegant. Portada is one such blog theme, which is clean and features a simple layout. It is responsible for effectively highlighting all the posts with clear and large previews of the images. This is what makes the theme the best choice if you are setting your blog or website in order to accompany either your Instagram or your Facebook account. The theme is also known to support the WooCommerce plug-in and the RTL languages. To gain more fame and popularity, you can visit Gramblast for gaining likes on your posts.
Seil
Seil is another extremely responsive blogging theme, which features a grid-based layout for your blog. This theme will allow you to set up a simple and easy blog theme as well as the journal website, if that is what you want, without having to face any kind of complications. It is also known to feature a number of unique layouts for the blog posts that include audio and video formats, and a support for the gallery. You have the freedom of adjusting the total length of the columns of your post in accordance with the preference that you have.
Cavan
This theme has been designed for the bloggers, who create a diverse range of amazing contents on a number of topics. Every time you decide to publish new articles on the website, you have the option of selecting from the different post layouts and you can also decide the different widgets, which you want to display right beside the content. Among all the other widgets that are there, you can select the Instagram feed option, which will permit you to integrate the site with the social media account.
Calla
This theme is absolutely perfect for selling services and products directly from the website. Along with the various e-commerce templates, there are also a number of page designs that you can select for your blog, portfolio, or any other content that your site is going to need. The theme also includes an Instagram widget, which will help you to integrate your social media feed with your WordPress site.
HolaLady
This theme is the best for the lifestyle and fashion bloggers and a number of other sites as well. It does not matter if you are only sharing content or you are offering an array of services, or you are promoting a particular product from the website, you will get all the unique features as well as templates that are required. You also have the option of setting up the entire website according to your wishes.
Conclusion
These WordPress Instagram themes are extremely renowned because of the simplicity and elegance that they possess. You can select from these themes and integrate your Instagram account with your WordPress site easily.
We are influencers and brand affiliates.  This post contains affiliate links, most which go to Amazon and are Geo-Affiliate links to nearest Amazon store.
I am interested in all things technology, especially automation, robotics and tech that helps change how society will live in the future.