A very specific product with a specific purpose, this is the review of the Inateck 2.4GHZ Wireless Pointer Control Powerpoint Presentation Remote Control.  This device happened to be something my wife needed to use as part of her doing some presentations so I worked on the demo, setup and review with her during the "trial run" and she ran her presentation at a restaurant for a group without issue with the Inateck Powerpoint Presentation Remote control.
First, when using the controller, it pairs with your PC using a 2.4GZ wireless dongle.  You plug it into a USB port and you are good to go, you have to make sure your Windows device has a USB port, if you have MicroUSB only with OTG, you will need a USB adapter to convert from MicroUSB to USB.  This would be if you are using a Windows tablet for example, but the Surface Pro 3 came with a single USB port so this was tested with it.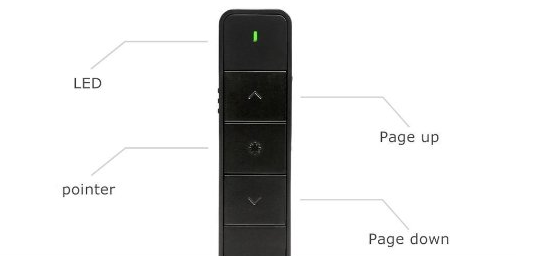 On the remote itself, was easier to show the diagram on the product page.  Page Up is really "backward" not forward, and this was the only part that seemed not natural, one would think "up" would slide forward in the deck instead of backward, but it works like "up and down" on a page, not forward and back like a horizontal slide deck.  My wife had commented that she wished the "up" would move the slide forward as was more natural to have the thumb next to the up than further down the stick.
The laser pointer itself is a nice touch and if the room is dark and you are using a white board or have a projection screen, the laser pointer can help specifically highlight or emphasize something on the projection.  The pointer light itself however isn't visible if you are pointing it at an LED screen or monitor screen of a presentation or in brightly lit rooms, so unless you have projection based presentations in relatively darker rooms you won't use the laser pointer that often during presentations.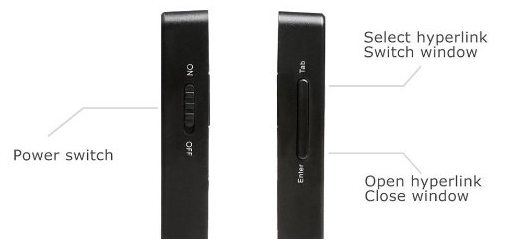 The power off switch is useful to conserve battery life on the remote, also having a select/close button is nice if you need to select and open links in a presentation.  The range on the remote is also very good and they advertise up to 66′ distance but we were only able to test up to about 20′ and it worked without issue.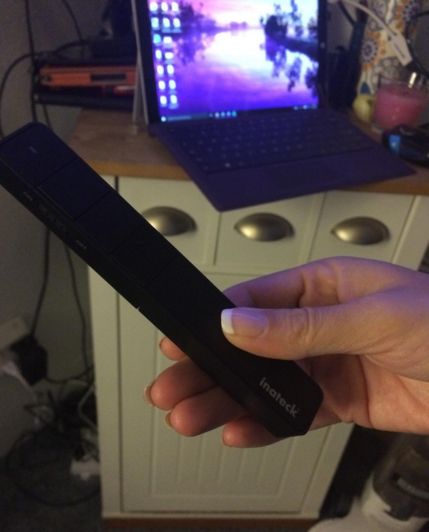 If you find yourself giving a lot of PowerPoint presentations, the Inateck 2.4GHZ Wireless Pointer Control Powerpoint Presentation Remote Control is a valuable device to help save you time and not keep you grounded in front of your laptop having to click the mouse or press a key to move the slide forward.  This allows you to be more animated and move around during your presentations to keep your audience engaged and focused more and lets you move your slides along when you want to without interrupting your presentation.  Overall this was a fantastic product that delivered exactly as it advertised.
Disclaimer:  Inateck provided us with the Inateck 2.4GHZ Wireless Pointer Control Powerpoint Presentation Remote Control for us to do a thorough and accurate review. All opinions are 100% mine and mine alone.