Inateck® 30W 4-Port Desktop USB Travel Charger Multiport Travel Adapter for iPhone 5s 5c 5; iPad Air Mini; Galaxy S5 S4; Note 3 2; the new HTC one (M8); Nexus, Kindle, iPad, iPod, Smartphones, 5V Tablets, Bluetooth Speakers and Other USB-Powered Devices, Supports USB Charging Protocol BC1.2
Sometimes no matter where you are whether you're on the go or at your home you ten to have a lot of your devices that need a charge that use a USB port scattered all over the place. Your phone in one area, your video game controller in another and etc. Well Inateck makes it really easy to keep up to four of your devices charging all in one easy to access location with their USB 4 Port Charging Station.
One of the first things you will notice about the charging station is how small the device is and just how easy Inateck makes the device portable for you to take with you on the go. The front of the device has four USB 1.5A charging ports as well as a indicator light on the left side letting you know when the device itself is on. The charging port is able to charge up to four devices at a time and works on any Apple, Samsung or HTC device as well as most major devices such as LG.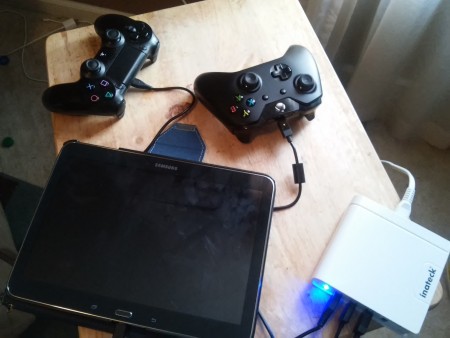 I tested the capabilities of the charging port on my LG Volt smartphone and the device is rather quick at producing a charge. The charging port took my device up to 45 minutes to get a full charge from my device being dead. However, you would probably be better off charging your device into an actual outlet since it tends to be a lot quicker especially with how fast most Apple phones and tablets charge when plugged into a wall outlet.
The one thing that I really like about this device is how it allows you to keep up to four of your devices charging at the same time, but in the same location. As I mentioned at the start of this review having things scattered about your home can make keeping track of where things are charged a bit of a pain. What I love about this device for someone who is a gamer such as myself is that I can plug in my video game controller to the device and let it charge and still keep it right next to me while I play whereas with some charging cables for some video game controllers are not very long this allows me to keep the controller next to me while still getting a charge.
All-in-all if you are looking for a way to keep your devices charging together or even be able to still play your games due to sitting far away from your console and want to keep your controller charged the Inateck USB 4 Port Charging Station does an excellent job of making things easier for you.
I've been writing and covering many forms of entertainment such as comedy shows, and arcade bars as well as reviewing video games and more for the past decade. I love to write and I am blessed to be able to have the opportunities that I have had in the entertainment and technology fields.