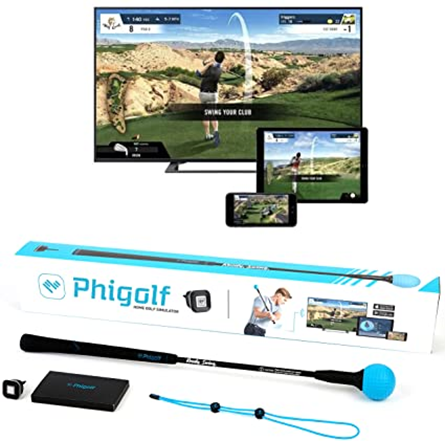 Looking for an ultra-realistic golf simulator?
Golf is for many a difficult sport and requires a lot of practice to improve. You must train precision to improve the level of play. It is an ideal sport to spend time with family or friends. Surely not everyone has the facility to practice golf every day and this can significantly affect their level of play. The good news is that there are now intelligent simulations to improve accuracy in each shot. Golf simulations are ideal for improving accuracy and also serve to train beginners. You need to be careful when buying a golf simulator. Keep in mind that not all simulators offer satisfactory quality and it is important to buy a good quality golf simulator. Buying a golf simulator can be difficult if you have never bought one. That's why I took it upon myself to look for a realistic, accurate, and available simulator at a good price. The Phigolf WGT is a golf simulator characterized by having a realistic sensor to obtain an experience as close to reality as possible. If you are looking for a golf simulator with these features you would surely like to know more about this product.
Feature of the Phigolf WGT golf simulator
The Phigolf WGT is surely one of the best golf simulators. The main feature of this simulator is that it has a smart sensor to offer a realistic experience.  This golf simulator works with Bluetooth connectivity and can view the game on a TV, tablet, or cell phone.  When you use this simulator you will get an experience similar to when you hit a ball. Another feature is that the system can help improve shooting accuracy thanks to the smart sensor, so you can receive feedback while playing. The simulator also offers interesting lessons to improve posture, shooting speed, and much more. The Phigolf WGT offers a package of 76 courses to significantly improve your level of play. Surely the best feature of simulating is that you can play online with other players to get a more realistic experience.  You can also play locally.  Please note that only 4 players can join a local match.  This golf simulator is easy to set up and will only take a few minutes to start playing. Everyone can use this simulator from beginners to experts. You can install the Phigolf app on Android and iOS devices to go online and get courses.
Watch the Full Review for PHIGOLF Smart Golf Simulator
Summary
If you are looking for a realistic golf simulator surely the Phigolf WGT is what you need. It is a simulator with interesting features. Keep in mind that no simulator offers the same experience as playing golf, but it is an option to improve your level of play. With this simulator, you can play online with other players, plus you can play locally with 4 players.
You can buy this item here: Phigolf WGT Edition Mobile and Home Smart Golf Simulator with Swing Stick, Golf Swing Trainer Aid Equipped with Motion Sensor & 3D Swing Analysis, Compatibe with Phones, Tablet PCs & TVs : Sports & Outdoors (amazon.com)