Responding to AMD's eight core AMD-fx(bulldozer) range of processors, Intel has launched the Sandy Bridge E series processors that have six cores and has an computational speed of 3.3Ghz that can be boosted to 3.9Ghz through TurboBoost.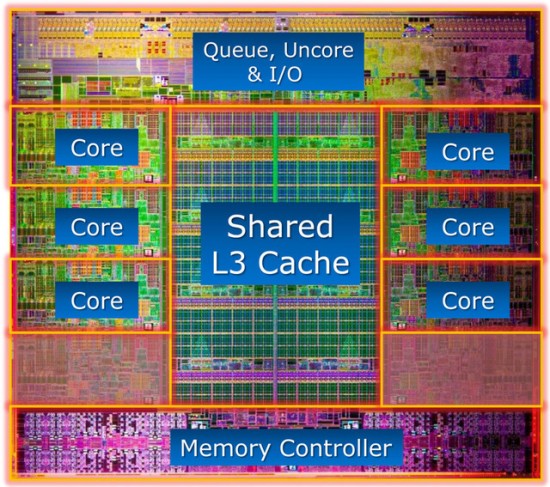 The first processor to be manufactured is the Core i7-3960X Extreme Edition,manufactured using Intel's 32nm process node that has around 2.28 billion transistors. The Sandy Bridge-E CPUs will have 6 active  cores that can each process two threads simultaneously via Intel Hyper-Threading technology. Although, the chip actually has eight cores on board (two inactive), due to power and temperature problems, only six are active at this time. These processors will support up to 15MB of shared L3 Intel Smart Cache and also an quad-channel memory controllers with support for DDR3 memory at 1600MHz.
[easyazon_image asin="B00603QXPW" alt="Intel Core i7-3960X 3.3 1 LGA 2011 Processor – BX80619I73960X" src="http://ecx.images-amazon.com/images/I/31AL9m1De-L.jpg" align="center" width="200″ height="200″]
Intel Core i7-3960X Extreme Edition Specifications

CPU Base frequency: 3.3GHz
TDP: 130W
Core/ Threads: 6/12
Max Turbo Frequency: 3.9GHz
DDR3 Memory Controller: Quad-Channel 1600MHz
L3 Cache: 15MB
Integrated Graphics: No
Intel Hyper-Threading technology
Intel Advanced Vector Extensions (AVX)
Intel AES-NI
Intel Virtualization technology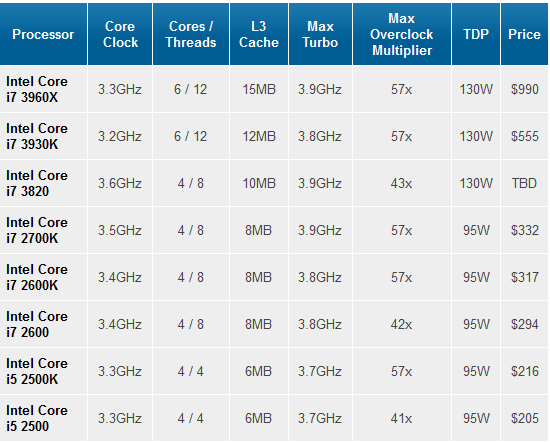 Is it worth the buy?
It is certainly faster than AMD FX-8150 thanks to Intel Hyper Threading technology and an enormous L3 cache.The main reason no one would buy is because of it's cost, 990$ , AMD FX-8150, it's closest competitor  is just 270$ .The best thing to do is to wait until produces another faster and a lower cost chip.
[easyazon_block asin="B00603QXPW"]