Apple's latest announcements regarding the iPhone 5S have been met with mostly mixed results. Despite the hardware tweaks and improvements, critics note that the innovations on the upcoming model seem few and far between. One innovation Apple is hoping will attract buyers is the addition of the Touch ID fingerprint scanner. The scanner in question is intended to act as an alternative to securing your iPhone with a password and attempt to further protect your phone from invasion.
Quite a few have been wondering what was Apple's thought process behind the decision. The reason is actually very simple. Apple's mobile products from day one have been very touch focused. Adding a touch activated lock does seem like the logical next step. The problem rests in the fact that smartphone users may not necessarily want their security protected by a mere thumbprint. To alleviate the worry regarding privacy or security compromises, Apple SVP of Hardware Engineering Dan Riccio stated this in an iPhone 5S promo video.
All fingerprint information is encrypted. It is stored inside the "secure enclave" in our new A7 chip. Here it is locked away from everything else – accessible only by the Touch ID sensor. It's never available to other software, it's never stored on Apple servers, or backed up to iCloud. (Source: iPhone 5S Promo Video)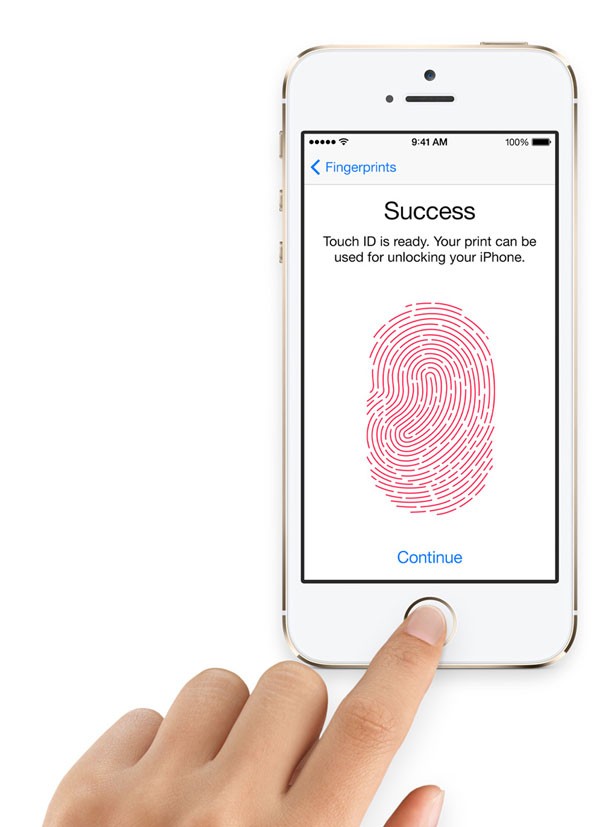 While this does provide a hint of relief, an additional concern surrounding the scanner is how finicky it may be. ABC News Reporter Joanna Stern stated that she had no problem whatsoever with the locking mechanism and could not fool the device in their quick test run. (Source: iPhone 5C and 5S: Hardware Upgrades Fueled by a More Important Software Upgrade) Other Apple testers have had similar positive results but noticed a few quirks. Apparently the sensor doesn't like sweat and will also act up when touched by lotioned fingers. At least the latter scenario can be avoided but sweaty fingers come with the territory when using smartphone and touch products.
The real problem lies in the fact that the fingerprint scanner is severely compromised by the lack of support for multiple user accounts on one iPhone. While the Touch ID scanner does allow up to 5 fingerprints, each one will open up the exact same home screen configuration, images, and songs. All five users can purchase apps with their registered fingerprint but the bill will be footed to the main iPhone owner's App Store account (or whichever App Store account that is currently logged in). This glaring oversight may hamper people's desire to flip the setting on and hopefully Apple will find a way to address the issue.
It is quite easy to nitpick every little problem that may arise in the scanner but the truth of the matter is that we must simply wait and see. Personally, I think I'll stick to the simple and trusty password system for now.
Mitra Faridian first joined the site in 2011 under the handle "Persian Poetess." Her gaming and entertainment taste is very eclectic and she's always open to a fun new virtual adverture. Email her at the following address: mitra [at] dragonblogger.com