We are influencers and brand affiliates.  This post contains affiliate links, most which go to Amazon and are Geo-Affiliate links to nearest Amazon store.
IRULU is a brand I actually haven't heard of before they contacted us to do some tablet reviews.  They have come out with some interesting offerings in the Android tablet world and in particular these are an extremely low cost tablet for kids but also what is possibly the least expensive Octa-Core tablet which  I have here called thee IRULU X1 Pro Lightning 10.1 inch tablet.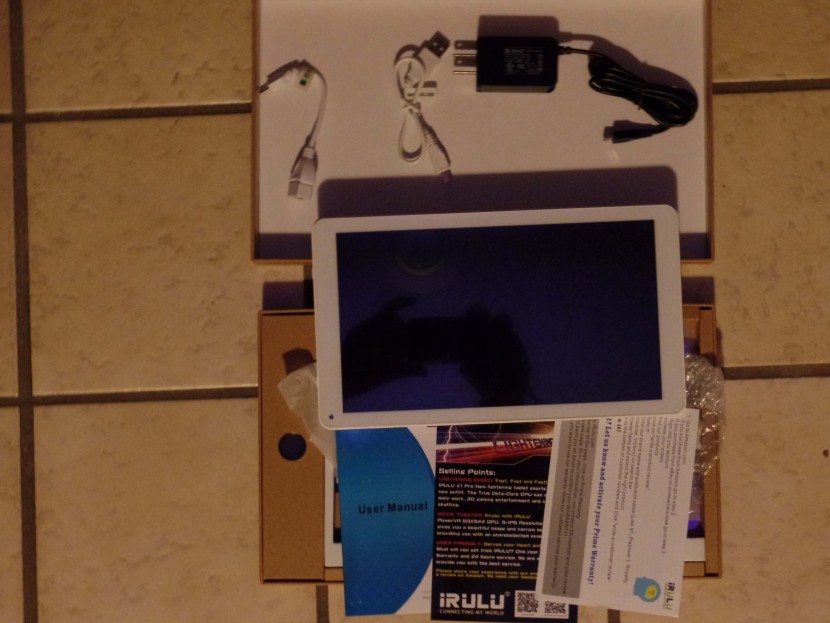 The specs:
10.1 in S-IPS Screenat 1024×600
 Octa-Core CPU (yes 8)
1 GIG DDR3 RAM
16 GIG storage
MICRO SD Card slot to expand storage
HDMI out
Bluetooth 4.0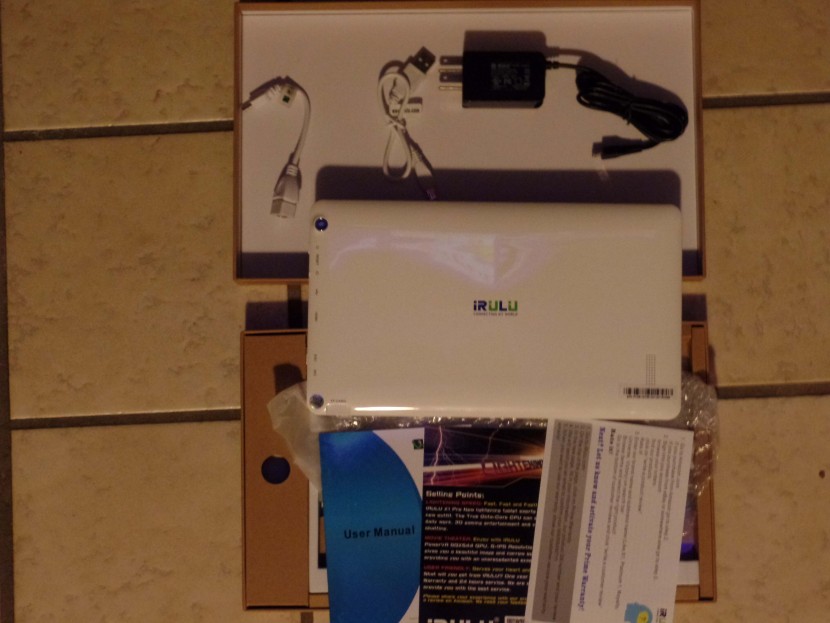 In the box:
10.1 inch tablet
Wall power cable
Micro USB cord
UTG cable (nice)
This X1 Lightning from IRULU is running Android 4.4.4 KitKat.  It is mostly their own version of Android with some small tweak and branding but not far from vanilla Android.   So you won't get the updates straight from Google but they do have their own version of wireless updates.  I wouldn't suggest rooting the device as they clearly state attempts or rooting will void warranty instantly.  The wireless updates are something I have not seen in an unfamiliar brand of Android Tablet.  Usually if they do not get their updates from Google directly you have to manually update the tablet so this is a nice change of pace and something I hope to test in the future as upgrading the Tablet OS was something that caused me some pause when working with these unfamiliar brands of Android tablets before.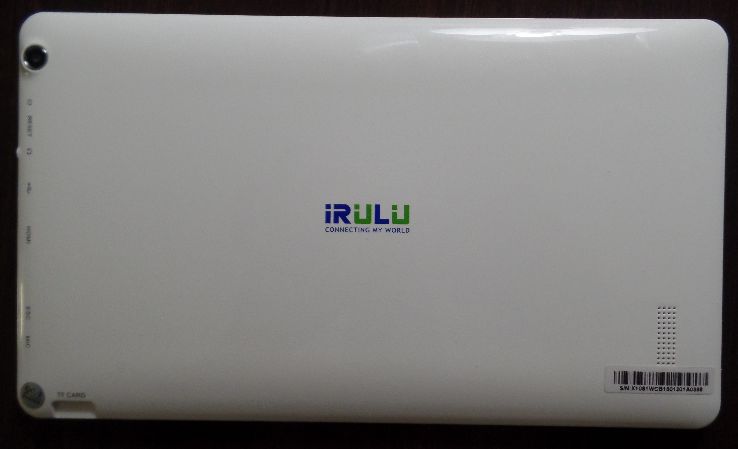 The Octa-Core CPU provides the zip you would expect.  Even with the 1 GIG of RAM it is still snappy.  Games are crisp and I didn't see any lag while playing the handful of games that I did play   I did some video chats with the wife and kids and that went well. though you could clearly tell it was a 2MP camera but it handled it fairly well for the low resolution.  I played the standard time consuming Candy Crush, Clah Of Clans and Fruit Ninja with ease.  I got the Sonic CD for free from Amazon and the X1 Lightning kept up with that speedy Hedgehog.  One of my kids played Pocket Mine craft and asked me to trade their Nexus 7 for this X1 Lightning.  They love how it looked, played and the view on the 10.1 inch screen was almost as good as playing it on the Xbox 360 on a big screen.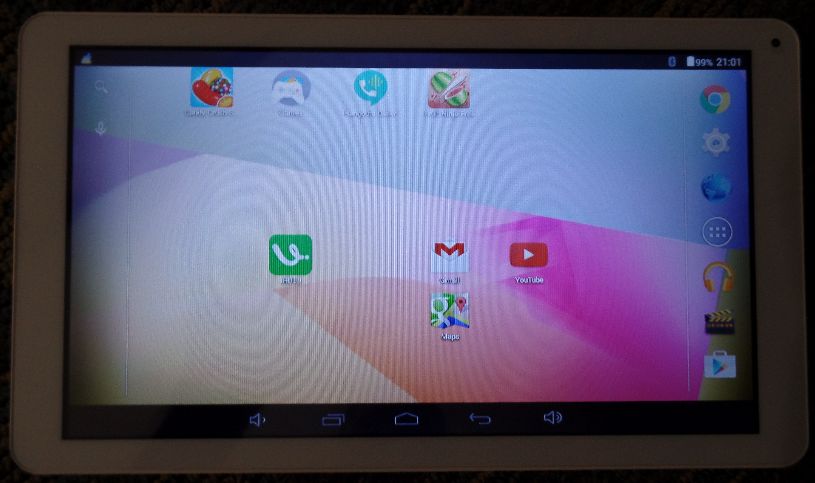 If 16 GIGs of storage isn't enough you do have a Micro SD card slot and they provide a UTG cable which allows you to plug in a stand USB stick.  Something I was impressed with and not having to buy one of those UTG cables is a very nice add on especially when this tablet is so well priced. For connectivity you have Wi-Fi supporting B,G and N.  You also get Bluetooth to stream music to a speaker or use a Bluetooth keyboard and/or mouse.  Fairly standard on tablets but always nice to have these days.  Web browsing is quick when I connected to my Wireless-N network.  On par with my Nexus 7 which is impressive considering the price difference.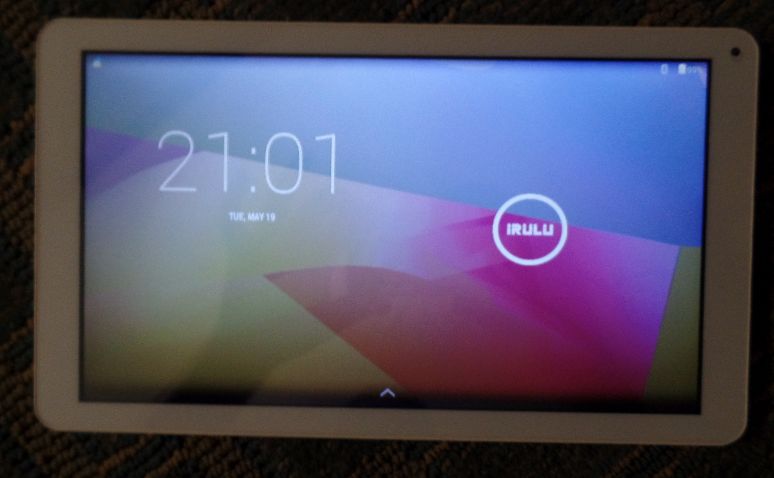 Here are some bench marks from Antutu:
It does have HDMI out if you would like to stream that movie to a TV or to a monitor.  Another nice to have on a tablet, and with a keyboard and mouse connected it is very much like a PC interaction.  HDMI out is becoming more common but not so common you don't notice it when it is an option, no HDMI output cable is included however so you will have to buy a Micro-HDMI cable separately.
The screen is a 10.1 inch S-IPS (Super IPS, next gen IPS) which provides better pixel refreshing.  It does have some issues with clarity at different angles this is in part because it has a 160 degree viewing angle vs 178 degrees in some other tablets, but straight on viewing is good.  Movies and images look good as long as you can have the right viewing angle, I would say it isn't as ideal if you want 2-3 people to watch a movie from different positions due to the limited viewing angle.
The IRULU X1 Lightning has a single speaker.  If turned speaker side up sound isn't bad that bad, nothing you are going to throw a dance party with but audible for podcasts and some music listening.  Honestly though you are better off using a Bluetooth speaker or headset and I usually am using headphones or streaming to a Bluetooth speaker.  Both of those are on par with other tablets I have used however so I wouldn't say the speaker is worse than other budget tablets that I have reviewed.
Battery life is suggested to be around 6 hours.  Now we all know that really depends on what you are doing and what brightness the screen is at.  I used the tablet for podcast listening, a movie and some web browsing and got around 4 hours.  I wasn't running it at full brightness but it was above what the auto adjustment of brightness would have been at, I am pretty sure you may be able to stretch 6 hours with no Bluetooth, low brightess and casual surfing or reading only, but I doubt it will handle gaming or playing movies for 6 hours based on the battery usage so far.  I will be running full battery testing soon as well as benchmark apps in an upcoming post but so far the 8 core CPU really helps alleviate the multi-tasking issue of Android tablets that bog down quickly.
On Amazon you can get this iRULU X1 Lightning for $99.99 which for a solid 10.1 tablet which is a fantastic deal in itself for an Octa-Core tablet.
We are influencers and brand affiliates.  This post contains affiliate links, most which go to Amazon and are Geo-Affiliate links to nearest Amazon store.
I am just a geek getting older but keeping up.