LG Display is already a leader in manufacturing thin high quality panels. A lot of major companies use these panels in their devices, a popular one being LG Electronics. So the big South Korean flat panel maker, LG Display, unveiled an Organic Light Emitting Diode panel on May 19th. This is a detachable panel which sticks to the wall.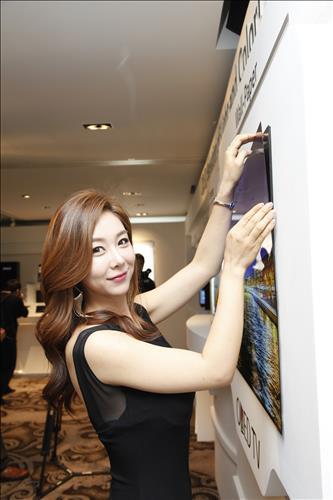 The panel is measured to weigh 1.9 kg and is only 0.97 mm thick. For comparison LG's current flagship, a 55-inch OLED panel, is 4.3 mm thick. You could literally stack 25 of these new panels as sheets of paper and still be shy of an inch. That is really impressive.
LG has been trying to push OLED panels because these allow for far more slimmer televisions and display units because they themselves emit light instead of having a light source behind them, like in traditional LCDs. Currently we do not know which clients LG Display Co. is going to sell these panels to, except for LG Electronics.
However. OLED displays have their problems too. For one, don't expect this to be cheap. Secondly, OLED displays still suffer from burn-ins (some, not all) and they still have low lifespan issues. For example, if you leave an OLED display running 24 hours a day, then after about 5 years you'd be left with a sheet of screen. If you use your TV for about 6 hours a day then you're looking at 20+ years however.
I'm a teenager, trying to earn a few extra bucks to keep my gaming and tech dreams up to date, Hence I'd appreciate it if you'd read/share and comment on my articles. I've been writing for this website for about a year now and have finally collected enough to buy this ( http://imgur.com/a/fYqPC ) I always welcome feedback and constructive criticism. I prefer writing about the latest gadgets and the happenings in the gaming world.