You know I watched the trailer for Journey to the Savage Planet below and immediately think it looks like a more action combat oriented No Man's Sky based on the little teaser trailer.
CALABASAS, Calif. – March 26, 2019 – Following the first-look hands-off demos of Journey to the Savage Planet at the Game Developers' Conference (GDC) last week, Montreal-based Typhoon Studios have released a short environmental teaser video and new screenshots showcasing the colorful, vibrant and even  humorous world of their debut game, coming to PlayStation 4, Xbox One and PC in early 2020.
Journey to the Savage Planet is an aspirational and upbeat first-person adventure and exploration game set in a bright and colorful alien world filled with weird and wonderful creatures. As an employee of Kindred Aerospace, which proudly touts its rating as the "4th Best Interstellar Exploration Company," players are dropped onto the uncharted planet AR-Y 26, deep in a fictitious, far-away corner of the universe. Launched with high hopes but little equipment and no real plan, players are invited to explore, catalogue alien flora and fauna and determine if this strange planet is fit for human habitation.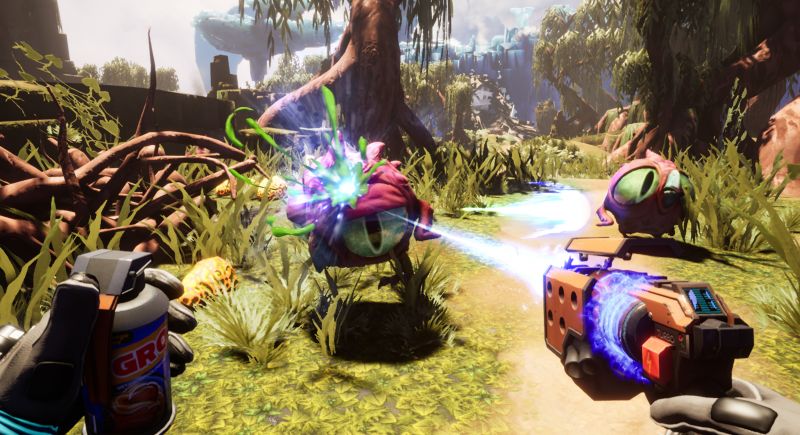 "As a studio we have a deep love of Golden Age science fiction, but it feels like some of the positivity and sense of adventure has been lost in recent years," said Alex Hutchinson, creative director and Typhoon Studios co-founder. "There are too many dystopias for my tastes, so we wanted Journey to the Savage Planet to give space exploration its sense of adventure back in homage to those early sci fantasies and add a comedic twist. This teaser is just a small taste of what we've been working on; we can't wait to show off more in the coming months."
Global video games publisher 505 Games will bring Journey to the Savage Planet to PlayStation 4, Xbox One and the Epic Games store for PC in early 2020. 
For more information about Journey to the Savage Planet, visit www.savageplanetgame.com and follow @PlaySavagePlanet on Facebook and @4thBestInSpace on Twitter. For more information about 505 Games and its products, visit www.505games.com.
About 505 Games
505 Games, a subsidiary of the Italian entertainment company Digital Bros., is a global video game publisher focused on offering a broad selection of titles for players of all ages and skill levels. The company publishes and distributes premium and free-to-play games on leading console, PC and handheld platforms as well as for mobile devices and social networks.
Publishing highlights in premium games include Last Day of June, PAYDAY 2, Terraria, Portal Knights, Laser League, Assetto Corsa, ABZÛ, Virginia, Brothers – A Tale of Two Sons and How to Survive. Free-to-play publishing highlights include Battle Islands, Gems of War and Hawken. Distribution highlights include No Man's Sky, Hellblade: Senua's Sacrifice, Stardew Valley, Dead by Daylight and Inside/Limbo. Upcoming titles include Remedy's Control, Indivisible (from the development team behind Skullgirls), Journey to the Savage Planet, and Koji Igarashi's next project, Bloodstained: Ritual of the Night.
505 Games has offices in California, United Kingdom, France, Germany, Italy, Spain, China and Japan.
The company works with a network of distribution and sub-licensing partners in all other markets.  For more information on 505 Games and its products please visit www.505games.com.
About Typhoon Studios
Typhoon Studios is a new company, launched in 2017, dedicated to building bright, bombastic games that let players, not developers, drive the action. Strong flavors, lots of intertwined systems, a penchant for bad jokes and a deep and abiding love of collaborative play drives us. Our first game is coming soon. Gird your loins. Typhoon Studios is based in Montreal, Quebec. Its partners include MAKERS Fund and EPIC, makers of Unreal Engine. For more information about Typhoon Studios, please visit www.typhoonstudios.com.