It was ironic that I first learned about Bloggers.com from Karen over at Blazing Minds who wrote an article about being the featured blogger on that network.  So I decided to join up shortly after reading her article and make Bloggers.com part of my normal round of social networking.
In less than I week I received a congratulations from someone for being the featured blogger on Bloggers.com.  I checked myself and sure enough my profile was featured on the home page.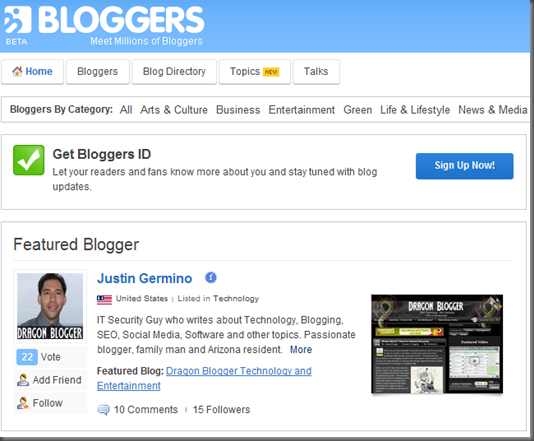 Now Bloggers.com reminds me a little of BlogCatalog only in how the people communicate with each other, it also has the ability to friend others, comment on their walls and follow each others blogs.  Last time I checked I estimated close to 3,000 bloggers already listed in the system and it is rapidly growing.  Though I haven't seen any hard referral traffic coming from Bloggers.com the expanded social media profile and presence is something I consider important if you are a blogger trying to reach as much exposure as possible.
Feel free to connect with Dragon Blogger on Bloggers and benefit from this growing blogging social network.
-Dragon Blogger