You can make your Kindle Fire print to any Wi-Fi compatible printer by using an app like EasyPrint and configuring Google Cloud Printing service on your computer.
Before you even install EasyPrint you can save time by setting up Google Cloud Print and configuring your printers to connect to Cloud Print.
Setting up Google Cloud Print
Log into Google Cloud Print with your Google Account
Setup either a Cloud Printer or Classic Printer.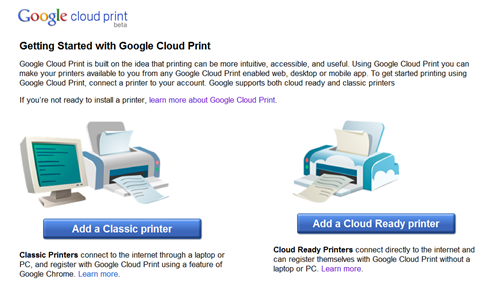 Classic Printer setup instructions

Log in to your user account on the Windows or Mac computer.
Open Google Chrome.
Click the wrench icon on the browser toolbar.
Select Options (Preferences on Mac).
Click the Under the Hood tab.
Scroll down to the "Google Cloud Print" section. Click Sign in to Google Cloud Print.
In the window that appears, sign in with your Google Account to enable the Google Cloud Print connector.
A printer confirmation message appears and click Finish printer registration.
You'll see a confirmation that Google Cloud Print has been enabled. Click Manage your printers to learn more.
Now you should see your printers available from Google cloud print.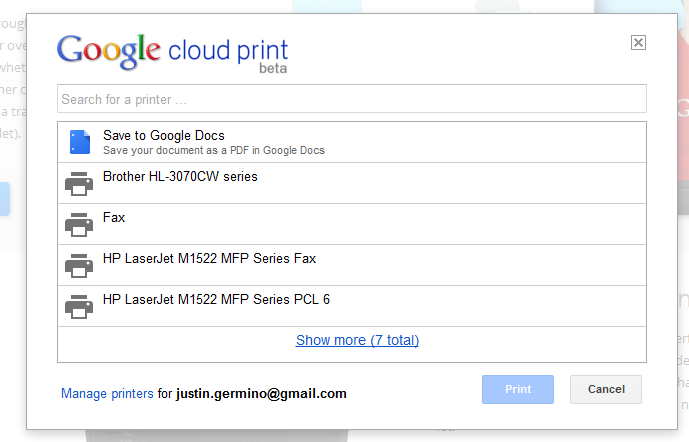 Setup EasyPrint on your Kindle Fire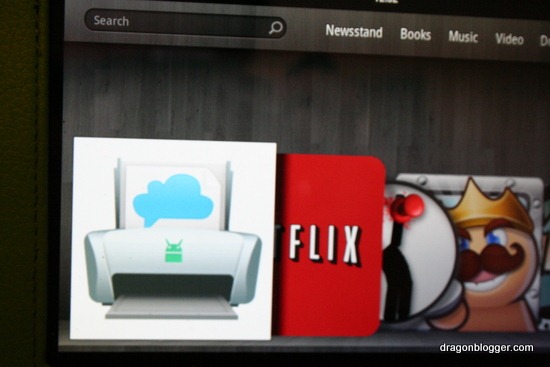 Once you install easy print, open it up and add your Google account.
After you add to Google Account you simply printers and then select which one you want to be your default printer.  You can change later.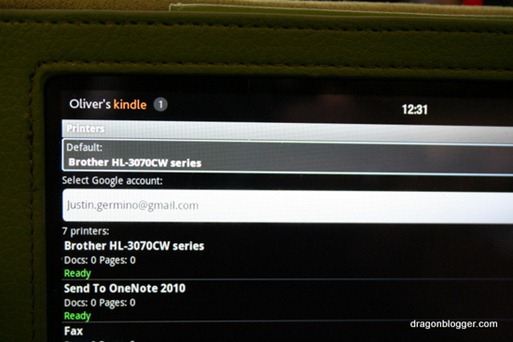 Now,  you can go to Print Document and print any document on your Kindle Fire (it will show you the file explorer so you can select your document)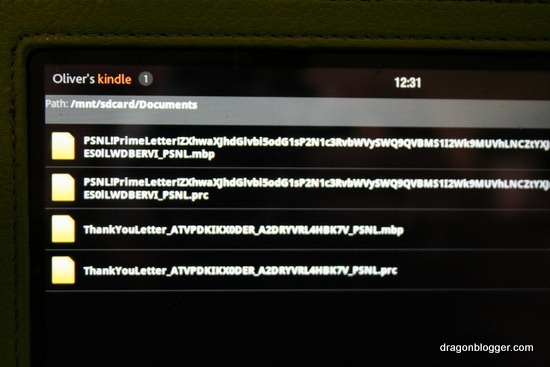 Or you can select Print Google Docs and print any one of your Google documents stored online from your Kindle Fire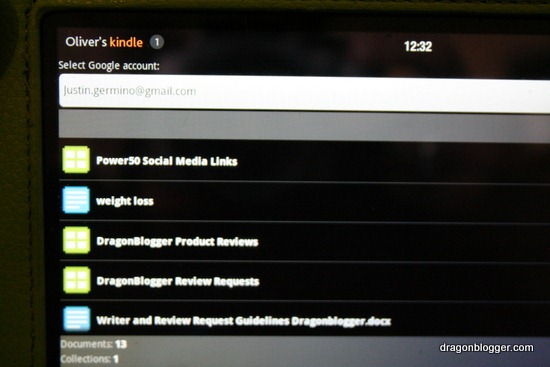 With EasyPrint you now can print to any printer in your house from your Kindle Fire leveraging Google's awesome Cloud Print Service.
Printing Web Pages
To print a web page you will need to use an application like Web Snapshots which can save a website as a .pdf file.
Then you would just print the .pdf website document as you would any other .pdf file
Download Web Snapshots for free (but if you want ad free, you need to pay for the .99 cent version)
Happy Printing from your Kindle Fire!
-Dragon Blogger
[easyazon_block align="center" asin="B008GFRE5A" locale="us"]