Check out my overview of the KingDian S280 SSD before reading further:
Hey guys, coming in pretty late with this, but a few weeks ago I received the KingDian S280 240GB SSD, I have had the chance to install Windows 10 on it, play some games, and use it day to day. What I have experienced with the KingDian S280 is nothing short of great. In this review, I will be discussing some of the main features and performance of this SSD from KingDian. Let's get underway:
Here are some main features of this SSD and a couple pictures I took with the KingDian S280 SSD
● SDRAM: Support one module DDR3 up-to 4Gbits
● Sequential data read and write performance are up to 559.7MB/s and 422.4MB/s
● Fully compliant with SATA revision 3.1, compatible with SATA 1.5 / 3.0 interface
Benchmark:

Let's dive straight into the good stuff with this SSD!
The first benchmark I wanted to do was a boot speed benchmark. To do this, I used BootRacer, a free program to determine boot time. Heres my results!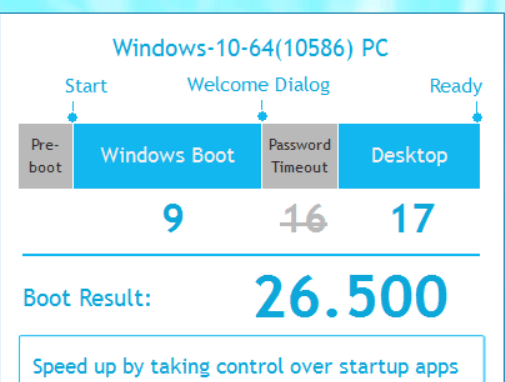 What BootRacer does is first measure your initial Windows boot time and after you've typed in your password (if you have one, and it does not take this into consideration when performing it's benchmark) and then how long it takes for Windows to load up every program you have set to run on boot. I performed this test on a bare Windows 10 64-bit slate. I only had the startup programs that come with Windows being started at boot (don't let it confuse ya). After the test was all said and done, my "Boot Result" score came out to a 26.500. Is that good? Well, let's see.
To the average person this score doesn't mean much, so I went ahead and jumped over to a fellow writer's article of another SSD review and pulled some results of his comparisons (this is my first SSD). Here's what we got, mind you he is using an older version of Windows!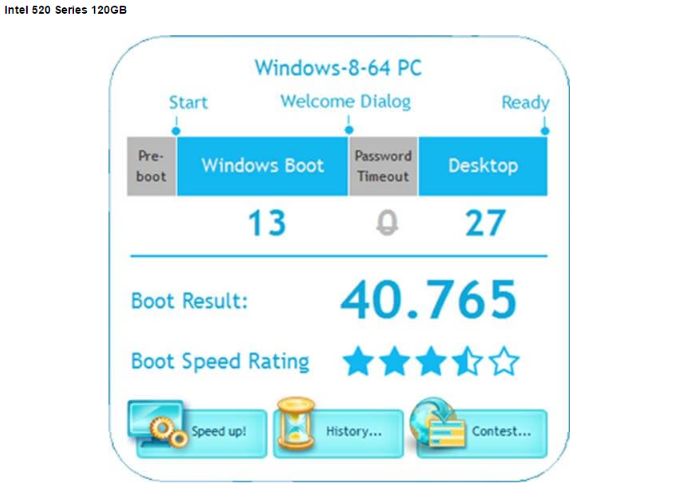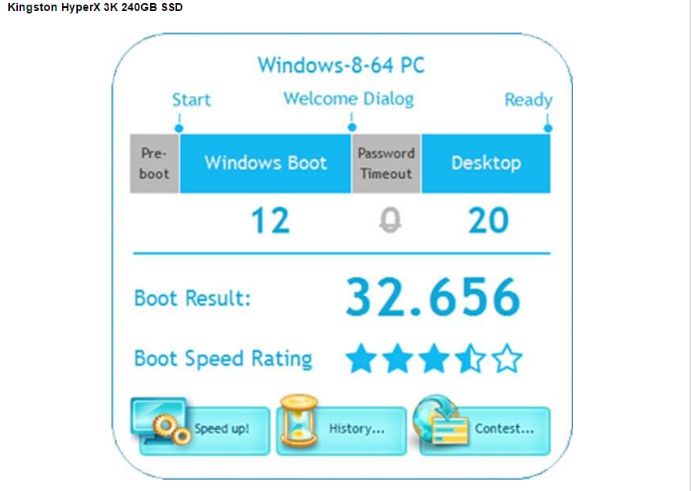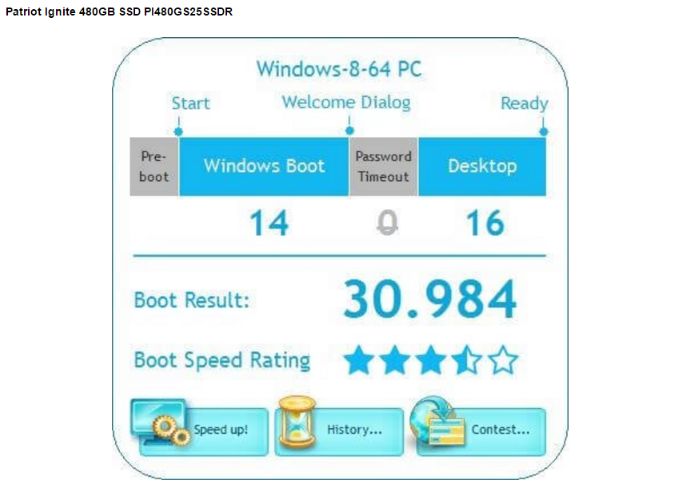 Now let's compare some of these results, shall we?:
The KingDian S280 basically crushed the Intel, the Kingston, AND the Patriot drives!
Here's the results for the initial Windows Boot times:
KingDian S280 – 9 Seconds
Intel 520 Series 120GB – 13 Seconds
Kingston HyperX 3K 240GB – 12 Seconds
Patriot Ignite 480GB – 14 Seconds
Here's the results for Desktop Load Times:
KingDian S280 – 17 Seconds
Intel 520 Series 120GB – 27 Seconds
Kingston HyperX 3K 240GB – 20 Seconds
Patriot Ignite 480GB – 16 Seconds
So, as you can see, the KingDian was only beaten in one test by one of the drives. The Patriot Ignite loaded the desktop fully one second faster than the KingDian. Does this really make a difference? Not at all! The KingDian outperformed every other drive in both of the loading times! Awesome. Might I say, this drive is wicked fast. Tracer fast.
Next, we are going to look actual read/write speeds on the KingDian S280!
As advertised, here is what KingDian shows you can achieve with the S280 SSD: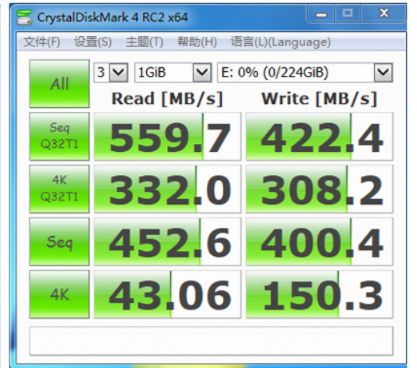 These are the tests directly from KingDian's own testings, pretty solid numbers! Here is what I got from the S280 in my test, using CrystalDiskMark: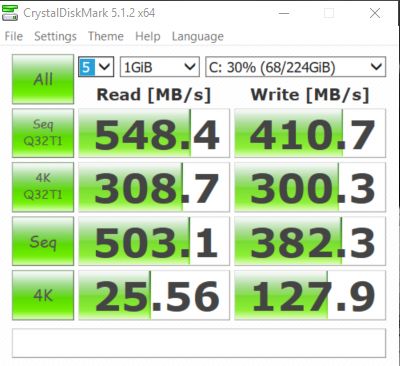 So, how did we do? I was going to relay back to Iggy's review and steal some of his tests but his read/write tests didn't match up with mine. My testing shows that even though we didn't match everything that was advertised, we did exceed what was advertised in some of the tests.
KingDian S280 SSD CONS
Sequential read/writes -Q32T1 were both roughly 10 MBs per/second slower than what was advertised.
4K read/writes – Q32T1 were both slower than what was advertised. 
Sequential writes were roughly 20 MBs per/second slower than what was advertised.
4K read/writes were both slower than what was advertised.

KingDian S280 SSD PROS
Sequential reads were roughly 50 MBs per/second faster than what was advertised.
So, as it looks to me, we did okay in most areas. We only fell short by around ten MB/s per/second in most tests, and exceeded in one. That's not too bad.
You always have to keep in mind that SSD tests can be very sporadic depending on different factors such as OS, your components, and your drive configuration! In the future when I have received other SSD's to review, I will be including them in the future reviews themselves and comparing to the KingDian S280. All around, from moving to an SSD from my old HDD, the improvement is just ridiculous. It's a completely different ball game. The KingDian S280 seems like a very solid built and programmed SSD. It provides adequate space, fast speeds, and reliability.
How does it compare to others?
Here is a screenshot pulled from a few popular SSD's on Amazon: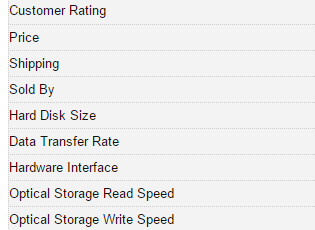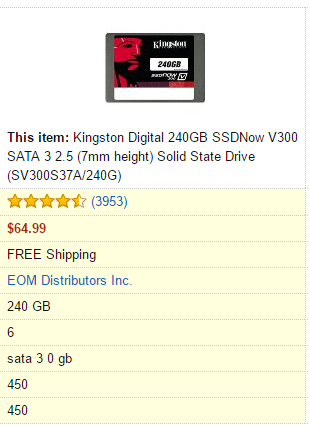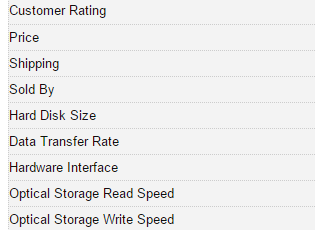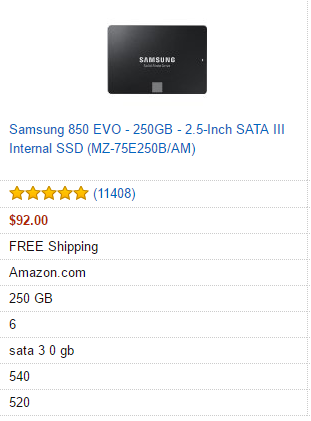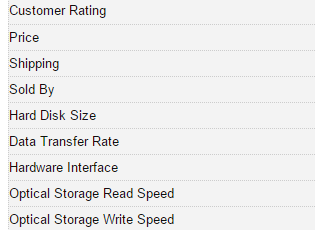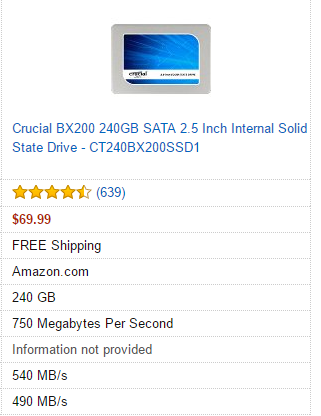 It looks as if this SSD reads at a faster speed than all three of these SSD's even advertise at, but writes at a much slower speed than they advertise at. Although I absolutely love the KingDian S280 SSD, I definitely feel as if there are better options in this price range.
The price of this SSD is a few bucks cheaper but the performance ratio compared to other, more popular SSD's is noticeable.
In the end, if you don't care about numbers, you will be absolutely satisfied with your purchase of the KingDian S280 240GB SSD!
They have three storage size variants on GearBest for the S280.
You can check out the KingDian S280 SSD collection, here!

Thanks guys!
Hello all. Glad you could be here. My born year is 1995 and I have been raising hell ever since. By raising hell, I mean that I love to work on cars, computers, play video games (currently UFC 2), spend time with my family, and simply enjoy the little things. I love what I do and I do nothing else.
Onward!