We are influencers and brand affiliates.  This post contains affiliate links, most which go to Amazon and are Geo-Affiliate links to nearest Amazon store.
My friends over at Diamond Multimedia send me their new Game Caster GC1500. This is their new game capture box that can capture your gameplay or stream it live. The GC1500 can capture gameplay from your Xbox One, PS4, or Computer at 1080p. I did a review of their GC2ooo Game Caster a while back. This item worked well for me but it had a few quirks that I felt needed to be fixed that I identified during the review process.  Did they fix them, I will get to that part in a few! Let me show you what you get in the package and show you what the GC1500 can do first.
Diamond Multimedia GC1500 Package and Contents 
From the next few photos, you can see the package. On the package you can see what the device looks like and some specs.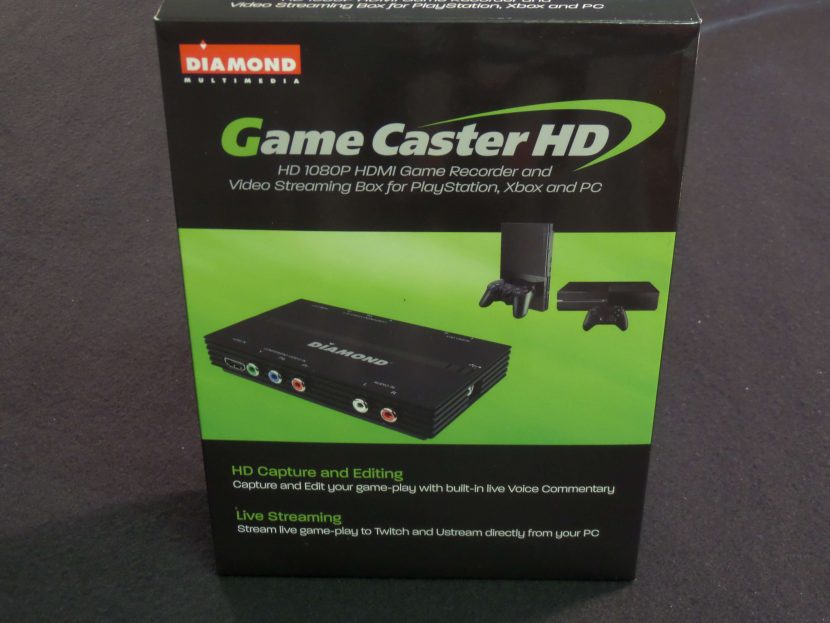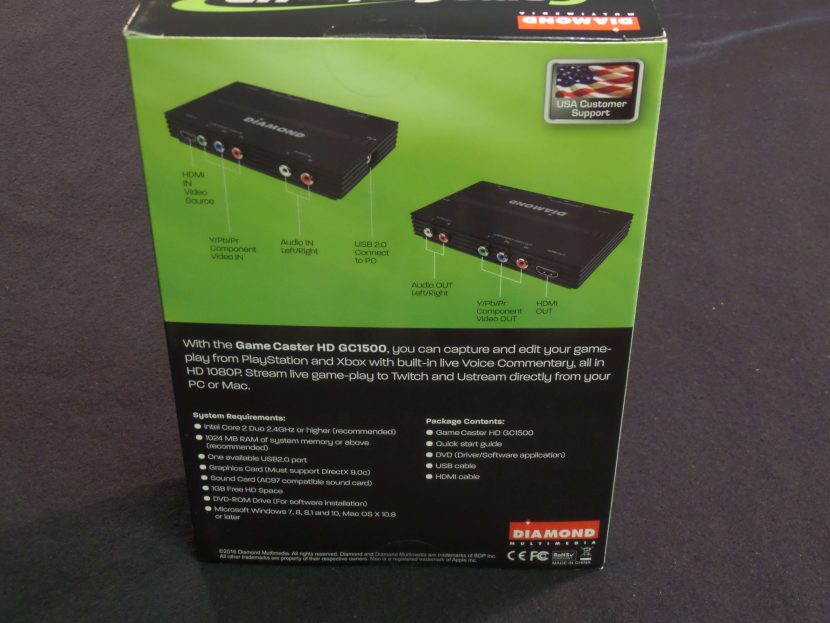 As for the inside of the package you get an HDMI cord. You also get a USB to USB 2.0 PC connect cord. Also included is the device and some software. There is also an installation pamphlet. Let me show you this starting with the device.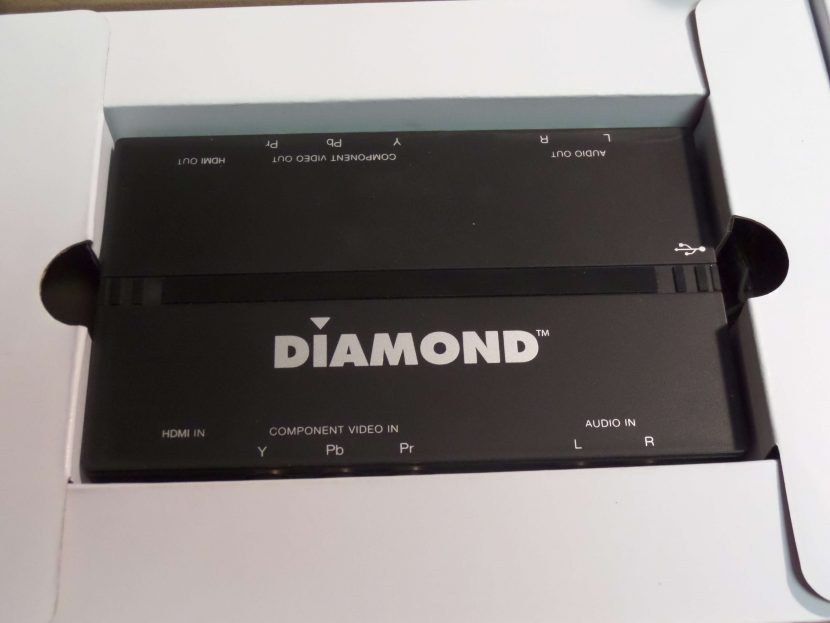 In the above photo, you can see that it is labeled. We will get more into that in a few. The next few photos will be the cords and included software.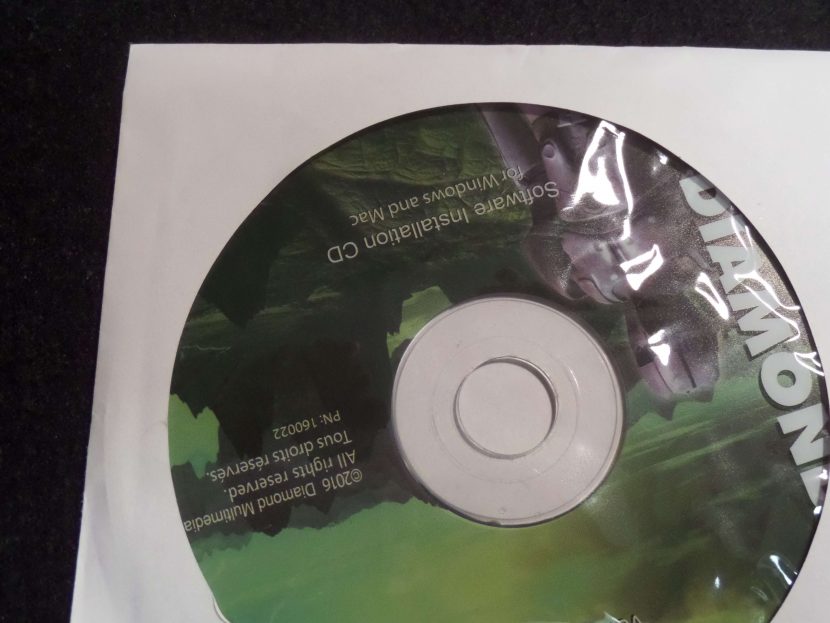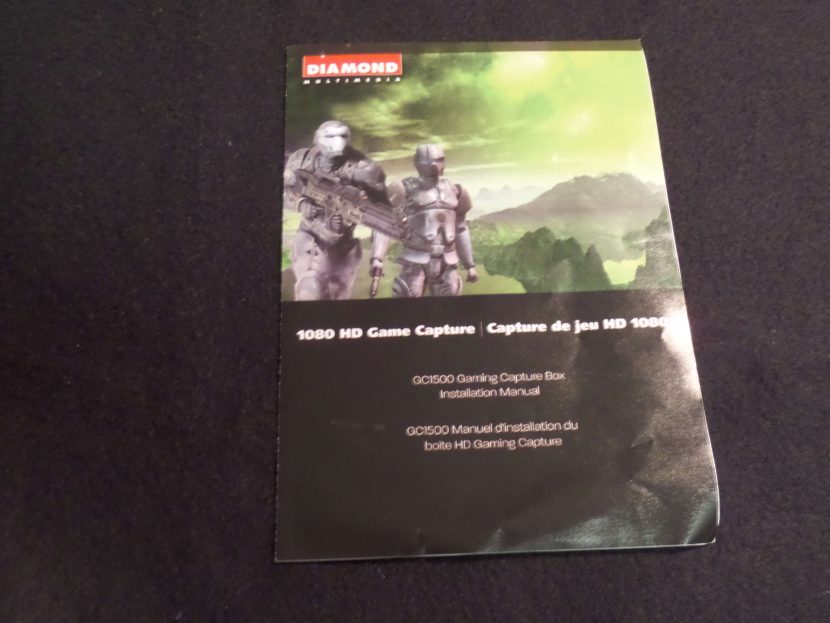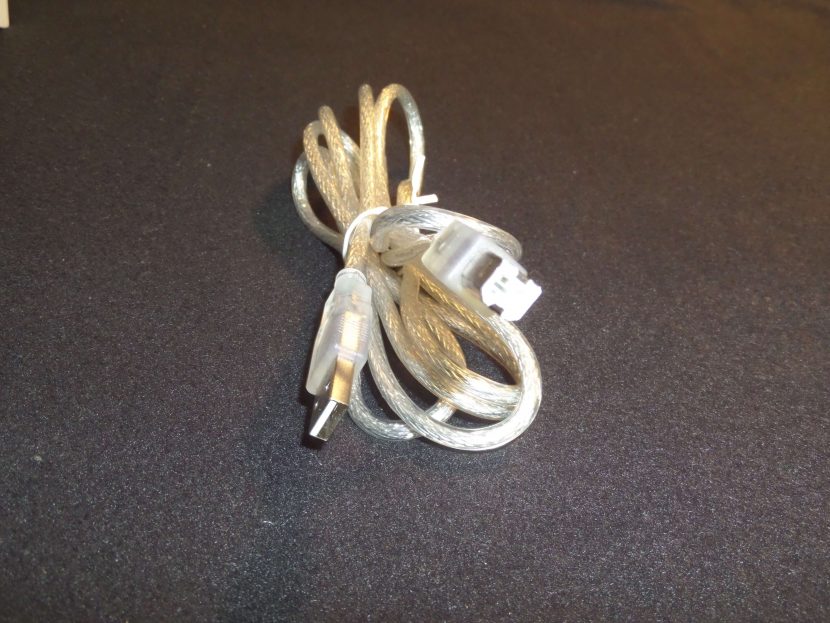 Not pictured is the HDMI cord.  Most of you have seen an HDMI cord. What is not included in this package is a second HDMI cord or component cords. You will need one of these to connect the device up. Most of you like me will already have that cord or be using one already.
Check Out My Full Unboxing Video Here!
System Requirements (FROM THIER WEBSITE )
Intel Core 2 Duo 2.4GHz or higher (recommended)
1024 MB RAM of system memory or above (recommended)
One available USB2.0 port
Graphics Card (Must support DirectX 9.0c)
Sound Card (AC97 compatible sound card)
1GB Free HD Space
DVD-ROM Drive (For software installation)
Microsoft Windows 10, 8.1/8, 7
OS X 10.8 or later
You can see the most computers should meet the system requirements nowadays. The software will need to be installed on you PC through the CDROM. Or you can go to their website and download the software and install it that way. You can go their website and download the software if you need it later. Click Here to download the software.
As you see they, have you covered if you don't have a CD-ROM installed on you PC. The software itself is easy to install and you're in luck because I did a walkthrough video for you.
Watch my software install and walk through Here!
From the video you can see the software only take a few click to install and your  up and running.  You can live stream or you record your gameplay for later. Either way, it always nice to be able to share or show off some of your best moments.
As you can see the software is easy to use now on to the device itself. The device has several inputs and output ports on several sides of the device. You have an HDMI port on both sides one is input, one is output. You also have a component input.  On the 3rd side, you have a USB 2.0 port this is the port that power the device and connects to the computer to run it.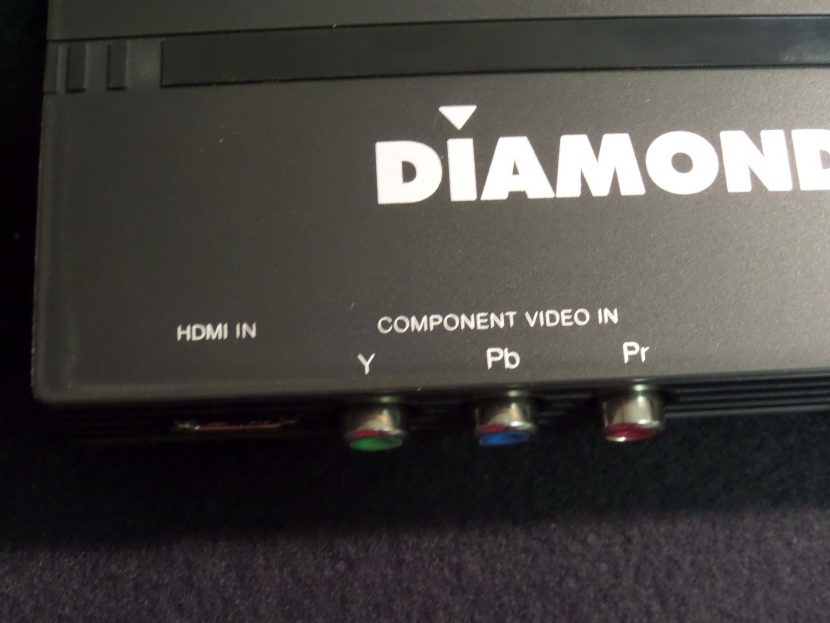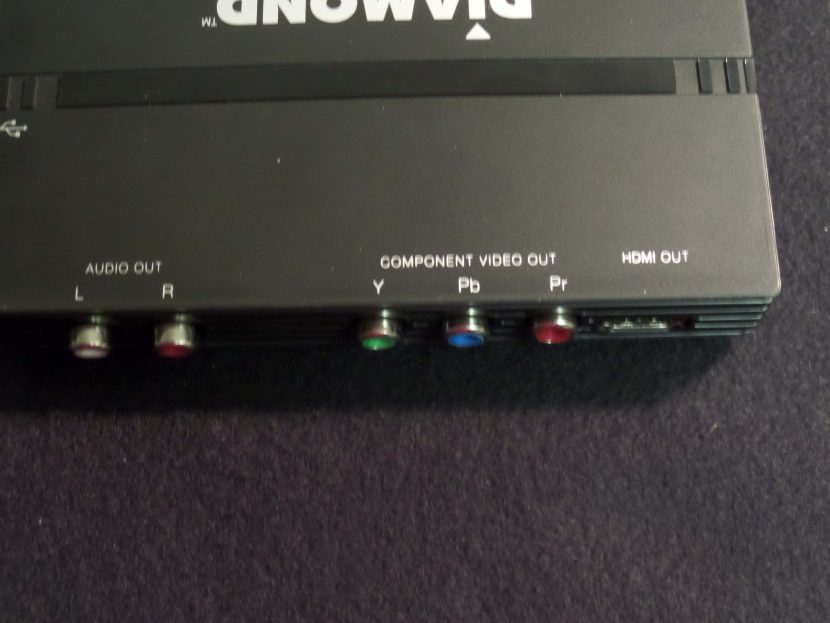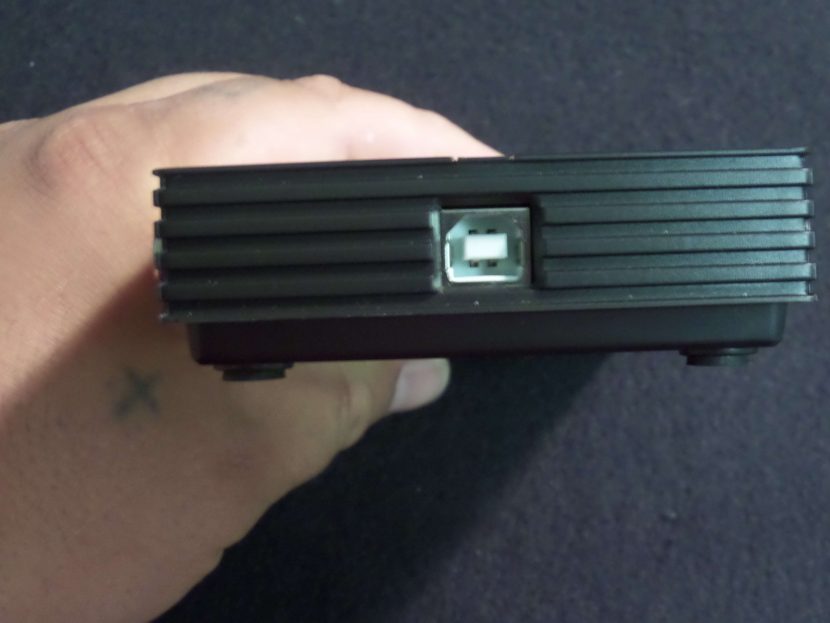 This is where I wished they had fixed a certain issue. Let me show you what it looks like with the cord connected.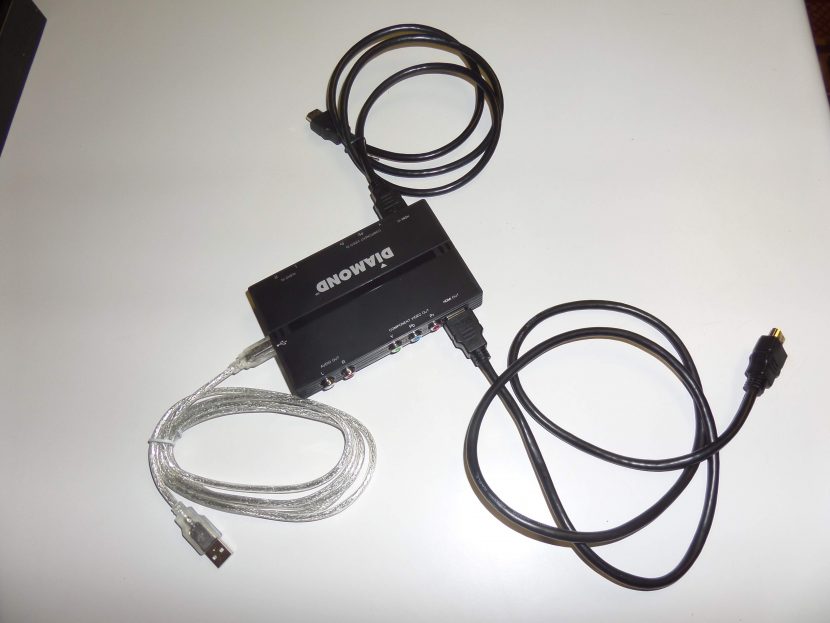 If you are like me that looks like a mess. It looks ever worse when connected to your computer.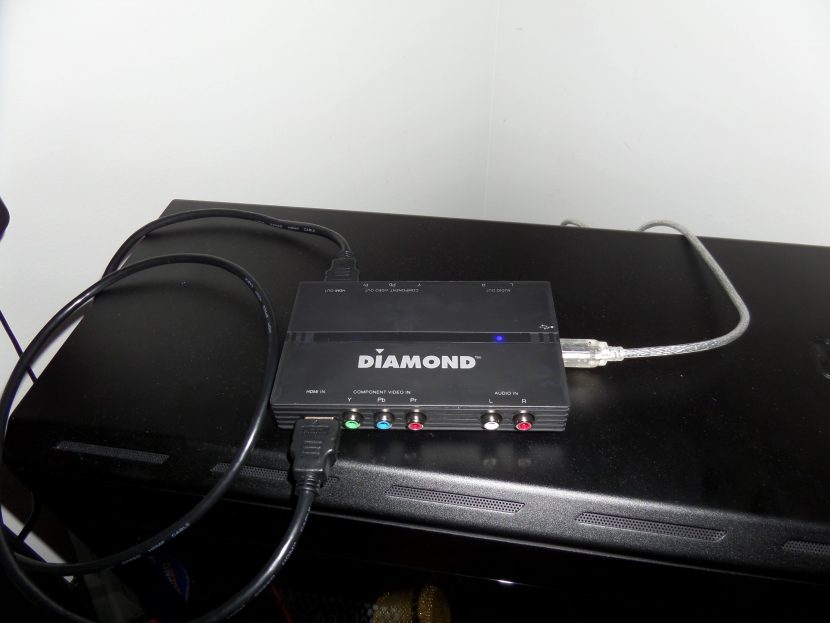 Who want's a mess of wires like this? No one. I'm sure the wires could be hid behind the case or some other way. But for me, this drives me nuts. Now it does not affect how the device works just aesthetics. I wish they could come up with a way to add all the wires to at least one side. The GC2000 had the same issue but still worked like a champ. There are two notable differences on the GC1500.  One is you don't have a sd card slot. This means you can't save to an SD card straight on the device. That mean you must have the device hook up to a PC or laptop to save gameplay from your game consoles. The other is there is no button on the top to start the "save and record" gameplay.
The recording is just simple with this device you can set your own shortcut key combo. I just set it to F4 starting record and to stop it. You can see in the next video it records well. I had no issue using this device to record some Grand Theft Auto 5 or even Ark: Survival Evolved.
Check out my gameplay capture here with the GC1500!
The video above was just a little recording I did. Now the recording is 1080p but at 30fps since that as high as it will record. It comes out clear and looks great. Diamond Multimedia's GC1500 Game Caster does a great job. Even though I think it has some quirks, this device will work well for many people. With the options of either streaming or recording you just can't go wrong. (Can't stress enough I hope to see a version with wires only on one side.)  With so many people recording and streaming to YouTube and Twitch, this device does really help aid console players. You can even use this device on your Mac PC's. For the $99 their asking on amazon you can't go wrong if you in the market for a game capture system.
Disclaimer:  Diamond Multimedia  provided me with GC1500 game caster so I could do a showcase and share thoughts on the product.  All opinions are 100% mine and mine alone.  For more information visit http://bit.ly/dbdisclose
We are influencers and brand affiliates.  This post contains affiliate links, most which go to Amazon and are Geo-Affiliate links to nearest Amazon store.
Hi everyone I'm James Braga. I was born in Oregon and moved to New Hampshire a few years back. I love most things that have to do with video games and electronics, It doesn't matter if it for a car or a house, if it has electricity in it i will love it . I'm also in school for Information Systems Technology.