We are influencers and brand affiliates.  This post contains affiliate links, most which go to Amazon and are Geo-Affiliate links to nearest Amazon store.
Speaking as a sufferer of carpal tunnel syndrome, finding relief can be quite the chore. We try creams, rotate out ice packs, any number of things to get even an ounce of relief. LifePros hand massager is an absolute godsend for this issue, and many others. All in a portable, easy to use package. Hand Massage has a variety of benefits that I'll discuss here. It's the perfect gift for someone in your life who wants a relaxing massage without an expensive trip to a day spa! So without much more blathering, let me tell you exactly why you should buy LifePros Legra Hand Massager!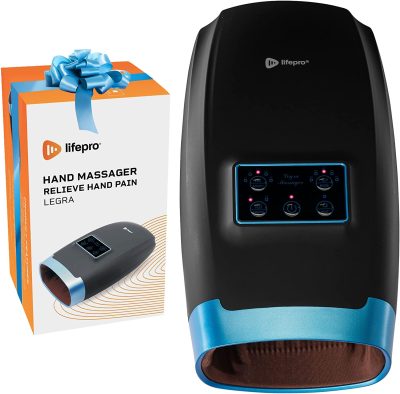 Features
If you've ever needed a bit of pain relief, this is definitely the product for you. Hand massage has a variety of health benefits including lessening the pain of arthritis, carpal tunnel syndrome, general joint pain, and it even improves blood circulation! Not to mention if you've been recently injured it lessens inflammation and expedites the healing process! It comes with five different massage modes, two different vibration options, and five intensity settings to give you exactly the massage you need! No matter the pain, the Legra can handle it all, rain or shine!
All of this is controlled by the easy to read LED display! Some of the included features include pressure point release, compression settings, and heat settings! The compression is good for a pre-workout prep session, increasing your range of motion, flexibility and comfort while you exercise. Meanwhile the heat allows you to unwind after a hard day of physical activity! You can set your massager to anywhere between one hundred and four to one hundred and seven point six for a comfy wind down session after a tough day of working your hands, no matter the activity.  The Legra has it covered!
Every LifePro product is backed by both a built in lifetime warranty, and technical support from LifePros "guiding angels" technical department! Each product goes through rigorous quality control testing so you're never left in the dirt. It's perfect for your personal use, or for a friend or family member who happens to have hand issues, or simply would appreciate a relaxing hand massage without taking a long expensive trip to a day spa! It's a fantastic tool for just taking a day off and giving your hands the tender loving care they've been desperate for for the longest time.
Summary
LifePros specialty is health and wellness products, and this is another example of a product made for folks who need a good bit of pain relief. Whether you need to heal from a sprain, or just a bit of decompression after a rough day using your hands the Legra is a bang up product ready to do a crackerjack job! It's affordable, comfortable, and the hand relief you've been waiting for all in an easy to use package. LifePro has always been a fantastic brand and this product is both no different, and one I would highly recommend!
We are influencers and brand affiliates.  This post contains affiliate links, most which go to Amazon and are Geo-Affiliate links to nearest Amazon store.
I am just a 25 year old doofus who enjoys rpgs, sugar rushes, and passing out at odd hours.