We are influencers and brand affiliates.  This post contains affiliate links, most which go to Amazon and are Geo-Affiliate links to nearest Amazon store.
10 Best Free Workout Apps in 2019
Many people give up on getting into shape because this tricky task requires months of intensive gym sessions with a coach and sticking to a strict diet schedule. Besides, gym membership and nutritionist services may not be fully accessible to some of us because of their high cost. There's a way to ease this task and save the money. A click on the "Download" button in any App Store lets thousands of users get a 24/7 available coach and nutritionist at no charge, and our compilation of 10 useful workout applications is about to prove this point.
List of Free Apps for Workouts
Some fitness applications on the list give a choice of costless workouts with video guidance, others can adapt personal training plans to the user's lifestyle, but may charge money for an advanced set of features. Everything depends on the models of how free apps make money that you can study before selecting a workout app. According to some of those models, a user can always refuse to pay and keep using the basic functionalities that are enough for energetic home training. Now, let's get started with our free app list to see what they offer.
1. Nike Run Club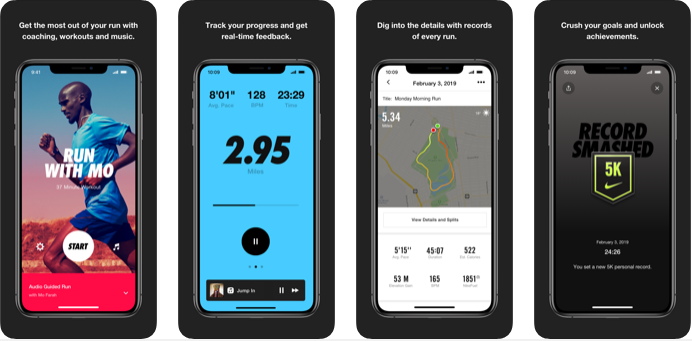 The famous Nike Inc. presents a full range of useful functionalities and a smooth user experience for runners for entirely free. Users can run following audio guidance from celebrity athletes and complete general or personal challenges to stay motivated. Synchronization with wearables helps to track health parameters during runs. Nike Run Club also supports Apple Music and Spotify to offer playlists for the best running experience.
2. Freeletics – Workout & Fitness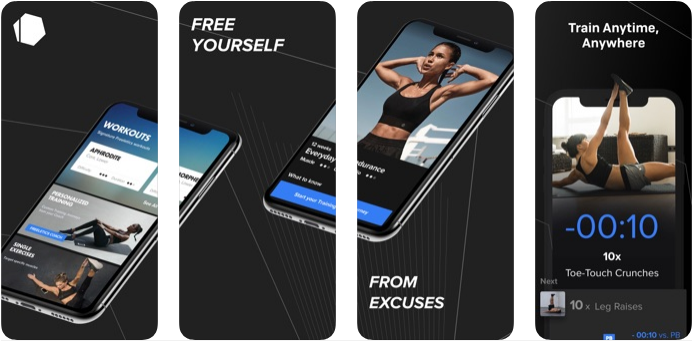 Over 39 million users of Freeletics built an active community around the app and support each other in their workout goals every day. Besides an unlimited collection of high-intensity interval training (HIIT) exercises, the app has a functionality that adapts workouts to the trainee's lifestyle. Downloading and using Freeletics is free of charge; however, personal AI-powered workouts are available with optional Coach subscription.
3. JEFIT Workout Planner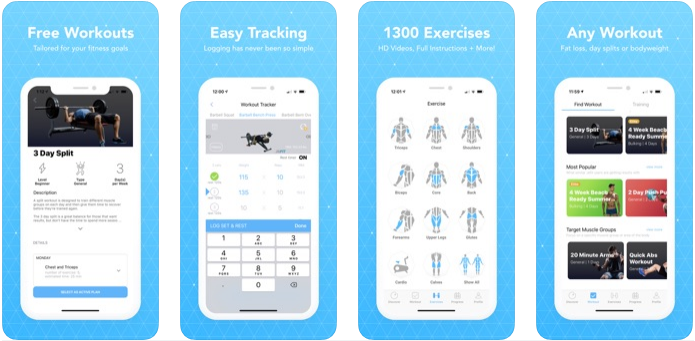 JEFIT is one of the biggest libraries of fitness programs to use while in the gym or at home. It includes the largest database of exercises and progress tracking features with body charts. The programs start from the beginner level to advanced weightlifting, bodybuilding, and specialized routines, even if a user has limited space or lacks training equipment. Users have an option to set the yearly Elite subscription with a more personalized feature set.
4. Ladder: Your Personal Trainer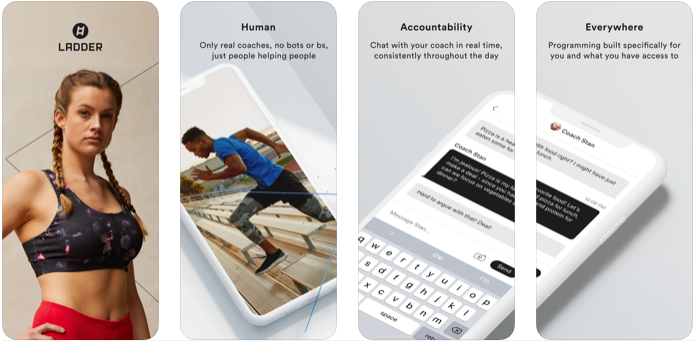 Ladder has a user-friendly UI offering a one-on-one workout list for training with a real certified coach at no cost. The app system can pair a user with a matching specialist based on the user's physical form, personality features, sports preferences, and access to equipment. Video and chat features allow a trainee to go live with a coach or keep in touch with them throughout the day to get exercise, diet, and sleep instructions. Ladder has everything to help coaches support the trainees at every step of achieving their goal – whether it's weight loss, muscle gain, or physical therapy.
5. Adidas Training by Runtastic
Runtastic made it possible to get an energetic training from a world-known sports company on any device. Adidas Training presents a compilation of different free workouts and works best if integrated with a smartwatch or Apple/Samsung Health and similar applications. The main functionalities include over 180 multimedia content and progress tracking diagrams, training duration, information on the calories burned, and other body details.
6. 8fit Workouts & Meal Planner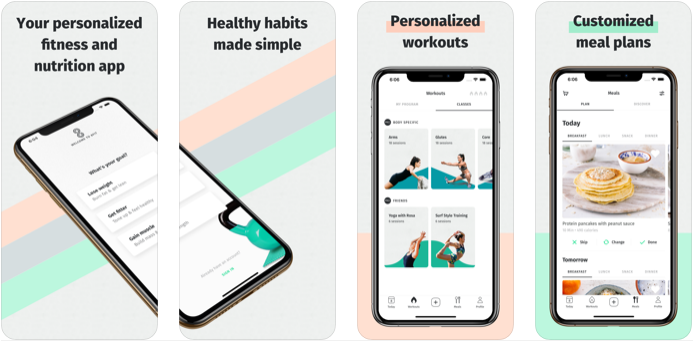 By downloading this application, users get a fitness planner based on a scientific approach to workouts and nutrition. It's a useful source of research-backed training programs and weekly recipes selected considering user parameters and fitness goals. 8fit uses a free trial model, so people could figure out whether this app fills their needs or not before deciding to switch to its Pro edition with the customized meal and workout plans.
7. Map My Fitness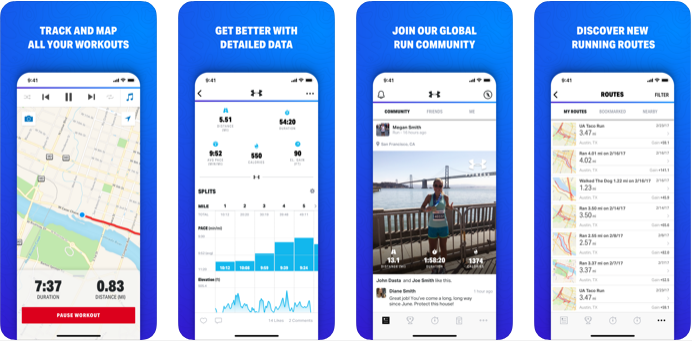 As the name suggests, the main feature of this app is mapping the routes for beginners and experienced athletes as well as helping them log and get insights on walking, running, or riding activities. The insights are the detailed path descriptions given after each workout, including statistics on pace, distance, duration of the activity, calories, elevation, and more. Map My Fitness also supports integration with smart shoes or wearables and giant fitness apps like Fitbit, MyFitnessPal, and Jawbone, enabling more opportunities for users.
8. FitOn: Fitness Workout Plans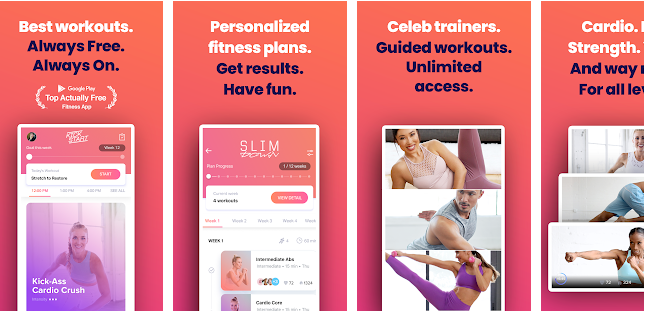 FitOn is a comprehensive set of exercises for any taste. The app offers users customized endurance, fat loss, high-intensity interval training, yoga, pilates training plans without a subscription or hidden costs. Celebrity coaches guide workouts in videos categorized by various intensity to fit whatever fitness level a user has. No subscription required.
9. SugarWOD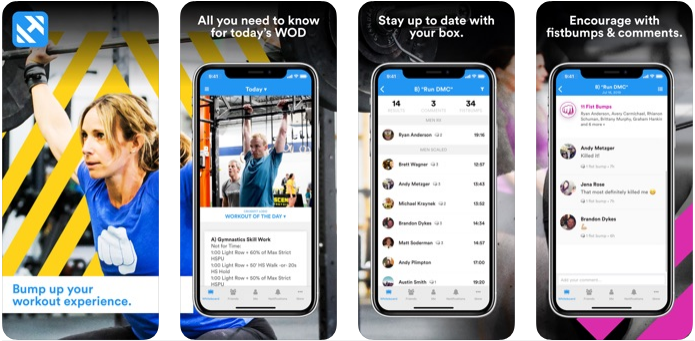 Don't be misguided by the sweetish name because this app has nothing to do with sugar. This is a free application for CrossFit athletes and coaches that provides users with an extensive Workout of the Day (WOD) compilation. Users can enjoy video-guided exercises, track their personal records, and has a social media functionality for sharing the results with CrossFitters around the world. The Whiteboard feature allows coaches to use the app for planning workouts with proteges in and out of the gym and follow their progress.
10. Yoga for Beginners | Down Dog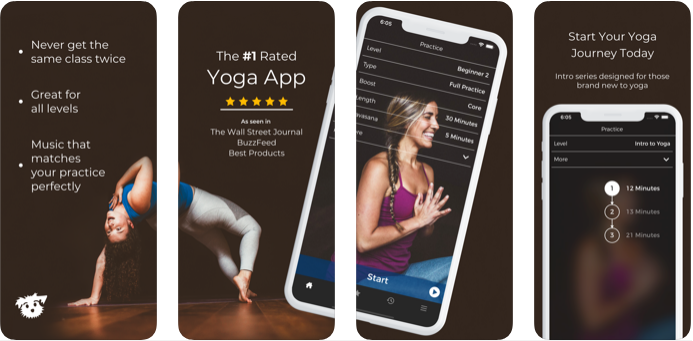 Yoga Buddhi Co. created a simplistic and easy-to-use application for beginning yoga practitioners. Every new user learns Vinyasa yoga, Hatha yoga, restorative yoga, and breathing exercises with six teachers. The multimedia function set lets users follow introductive video guides and listen to the music matching to their workout flow – whether a person is warming up, practicing asana postures, or cooling down.
Conclusion
We've presented our top powerful apps of 2019 that anyone can enjoy using at home for free. The ratings in Apple and Google Stores proved that these applications are a great substitution to expensive gyms. Apart from the affordability criteria, they have already won over users' love by offering independent workouts out of other people's eyes, so users don't have to feel awkward getting started with their goals. This makes any training efficient and gives a user confidence and a more stubborn attitude towards the desired result.
We are influencers and brand affiliates.  This post contains affiliate links, most which go to Amazon and are Geo-Affiliate links to nearest Amazon store.
I am interested in all things technology, especially automation, robotics and tech that helps change how society will live in the future.