We are influencers and brand affiliates.  This post contains affiliate links, most which go to Amazon and are Geo-Affiliate links to nearest Amazon store.
I got my hands on the G502 PROTEUS CORE Tunable Gaming Mouse to play with and review.
Now I didn't know what to expect with the feel and I had a similar mouse and keyboard in the past and loved it to death. Literally I used it until it died and then I threw it across the room on camera.
For those who know me, you know that I'm a gamer at heart. I'm no pro-gamer but I know what it takes to get the job done when gaming. So I got the Logitech G502 box on my door step and open it up. As you can see the mouse box is very nice and clean looking.
Now I bet you want to know if it as comfy as  you would expect from the Logitech brand.
Well simply put it is and even better then I remember!
As you can see in these next few pictures it sleek and comfy design makes for one slick and awesome felling Gaming mouse.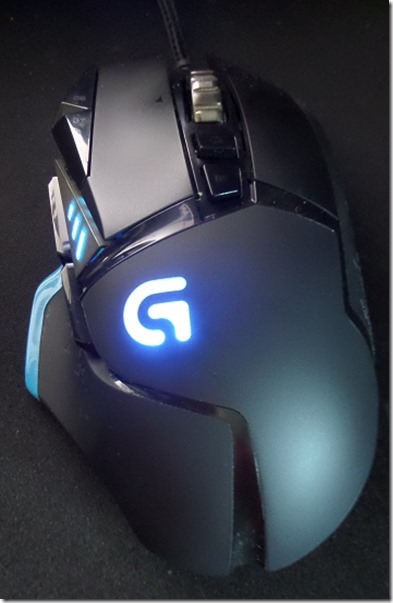 Specifications
Part Number
910-004074
Warranty Information
3-year Limited hardware warranty
System Requirements
Windows® 8, Windows 8.1, Windows 7 or Windows Vista®
Powered USB port
Internet connection and 100MB hard drive space (for optional software download)
Package contents
Mouse
Tuning weights and weight case
User documentation
Technical Specifications
Tracking
Resolution: 200 – 12,000 dpi
Max. acceleration: >40G*
Max. speed: >300 ips*
* Tested on Logitech G240 Gaming Mouse Pad

Responsiveness
USB data format: 16 bits/axis
USB report rate: 1000 Hz (1ms)
Microprocessor: 32-bit
Glide
Dynamic coefficient of friction – Mu (k): .10*
Static coefficient of friction – Mu (s): .15*
*Tested on wood-veneer desktop.
Durability
Buttons (Left / Right): 20 million clicks
Feet: 155.3 mi (250 km)
Physical specifications
Height: 5.2 in (132 mm)
Width: 2.95 in (75 mm)
Depth: 1.57 in (40mm
Weight: 5.9 oz 
——————————————————————————————————————————-
This mouse has 11 programmable buttons, In-game DPI shifting, Gaming-grade dual-mode, hyper-fast scroll wheel , and the best part for those who are wondering five removable 3.6 gram weights.
I think the weights help it out allot with the sliding back and forth for shooting games.

 

Additional Features
 

Most accurate sensor on the market

32-bit microcontroller

3 on-board profiles

1 millisecond report rate

Primary buttons rated to 20 million clicks

Mechanical microswitches

Improved keyplate design for better click feeling and performance

Braided cable with hook and loop cable tie

Sleep mode disabled

3 DPI indicator LEDs

Rubber grips

Magnetic weight-cavity door
 —————————————————————————————————————————
Now this mouse is very easy to use and set up. Great plug and play if you want or you can download the software and run set of macros, dpi swaps and turn on and of the led lights on the mouse. This software is in the next few pictures.
Now with this software you can also tune it to what ever surface you will be using so the sensor is set for it.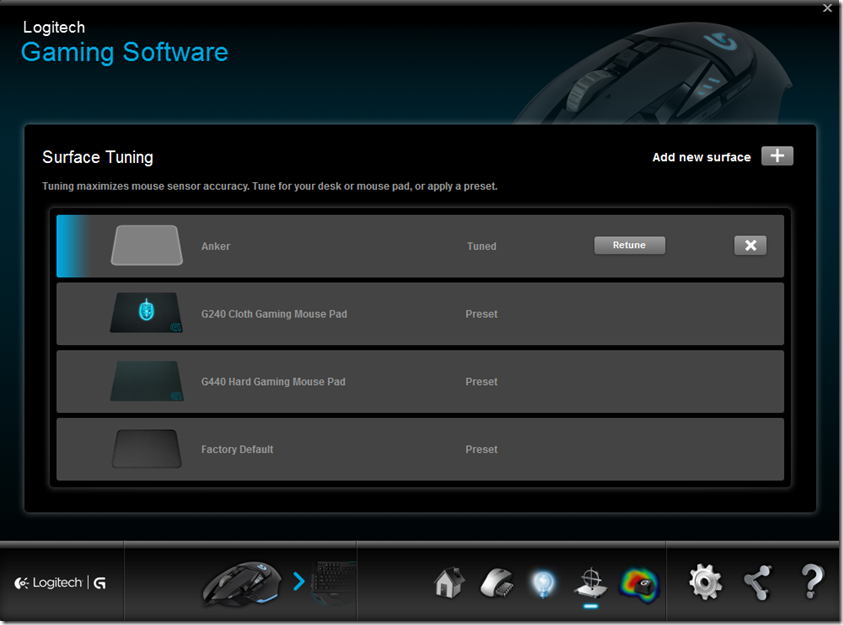 I have been using this mouse to play many games from Hearthstone, Need for Speed. Dragon Age, Elder scrolls , and many more. This mouse has lived up to the hype and then some. You just can't go wrong with this mouse the fit, feel , and using it feels so great.
The choice to let your scroll wheel to go free spin is another great option.
You can fly threw the pages if you need to scroll down a page fast. Now I did  notice that sometime when you use the wheel lock so it scroll slower it make clicking noise which isn't annoying as you would think.
Now for the meet and potatoes I would recommend this mouse to anyone in the market for a gaming mouse. I have tried to throw any and every thing at this mouse and it has yet to fail on me. I have used the macros and changed the buttons to do any and every command I could think of.  This mouse just isn't for the gamer it is a great mouse for the student, teacher, parent, business man or business women. With as smooth as it slide  you could do some amazing things on your pc with it.  Logitech really thought about the user when they developed it.
We are influencers and brand affiliates.  This post contains affiliate links, most which go to Amazon and are Geo-Affiliate links to nearest Amazon store.
Hi everyone I'm James Braga. I was born in Oregon and moved to New Hampshire a few years back. I love most things that have to do with video games and electronics, It doesn't matter if it for a car or a house, if it has electricity in it i will love it . I'm also in school for Information Systems Technology.