Does your kid want to fly in a helicopter? Do they dream of being a real pilot, traversing the skies and saving lives? How about being in the military and taking off into the great unknown? Regardless of whatever your child might want, this S39 RC Helicopter drone might just be what you're looking for. It's beginner friendly, battery powered, and has a lot of protection features that allow kids to operate it fairly easily.
Kids tend to crash quite a bit, especially when they don't have the experience they need to fly at an effective skill level. That's not a problem for this heck of a helicopter. With an alloy based frame, this thing can take a beating and still keep on going. I used to have a helicopter in a similar fashion to this one when I was a kid, and I personally loved it. My father got a similar product to this one, and I flew it all around the house. I caused a little mayhem, but that was all in good fun if you have a good sense of humor. But I wouldn't worry too much about crashing: The S39 has a gyro-stabilizier that (without sounding redundant) stabilizes the craft and allows for it to move in 6 directions at any given time – up, down, left, right, forward and backward.
It's best suited for indoor flight, with the 5-8 minute flight time and a controller range of about 10 meters, but I'm sure this chopper could be used in an outdoor setting too, if you do it right. With a 2.4 GHz infrared connection, a full 3.5 channels, gyroscope action, an attached flashlight, and low voltage/reverse connection protection in case you decide to accidentally place the battery backwards, this drone can definitely suit your needs.
If you're worried about your kid's safety whatsoever, this product has a ton of safety certifications, including FCC, CE, ROHS EN71, EN62115, EN60825, R&TTE, PAHS, HR4040, 6P, ASTM, and REACH. These are all up to the United States' standards. In addition to these certifications, remember that this product has a gyro-stabilization measure which allows for safer, more controlled flights.
Other products are generally smaller, while this helicopter drone is 13 inches long. Sometimes you want a controller that is easier to fit into your child's hand, and it's something they are moderately familiar with. Instead of being a complicated IR controller, this guy comes with an RF controller, which looks very similar to a current generation console controller. It's also got 2 batteries instead of 1 – so there's more power for you and your kids to enjoy at your fingertips.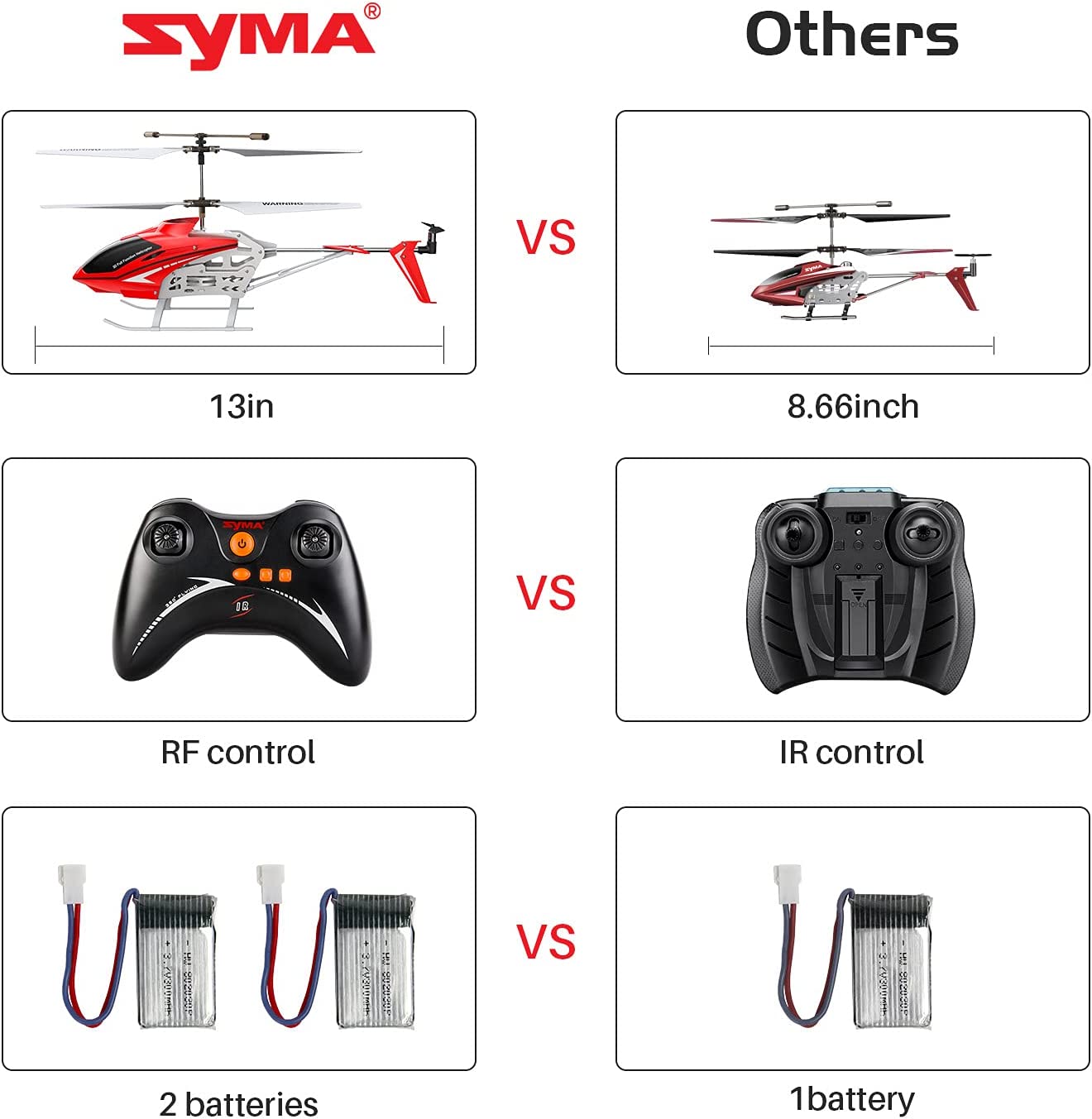 Worried about the technical difficulties and specifics? Yeah, no sweat. Just charge the helicopter's batteries by connecting them to a USB cable. This battery doesn't just power the helicopter itself, it also powers an LED flashlight in case you're worried about your kids playing in the dark. They won't have to fear with a strong light by their side. The strong signal that's difficult to interfere with will make sure that your kids have an enjoyable experience with minimal interruption. Plus, there's even a flight speed control option, so that your children can learn how to fly without breaking the sound barrier.
Interested in the SYMA S39 Helicopter Drone, check it out on Amazon now!
Thanks for reading.
Roxie out.