We are influencers and brand affiliates.  This post contains affiliate links, most which go to Amazon and are Geo-Affiliate links to nearest Amazon store.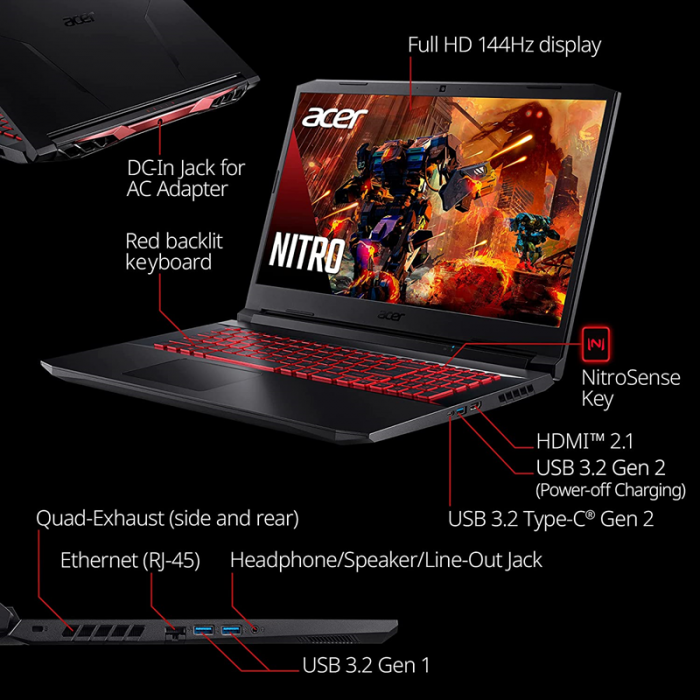 Time to ace gaming with the Acer Nitro 5 Gaming Laptop. From the Acer lineup comes a laptop with CoolBoost technology that keeps things calm under pressure – and your laptop from overheating. Two exhaust ports on the side, and two on the rear provide your GPU and CPU the cooling ability it needs to function at peak performance. Fine tune the dual fans in the NitroSense monitoring system by pressing the NitroSense – along with selecting the power plan and battery options (which range from Power Saver, Balance, Balance [Acer Optimized], and High Performance). The laptop's sleek design definitely comes with the colors and the shape to look like a mean machine and will most certainly impress those that might pass by. The small screen-to-edge ratio will help you focus on your game rather than get distracted and un-immersed by the surrounding bits that aren't your game.
If you're ever in the dark, the red backlit keyboard has you covered. Can't find your WASD keys, or having trouble locating the arrow keys? They're highlighted – just for you. Ain't you special. It's a nice red too, not like those cheaply made LED keyboards. To me, it looks neon, and I very much enjoy myself some neon lights. They make me feel special.
If you ever want or need good speakers, don't worry about it. You don't have to buy anything to hook into it: Acer's got you covered. This thing has two built-in stereo speakers with DTS: X Ultra Audio. If you're playing Call of Duty and can't figure out where in the heck that sniper is, and you don't want to spend outrageous big-bango-bucks on a pair of gaming headphones, don't worry. These speakers have crisp 3D spatial audio so that you understand where exactly those pesky long-range rounds are coming from.
Speaking of getting the advantage on your opponent, the Acer Nitro 5 has the latest gigabit Ethernet technology to provide you with the utmost connectivity for your group gaming nights and your professional multiplayer matches using a Killer™ Ethernet E2600 port. In addition to an Ethernet plugin, the laptop comes with three USB 3.2 ports, one Reversible USB Type-C connector, and one HDMI plugin for all your peripheral needs. Along with this, it even has a built-in Alexa functionality. The screen itself can turn into an Echo Show-like device and show you things like the weather, sports, and other forms of information.
As for the specifications? I'll list them pretty rapid-fire for you: a choice between a 144Hz 15.6" or 144Hz 17.3" screen, 8 to 16GB of DDR4 RAM, either an NVIDIA Geforce 3050 GPU or a 3050TI, a choice between the intel-based processors i5-10300H or i7-11800H, a choice between three SSD sizes (256 GB, 512 GB, and 1000GB), and a battery that can last anywhere between 8 to 11 hours out-of-the-box depending on your power requirements based on one of three builds you can choose from. If you're interested, the whole setup also comes with a keyboard, mouse, or headset bundle depending on what you'd like.
            Interested? See the Amazon product link
Thanks for reading.
Roxie out.
We are influencers and brand affiliates.  This post contains affiliate links, most which go to Amazon and are Geo-Affiliate links to nearest Amazon store.
So… I'm Roxie. To be fair, I'm just some person… girl… thing… on the internet who likes to shout my opinion as loud as I can while also doing it respectfully and trying to come from a place of good intents. I'm an extremely spiritual individual (the legit logic-based para-psychological stuff, not the "woo-woo" nonsense) who has a lot of diverse interests, and spends her time working on herself and trying to get ahead in life. I want to provide my views on topics that would normally be a bit controversial to some in the gaming, sci-fi, tech – whatever you'd call this blog – industry. I play games because I see them as an experience, something to enjoy and get immersed in. My favorite games used to be MMORPG's but I'm learning to enjoy more single-player experiences as of recently. I've felt alone for most of my life, so the ability to interact with other players in games has been something of a comfort to me. Oh and I'm also a heathenous little thing that has to filter myself incessantly just to write these articles.