We are influencers and brand affiliates.  This post contains affiliate links, most which go to Amazon and are Geo-Affiliate links to nearest Amazon store.
Annoy your neighbors and take pictures of their dog with the Holy Stone 2-Axis Gimbal GPS Drone. Be the neighborhood nuisance and attack birds in trees with 4 propellers and features like 5G WiFi transmission, Optical Follow, Follow Me, and Smart Return Home. Do you just hate birds? Like, is there some bird in your neighborhood that constantly poops on your windshield and swoops on you? Yeah, the first time a mockingbird swooped at me and hit my head, it surprised me too. Maybe if I annoy them enough with this drone, they'll go away.
If you want to snap high-quality neighborhood dog photos, try the detailed 4K EIS (Electric Image Stabilization) Camera attached to the HS720G. That way, you'll find out where that mutt leaves brown doggie deposits more often, and you can make sure it stays away from your yard. 26 minutes of battery life and a maximum control reach of 999 meters ensures that you can make a successful patrol mission around your yard for troublesome turds. In the USA units of measurement, that's 3277 feet of flight distance and a 1640 foot transmission distance.
Not sure how to pilot a drone because you've been watching too much public daytime television while your retired, unemployed self tries to understand the pooch's pooping habits? Not to worry. It's user and novice friendly with functions like Headless Mode, Automatic Take-off, Altitude Hold, and Optical Flow Positioning. For example, Optical Flow allows the drone to hover in a stable manner without tilting much. That way, it won't veer off into a rogue dookie.
If your arthritis is acting up, there's functions like Follow Me, Tap Fly, and Point of Interest. Point of Interest essentially makes it so that the drone will fly around a certain point that you set. Tap Fly is a one-tap method of tapping a point on a map for your drone to fly to. Talk about utter stool-stopping maneuverability.
Worried about losing the drone to your neighbors when they won't even clean up after their beloved baby basset hound? Holy Stone has you covered. There are features like Emergency Stop, Smart Return to Home, GPS module, and One Key Return. Retreating to recount your losses and lick your wounds has never been easier. Just enable Follow Me and run for your life from the haunted hound of your nightmares. The drone will cover your back with great precision.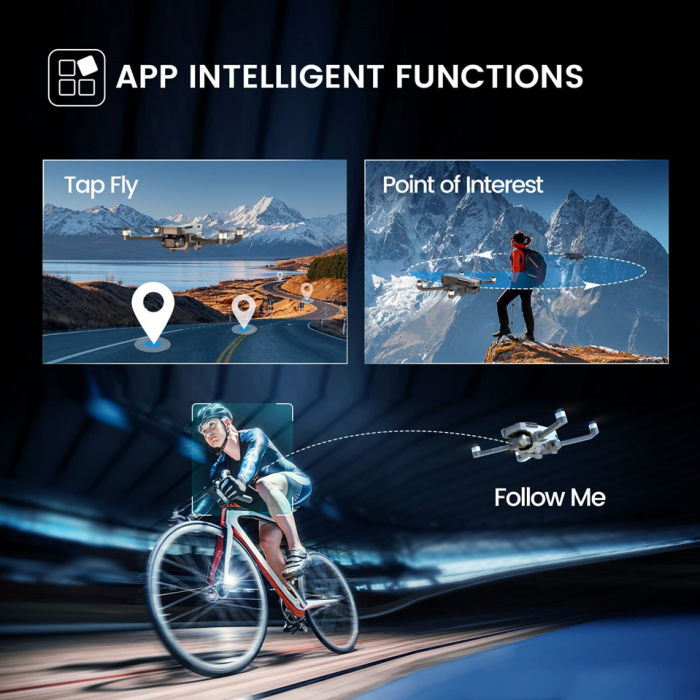 Do you have a secret mission of mandatory manure measures? I'd be in a hurry too. That sounds important – especially if it involves that blasted boisterous basset hound. Pick it up and take it with you with the foldable design, and the lightweight body weighing in at 380 grams – that's less than a pound. It's about the weight of a can of coke. The can of coke isn't included in your purchase. Sorry. But what is, are four extra propellers in case one of the propellers break on you. Not saying they would in normal circumstances, but if you're going after that dive-bombing bird, then that might happen. Priorities are priorities, am I right? If you're interested, see the Amazon Product Link.
Thanks for reading. Hope I made you laugh.
Roxie out.
We are influencers and brand affiliates.  This post contains affiliate links, most which go to Amazon and are Geo-Affiliate links to nearest Amazon store.
So… I'm Roxie. To be fair, I'm just some person… girl… thing… on the internet who likes to shout my opinion as loud as I can while also doing it respectfully and trying to come from a place of good intents. I'm an extremely spiritual individual (the legit logic-based para-psychological stuff, not the "woo-woo" nonsense) who has a lot of diverse interests, and spends her time working on herself and trying to get ahead in life. I want to provide my views on topics that would normally be a bit controversial to some in the gaming, sci-fi, tech – whatever you'd call this blog – industry. I play games because I see them as an experience, something to enjoy and get immersed in. My favorite games used to be MMORPG's but I'm learning to enjoy more single-player experiences as of recently. I've felt alone for most of my life, so the ability to interact with other players in games has been something of a comfort to me. Oh and I'm also a heathenous little thing that has to filter myself incessantly just to write these articles.