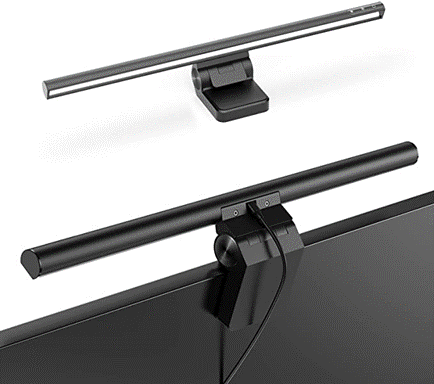 Do your eyes feel tired after prolonged computer use?
If you are a person who needs to use the computer for a long time it is important to take care of the eyes of the light produced by the screens. Often most people are not aware of the damage that can be caused by being in front of a monitor for a long time without any protection. The vast majority of desk lamps do not usually illuminate your work table correctly and often increase visual fatigue caused by the reflection of light. In most cases, the best alternative to a common lamp is to use an LED light bar for the monitor. The light bar properly illuminates your work table, so you can correctly see the keyboard at night. The desk light bar also reduces the tiredness caused by the reflection of light, so you will surely be able to work more comfortably. Complementing this light bar with glasses will reduce the problems that may arise from being in front of the monitor for a long time.
The Baseus monitor light bar is one of the best options to improve the lighting on your work table. This light bar will properly illuminate the keyboard and reduce fatigue from prolonged use in front of the monitor. If you are looking for a replacement for the desk lamp you would surely like to know more about this product.
Baseus Monitor Light Bar Feature
The amazing Baseus DESKTOP LED light bar is sure to delight you. This light bar is the best alternative to replace the common desk lamp. The main feature is that it concentrates the light on the keyboard and around so unlike the common desk lamp you will not have to worry about reflections that affect your vision. The best thing about this light bar is that it can be connected directly to your computer via a USB port. Another feature is that you can adjust the intensity and color of the light. Choose between a high and low intensity of cold or warm colors. You can set the light intensity quickly, just tap the bar sensor to change the light level. The size of this LED light bar saves up to 90% of space, so instead of using a giant lamp on your desk, you can save all that space to place additional devices. The USB cable is long enough that you can place it seamlessly on most motors (5 feet in length). You should keep in mind that you can only use this light bar using a 5V USB port, so you'll need to make sure to use this bar only on computer ports to avoid damage. Finally, the installation is easy and fast, in addition, this light bar is non-slip.
You can buy this item here: Baseus Monitor Light Bar Monitor Lamp with Touch Control, Dimmable Screen Desk Light Bar with 3 Light Modes, Computer Monitor Light for Home Office, USB Powered LED Desk Lamp Keyboard Light, Black – – Amazon.com