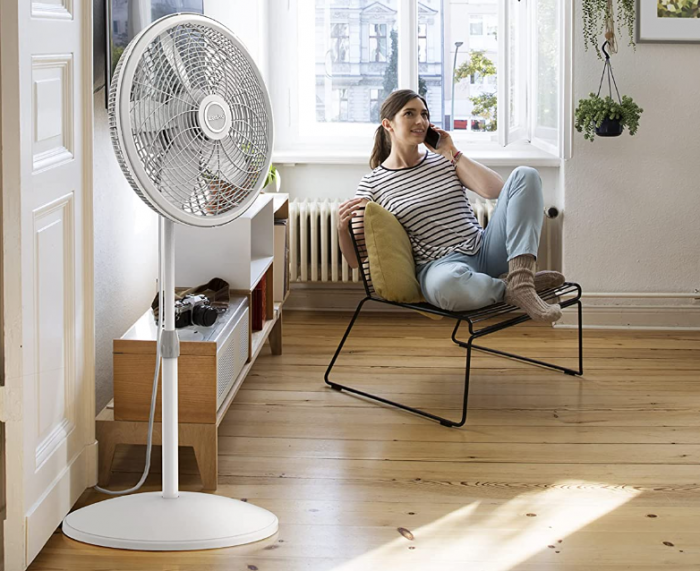 Looking for an economical fan to reduce heat inside the home?
Fans are the most economical way to reduce the intense heat inside the home and transform it into a pleasant environment that will allow you to rest after an intense day of work. The main characteristic of a fan is that they are usually devices that consume a low level of energy, so if you compare it with a common air conditioner you can save a lot of money. It is possible that an air conditioner is better if you are looking to cool a room, but a fan should be enough if you are looking to simply reduce the heat. Fans are also easy to move, so unlike an air conditioner, you can use them where you needed them (bedroom, kitchen, amusement room, and more). Although a fan should be eco-friendly you should know that there are fans of all prices, so surely you would not like to spend a lot of money for a simple fan. That is why I was in charge of looking for a good quality home fan that is also available in the Amazon store for less than 50 dollars. The Lasko 1820 18 will help make your rest more pleasant. If you are looking for a new fan for your home you would surely like to know more about this product.
Why choose this fan?
You should know that there are expensive fans and that they usually do not offer good features that justify the price, so a common and effective fan should be sufficient to relieve the heat. The Lasko 1820 18 seems to be one of the best options for less than $50.
Features of the Lasko 1820 18 fan
The Lasko 1820 18 fan is an amazing option to consider if you're looking to reduce heat. The main feature of this fan is that it includes 3 different speeds so you can choose any according to your need, in addition, this pedestal fan works well in the office, kitchen, bedroom, or any other place in the home where you would like to reduce the heat. Another feature is that you can change the height of the fan, so you could set the fan no matter what part of the home you're in. Note that you could set the height to a maximum of 54.5 inches and a minimum of 38 inches. You will be able to turn the fan head down or up so that it receives the air in the right direction. One of the best features of this fan is that the noise level is low, so you should not worry about annoying noises while the fan is running. The Lasko 1820 18 has high levels of safety, so if it detects any electrical problem it will turn off automatically to avoid any accident. You won't need to waste time assembling this fan, it will only take you a couple of minutes to finish assembling fan.
You can buy this item here: Amazon.com: Lasko 1820 18″ Elegance & Performance Adjustable Pedestal, White-Features Oscillating Movement Tilt-back Fan Head, 2.3 : Home & Kitchen
My name is Joel! I love to read, I go to university like most people my age.
In my free time I usually train boxing, I love music, I also know how to play the guitar and the harmonica.