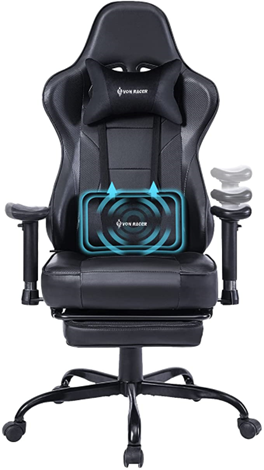 Looking for a gamer chair to spend a lot of time playing?
Playing long video game sessions in front of a screen can bring some problems to your back, especially if you do not have the best posture. Whether you play on a computer or work long sessions in an office you would surely like to take care of your back while improving your comfort. The good news is that gamer chairs have improved features compared to a common office chair, in addition to having a modern look they also have considerable improvements to avoid back pains that could become serious problems in the long term. Although office chairs are usually cheaper, they are not the best alternative if you are looking to spend many hours in front of the computer.
Which gamer chair should I buy?
You need to be careful when trying to buy a gamer chair. Remember that many manufacturers offer cheap chairs and significantly compromise the quality of the components, so it is often as chairs have a reduced lifetime. The good news is that VON RACER has made an amazing gamer chair for less than $200 that is also made of durable materials. If you are looking for a new gamer chair you would surely like to know more about this product.
Features of the VON RACER gamer chair
The VON RACER is an amazing gamer chair available on the Amazon store for less than $200. The main feature of this chair is the quality with which it has been built. The high-quality fabric has been used to greatly improve comfort; molding foam is also used so that you can sit in the chair for many hours. Another feature of the gamer chair is that it includes footrests, so if you feel tired feet after a long work session you can rest and relieve tension using the footrest. The materials with which this chair has been manufactured are easy to clean, so you will not spend much time cleaning the chair. The manufacturer uses strict quality controls to ensure the safety and durability of the chair. If you want to tilt the chair you can do it. You can adjust the chair from 90 degrees to 135 degrees so you can choose the most comfortable configuration. Another useful feature is that you can also rotate the chair in a 360-degree turn so that you can make quick movements without fear of the chair suffering some damage. The VON RACER gamer chair has been designed to be friendly to your back and helps reduce injuries from using poor posture, this is good if you usually have frequent back problems. Finally, the manufacturer is sure of the quality of this gamer chair, so it offers a guarantee to the client of one year to replace any damage.
Summary
If you are looking to spend long sessions in front of the monitor you will surely need the VON RACER gamer chair. This chair will help correct poor posture and improve comfort. The footrest helps reduce the strain on the feet. It works for gamers and office workers.
You can buy this item here: Amazon.com: VON RACER Gaming Chair, Massage Gaming Chair with Footrest,Office Chair,Gaming Chair for Adults with Lumbar Support and Headrest,Adjustable High Back Ergonomic Game Chair for Office or Gaming : Home & Kitchen