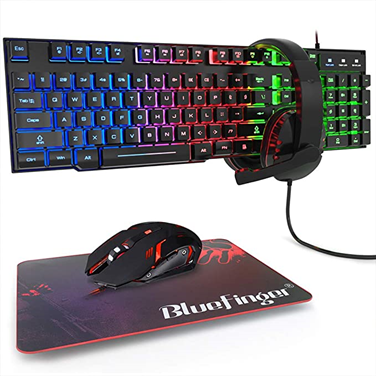 Looking for a cheap gamer accessory kit to get started in the world of video games?
If you have bought a new computer, you would surely like to buy a keyboard, mouse, and headphones, but in most cases buying everything individually can be expensive, so if you would like to save money surely an accessory kit could be an option to consider. Gamer accessory kits usually have a modern look and usually, the build quality will be decent, but you can't expect the best quality, so if you're not a demanding person surely a kit is enough for you. You can find a basic kit, but if you are looking to play video games surely a kit with RGB lights will be a better option.
In the Amazon store you will be able to find a large number of brands that manufacture these accessory kits, so surely choosing the best one can be a difficult task. Always make sure you buy a good quality kit that is well enough made to last a long time. Although you should know that you are paying little for the kit, don't expect the quality of Logitech. Next, I will write the features of the BlueFinger gamer kit.
Features of the BlueFinger gamer accessory kit
The BlueFinger gamer starter kit includes everything you need to replace your old accessories. The main feature of this kit is the price, for about 30 dollars you get 4 decent quality accessories, so if you are looking to save money this could be for you. A keyboard, handset, mouse, and Mousepad are included. Among some features of the keyboard that stands out is its RGB light for a gamer appearance (the RGB light can be turned off or on manually). The full-size keyboard includes a total of 104 keys, plus a USB cable is used to increase life and prevent short-term damage. You won't have to worry about short cables, this USB cable has a length of 61 inches, so it's long enough not to have any problems. The headphones also connect via USB. The headphones are comfortable and can be adapted according to the user, so if you are not looking to have a professional experience then these headphones should be enough for you. The headphones also include a microphone that surely won't be of the best quality, but the quality will be decent and will allow you to play with friends online, they also work well for video conferencing. The mouse is built with good quality ABS. Among the features of the mouse that stands out is the braided USB cable that decreases the possibility of being damaged by sudden movements. The USB cable has a length of 59 fleas so it should not be a problem in most cases. The mouse also includes RGB lighting (you will be able to turn the light off and on manually). Finally, a Mousepad is included to use next to the mouse and improve the user experience.
Advantages and disadvantages
Advantages
The gamer kit is accessible and ideal to get started in the world of video games, so if you need to save money this should be a great purchase. The quality is decent so you shouldn't worry about long-term damage. It is perfect to give as a gift
Disadvantages
Although it is a great kit do not expect premium quality, so if you are a demanding person this is surely not the best for you.
You can buy this item here: Amazon.com: BlueFinger RGB Gaming Keyboard and Backlit Mouse and Headset Combo,USB Wired Backlit Keyboard,LED Gaming Keyboard Mouse Set,Headset with Microphone for Laptop PC Computer Game and Work : Video Games
My name is Joel! I love to read, I go to university like most people my age.
In my free time I usually train boxing, I love music, I also know how to play the guitar and the harmonica.