I love Sound. Bright beautiful sound. Piercing melodies that draw tears from the eye, or bring a smile to the lips. A poorly designed set of speakers can ruin that in an instant. LuguLake will not let you down. It delivers crisp clear brilliantly bright sound each and every time you turn it on.
I was very impressed with the quality of the sound coming out of these speakers. It is both powerful and refreshing, bright and rich. The sound reproduction is of the highest quality, and you will not be disappointed.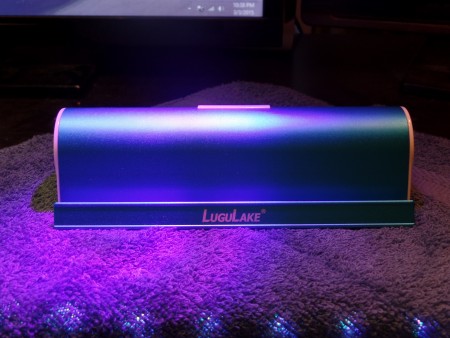 I love the fact that this is a two speaker design. I think this gives the speaker a richer sound. I also like the casing surrounding the speakers. The aluminum case adds to the crisp sound these speakers provide. What is also nice is they are not soft and quiet either. They deliver a good loud volume which is a plus.
I like the simplicity of this Bluetooth speaker. There are no complicated series of buttons and switches on this one. On the back is an on off switch, a plug in for power and an aux input for those who do not have or choose not to use the Bluetooth abilities.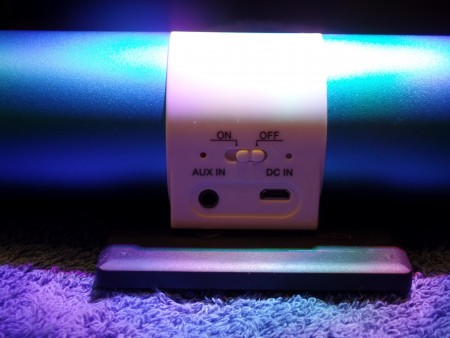 The front of this speaker is a bit unique as it has a tray built in to hold your Bluetooth device while you are using it to play music. This is kind of nice. It is also nice that it isn't just for cell phones. I was able to have it hold my Kindle fire as well.
On the bottom of this device are three well placed rubber pads. They help hold it in place which is nice when you are trusting it to hold your phones or tablets. I can't say that I would do this when driving, but on the desk, yes. I did take the speaker on the road with me, and it stayed relatively in place on my dash. (I am not recommending you do this.)
So, are there any things I do not like about the LuguLake Bluetooth Speaker? Not really. I can control the volume with my phone, the Battery life is good, and it looks great. As always, it would be nice to have a bit deeper base, but for the price and everything else, this is a great buy.
I have tested many speakers so far, and this is right up there at the top. I really do recommend that you stop what you are doing and get one before you do anything else. You will not regret it, and you just might thank me.