Disclaimer: Today's post is sponsored by Siemens, and I spent a good deal learning about the Sirius ACT buttons which look pretty cool and I had never put so much effort into learning about buttons. All opinions are 100% mine and mine alone.
This funny little sponsored video is done in the style of actors and a director talking about another actor, though the actor in this case is the SIRIUS ACT button.  This commercial style video is to draw attention to look at the
SIRIUS ACT button
and raise awareness for this product. Now this is isn't a product that home consumer users would just buy and use (unless you are an inventor and tinkerer, designing a new device or gadget) it is designed to show that that these buttons make an excellent option in gadgets and appliances of the present and the future.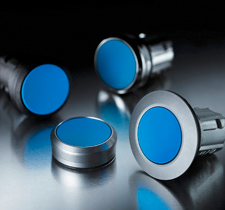 The buttons themselves are quite impressive and have a variety of options and functions including indicator lights, sensor switches and more.  It really had me grasp the concept on how in every appliance or device each individual component can come from another company and honestly prior to watching the video and clicking on the link to learn more I hadn't put that much thought into a button found in appliances or devices.  I couldn't help think of the movie The Box, where if someone pressed a button they would get a million dollars but somebody else would die if they did.  Maybe the actor in that movie was a SIRIUS ACT button!