We are influencers and brand affiliates.  This post contains affiliate links, most which go to Amazon and are Geo-Affiliate links to nearest Amazon store.
This is the first Windows OS based tablet from Tablet Express and honestly our first Windows tablet review, so going into the review I had expected Windows on a tablet to be much different than iOS and Android but it was surprisingly a different experience and at the end of the actual Tablet review I will give my feedback on Windows as a tablet OS vs Android or iOS as well.  The first thing I would like to say is that the Dragon Touch I8 is a really decent tablet for $109.99 on Amazon.  This tablet comes with an Intel Baytrail-T Quad-Core Z3735G  processor, 1GB of RAM, 16GB of Storage, and has a really nice crisp display with a 1280×800 IPS Full-Angle Display.  The tablet weighs just 10.1 ounces and is responsive and just looks and feels good.
It also comes with Windows 8.1 and not the Windows RT version, so you have all that you would expect from having a Windows 8.1 operating system including the profile sharing when using a Live account to login, and combined with Onedrive this gives you seamless access to your same desktop wallpaper, documents, music, files and anything else that is setup to go to your Onedrive profile.  This is a huge plus and simply moving off your desktop and picking up where you were at with a document or something on the tablet is something easier to do than anything else I have used.  The familiar Windows environment is both a gift and a curse here, as I quickly find out that Windows still feels handicapped when you don't have a keyboard unlike Android or iOS which are pretty much tuned to touch functions only.
But back to the tablet.
Here is my Unboxing Video of the Dragon Touch I8
I think 8″ is a great size for a tablet, the extra inch on the screen seems to make a difference and you can easily hold it with one hand unlike a 10″ tablet which isn't as easy to use one handed.
 When you first power on the tablet you are in Windows setup mode and have to enter the standard Windows configuration stuff as if you are installing Windows on a PC.  I had an issue early on when "Narration" was enabled (not sure why it was on) but it caused severe lag and performance issues, so I rebooted the tablet and restarted the install process and narration was off and things went much smoother.
My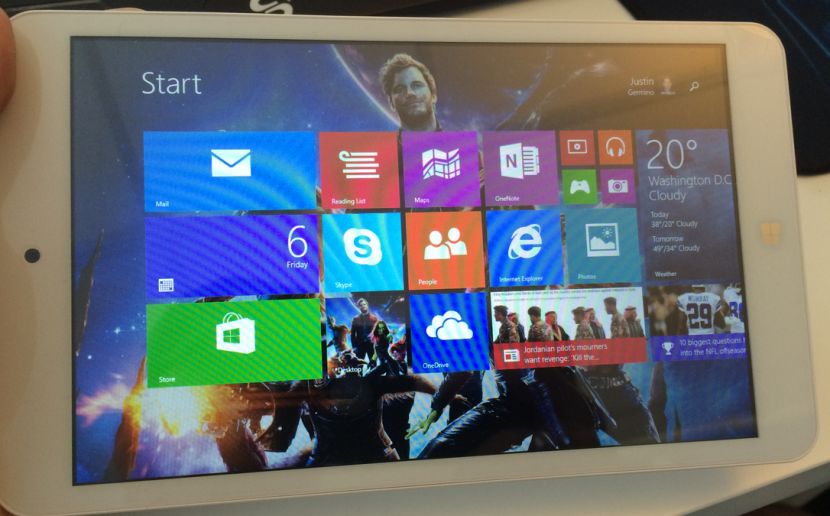 After I signed into the Dragon Touch I8 with my Windows Live account, my GotG wallpaper was there waiting for me and it felt like my desktop was with me, except for having no installed apps.  Browsing worked flawlessly, the OSK is very responsive and had no issues with the keys, Internet Explorer on the tablet functioned without issue and was fast and responsive as well.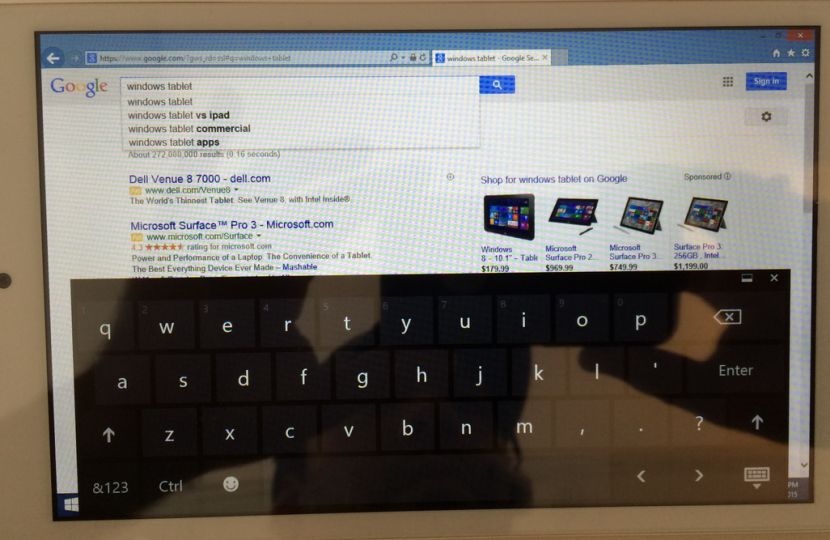 I started tinkering around with the Windows app store in the Charm screen, and downloaded a few games to play and test.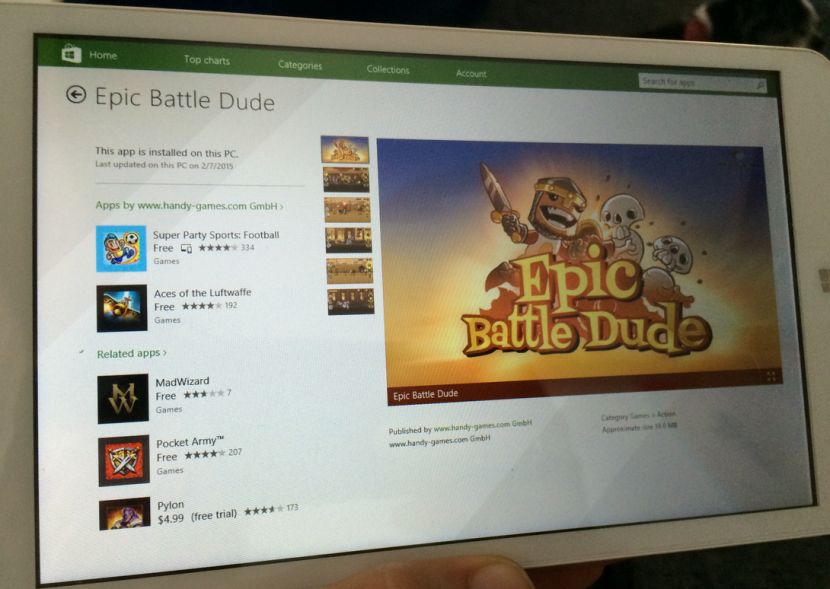 Casual games work fine, on the Dragon Touch I8 tablet without issue.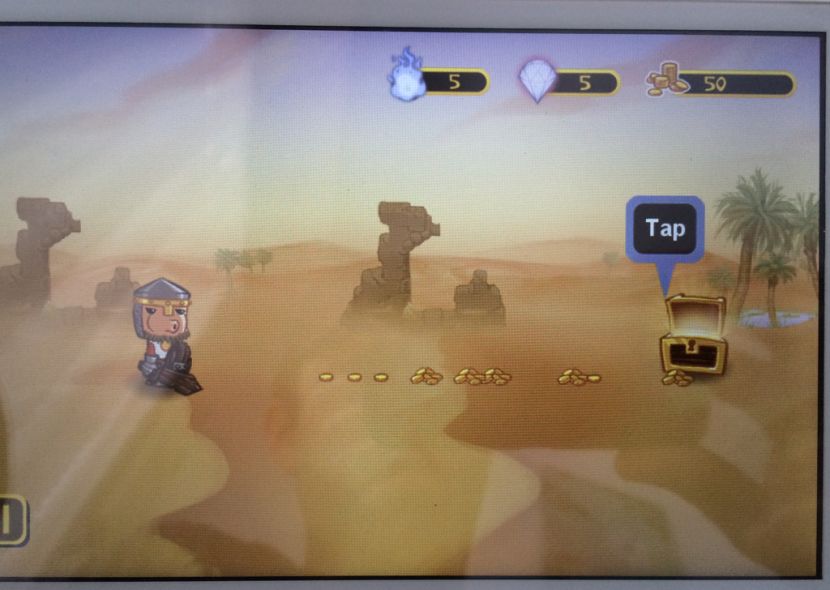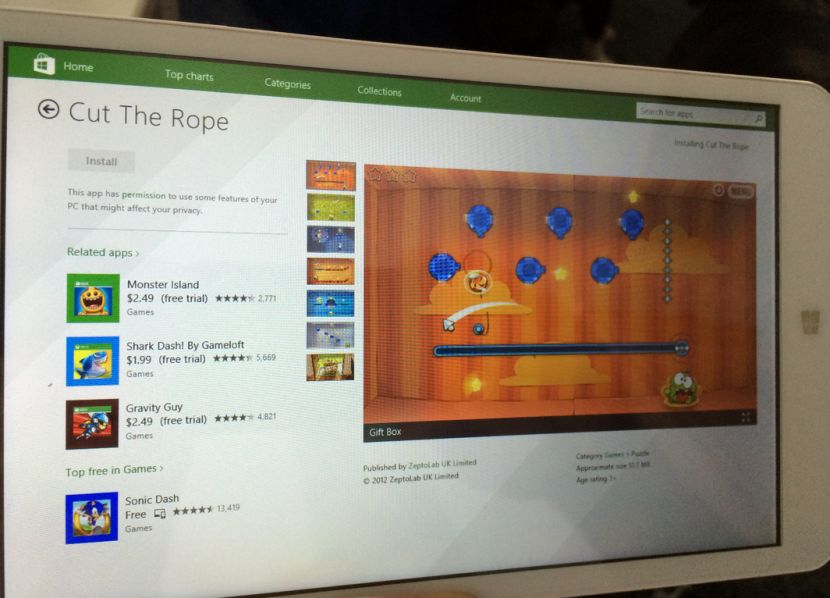 One thing I noticed very early on, is that the app store in Windows is very limited and what makes matters worse is that you will see games that can't run on your tablet and you have no way of knowing they won't be supported until you try and download them.  Sorry no Dungeon Hunter 4 for the Dragon Touch I8 tablet.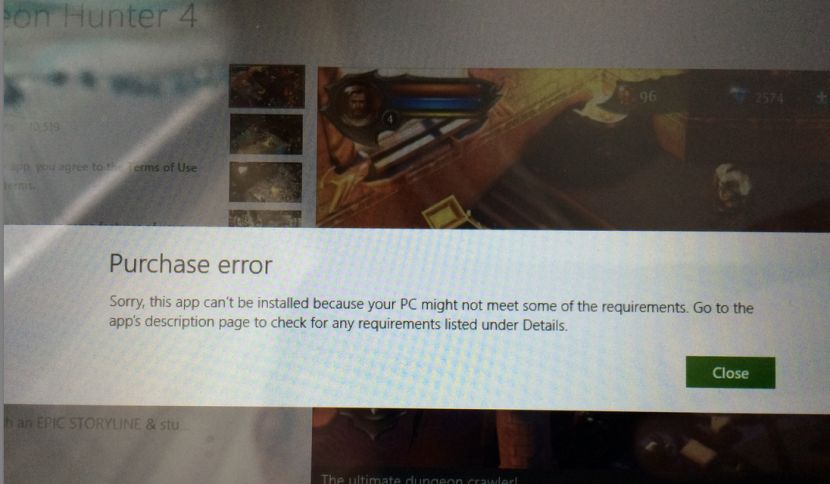 You also won't even find Hearthstone in the Windows App store, but the tablet might not be able to play it if they eventually add it.  You can however use the Desktop mode to install traditional Windows 8 software, just know that the main drive is limited to 16GB of space, and this FILLS up almost immediately.  For some reason Office 365 is still a Desktop install and it consumes a massive amount of space when installing.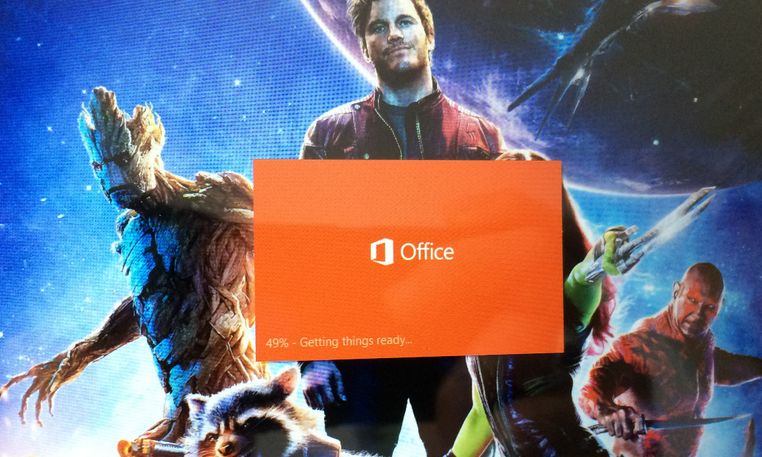 The Dragon Touch I8 has a nifty feature being a Windows tablet, in that you can split the screen 2 or 3 ways and have up to 3 apps side by side.  This allowed me to keep switching back and forth to my game while I was checking on the download status of Office 365 which took the better part of 25 minutes to install.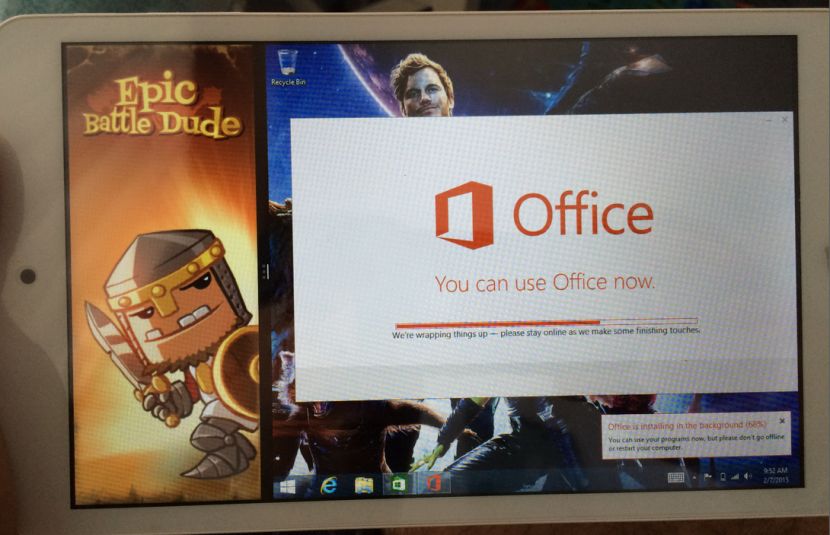 The only major problem I saw with the Dragon Touch I8 and I am not going to sugar coat it is that the 16GB of storage it comes with is just not enough.  First of all, with Windows OS itself installed, you only have just over 9GB of disk space on your C: drive.  With Office 365 installed, this brings you to 0 free space on your drive after having a handful of Charm apps installed which essentially cripples your Windows 8 tablet.  The only solution is to get yourself a 32GB or 64GB MicroSD card which you can see below shows up as a separate D: drive, and because this is Windows you can install any desktop application to the D: drive (so you can install office there) but you can't install Charm apps from the Windows store on the D: drive, so keep all desktop apps on the D: drive or SD Card and you could get a lot more storage value out of the tablet.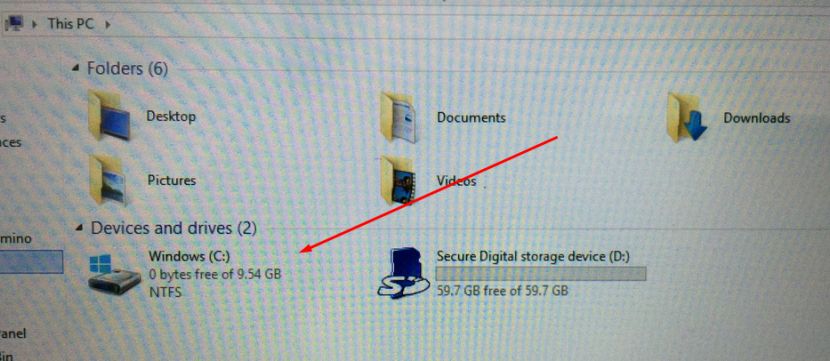 Don't let your tablet get to 0 bytes free like I did, performance will bottleneck, you won't be able to open Office 365 documents and you will have tons of issues, so the fact that the Dragon Touch I8 comes with a full year of Office 365 is great, but you really can't install it to your tablet storage, you MUST use an SD card or else you will immediately cripple your tablet.  Office 365 is one of the selling points of using a Windows tablet too, so it is counter-intuitive to not have enough storage.  This tablet should have had a minimum of 32GB storage by default to accomodate the OS plus Office 365.
Here is my full video review detailing more:
Now, I will say that I really enjoyed playing around with Windows as an OS, and the charm screen with live tile apps is fun and useful.  The one thing the tablet was missing as was mentioned in the video is there is no combo of buttons to take screenshots, I had to use my camera for all screenshots and there is no easy way to go to task manager like there is with the Surface Pro.  The Windows button + volume or screen lock server no additional functional purpose and they should have been able to tie in those functions to match the Surface Pro.
I also reviewed and tested both a Bluetooth keyboard (works flawlessly) and the Keyboard Case that you can buy for the Dragon Touch I8 which plugs in via the MicroUSB spot so it doesn't drain battery as fast by using Bluetooth.  The con is you can't charge the tablet while using the Keyboard case, but they keys while small are responsive and help you navigate the Desktop in Windows 8 on a tablet though it could have benefited from a track button or trackpad.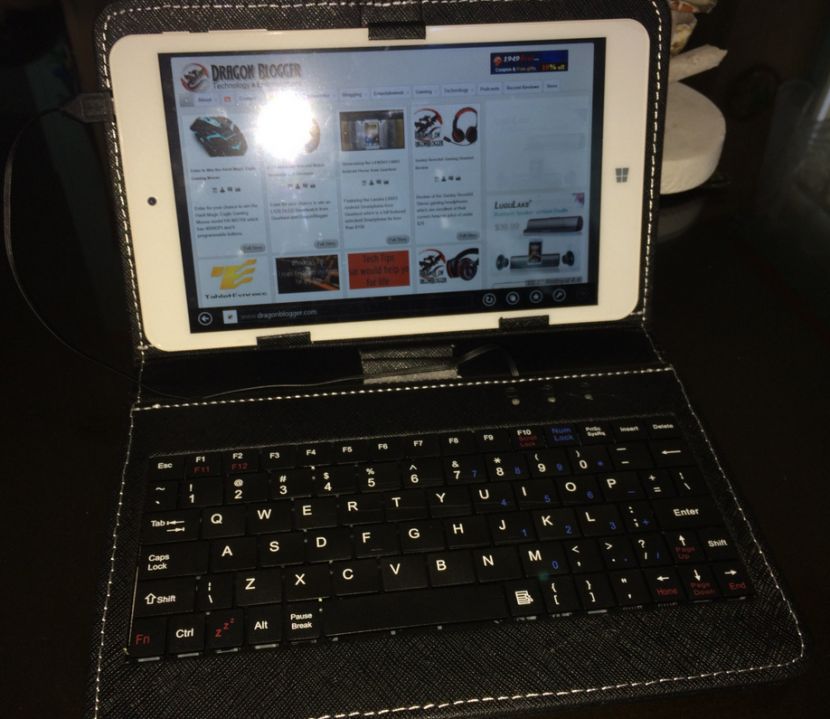 See my video review of the Tablet Case for the Dragon Touch I8
Now, Windows overall as a tablet OS was kind of fun to play with, but because Windows still requires you to bounce between Charm screen and Desktop mode, the Desktop mode is incredibly difficult to get around in without a mouse, though you can double tap to open icons, without a keyboard to open my computer or type anything, it became extremely clumsy and felt like the tablet wasn't meant for touch screen use only at times.  I can tell you having a Bluetooth keyboard or the keyboard case will help, but I don't like having to go into Desktop mode on the tablet, and you find yourself having too sometimes as the app store is so limited, you may need some apps that only install in desktop mode.  They camera is decent, both cameras though not superb it was on par and more than sufficient for doing Skype video calls or taking photos, again not great but sufficient is the word I use.
We are influencers and brand affiliates.  This post contains affiliate links, most which go to Amazon and are Geo-Affiliate links to nearest Amazon store.
I have been obsessed with computers, tech, gadgets and games since the early 1980's having grown up on the Commodore 64 and Amiga computers.
By day I work in the IT Security Industry and have been in IT for over 20 years. On my spare time I am a Vlogger, Blogger, Streamer, Gadget Reviewer, affiliate marketer, influencer and entertainer. I am also an avid movie fan, TV Show fan, Anime fan, video game fan and fan of trying anything and everything new.