We are influencers and brand affiliates.  This post contains affiliate links, most which go to Amazon and are Geo-Affiliate links to nearest Amazon store.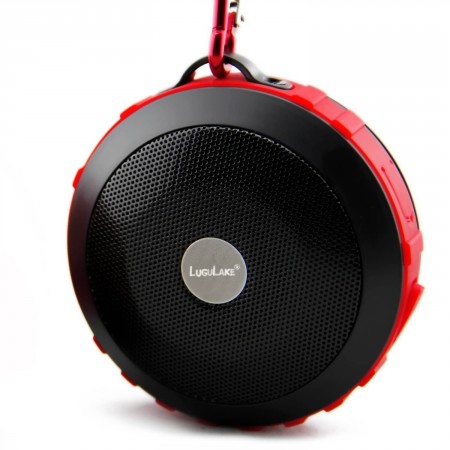 Hey there.  I love a good bluetooth speaker.  I think they are amazing.  No matter where you are, you can connect to a speaker wirelessly and share the music with those around you. Connecting to a speaker while watching a movie will not only provide better sound quality, but will enhance your overall movie watching experience.  The only problem with bluetooth speakers is that they're pretty big and bulky.  They're not really built to be portable.  Well, at least not to carry with you and use it wherever you go.  That's where LuguLake comes in.  LuguLake made a bluetooth speaker that is actually portable.  One that you can clip to yourself and carry around.  And I was the lucky Dragonblogger to be chosen to receive this LuguLake Portable Bluetooth Speaker for review!  So before I go into my experience, let's dig into some of the specs:
2.7W of amplifier power
Lithium Ion rechargable battery (charge through micro USB cable)
Over 5 hours of continuous listening time
Can connect to your portable device via Bluetooth or 3.5 mm jack (included)
Can answer calls
Awesome, portable UFO design
Shockproof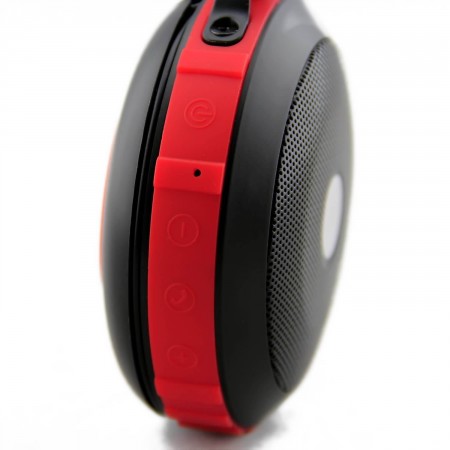 Now, I'm big on easy connectivity and usability.  This LuguLake hits all the right notes when it comes to easiness.  Turning it on is as simple as pressing the power button and connecting it to your bluetooth enabled device is a breeze.  And if for whatever reason your device does not have bluetooth capabilities, you can use the 3.5 mm audio jack that you pull out from the bottom of the speaker.  It is great news for those of that still use some of the older Kindle Fire tablets!  lol  The plus and minus buttons turns the volume up and down and the phone button will answer any calls that are coming on your phone while connected to the LuguLake Portable Bluetooth Speaker.  Personally, I don't feel that the portable bluetooth speakers should have the answer call function.  I just don't see it as a practical function, but I guess it's nice to have it there just in case you are one of the few that like to have the world listen in on their phone calls.  Anyways, the portable speaker is chargable and you can charge it up using a USB to MicroUSB cable.  Charging time wasn't too bad.  I was able to charge it from completely dead to full charge is about an hour and half.  Not great, but not too bad either.  Lastly, the speaker claims that it is shockproof.  Hmmm…. yeah, I don't know about that.  I didn't test it.  Not going to lie, folks.  Whenever a device claims to be anything proof, it's tough to really put it to the test for fear of damaging the device.  In this instance, I do see how LuguLake has taken precautions in the design to assure that the speaker can take a hit.  The metal mesh surrounding the speaker will help keep debris out of the actually speaker itself and the rubber casing elsewhere looks like it will absorb the force from a fall.  It definitely looks durable and sturdy but I can't say for sure whether it is 100% shockproof.
As for the sound quality, it definitely ranks up there.  The bass is booming and the highs are pretty clear.  Even after turning up the volume to it's highest setting, the LuguLake Portable Bluetooth Speaker did not crack, pop, or fizz. It did not matter whether Metallica was belting out a tune or the Art Leboe oldies were swooning the ladies, the music was near perfect in sound quiality.  And the UFO design perfectly projects the sound in 360 degrees so you don't have to worry about having it face the crowd.  You can simply set it in the middle of the room, or table, and let the sound project.  This is why it is absolutely GREAT to have when you have get togethers.  Just plop the speaker down near your group and bam!  Instant music.  This is one of the reasons why I decided that I would test it out while having a small get together with family.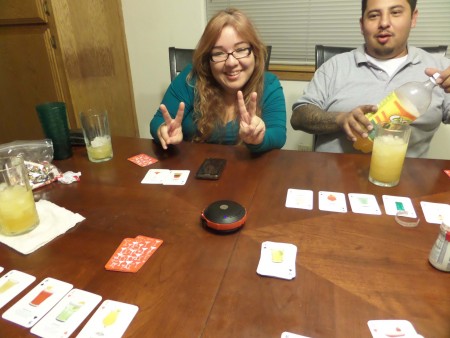 A staple of having a good time is listening to music, especially when visiting family and friends.  I don't think I've ever hung out with loved ones, while enjoying an adult beverage or two, and NOT have music playing.  A portable speaker like this breathes life into the party.  While chatting, while playing, while living life… when "your" song comes on it immediately livens mood instantly.  It's no wonder that I'm always asked, "where did you get that?", "that's awesome!", "I need one of those!", when ever the LuguLake is doing it's thing!  And even though it's slated to last approx. 5 hours of continuous play time, it definitely lasted a lot longer than that.  On a full charge, the speaker keep the music going for closer to 7 hours.
Let's not forget the portable part of this great bluetooth speaker.  Yeah, you can carry it and plop it down anywhere and enjoy music, but what about those of us that are pretty active?  Those of us that hike, jog, or go camping will absolutely love the fact that the LuguLake Portable Bluetooth Speaker comes with one sturdy, heavy duty clip to allow you to clip the speaker to a backpack, belt, or any other gear that you may have on you.
The LuguLake Portable Bluetooth Speaker is one to seriously consider.  With great sound quality, unique design, and portability, how can you not have this speaker in your collection.  I've been fortunate to have been able to try out and listen to the quality of several speakers and when I find one that I like, I stick with it.  The LuguLake Portable Bluetooth Speaker is one that I'll definitely be sticking with.  I'm a small package but it definitely packs a huge punch.  I'm sure that once you try it, you'll be sticking with it as well.
We are influencers and brand affiliates.  This post contains affiliate links, most which go to Amazon and are Geo-Affiliate links to nearest Amazon store.
This is the Dragon Blogger Guest Bloggers account for author's who want to submit articles and only have credit in the post instead of having to manage their own WordPress profile.