We are influencers and brand affiliates.  This post contains affiliate links, most which go to Amazon and are Geo-Affiliate links to nearest Amazon store.
I do not have cell phone service. I have chosen not to have one mostly because I cannot afford the cost, and I do not like getting calls while I am out driving. Sometimes however, I need to make a call while I am out, and with pay phones almost nonexistent, what are you supposed to do?
For me, free is always the option and with that, I turn to Magic Jack. I first heard about Magic Jack back when the fastest computer available, for home use, was a Pentium 100. I used 56k dial-up and I was not 100% impressed.
Yes, it was the coolest thing around, but for the speeds I had to work with, most of the time, the conversations were full of echoes and distortions. But that has changed with the advances in technology.
Today's Magic Jack is new and improved and more affordable than ever. They still have the home device but it comes in a slightly different package and is better suited for the high speed Internets we have today. As long as you have a minimum of 128k for both the device you use on your computer and for the android app, you are good to go.
So what does that mean? Well, it means you can stop at nearly any location that offers free WI-Fi across the country and make a call, and if you are traveling and carry along a portable hot spot, you're all set as well. All calls inside the US and Canada are free. If you desire to make calls to other countries then you must purchase calling time from Magic Jack and then you're free to make those calls as well. For a list of those rates, see this link.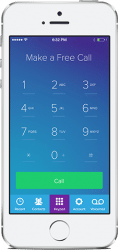 The app itself is easy. Once you install it to your phone you can sign up for a free phone number. This will then be assigned to your app under your registration and will stay with you. You can even set things up so that your Magic Jack calls at home can be forwarded to the app so you don't have to miss important home phone calls when you're out and about. The app can on my android device at least, be set to be the default phone app.
I have used both the home product and the android app. I have made many calls to my wife and kids using the app and with few exceptions have gotten great service. It is only when the internet speeds fall below the minimum needed for the app that the quality becomes unacceptable.
I also learned that for any of you who like me still own your original Magic Jack, the silver one, you will need to buy a new device if you want to use it on windows 8.1, and probably 8 as well. I was told it supports up to windows 7. Not too bad for a device made so long ago.
I have not tried any other VOIP software. When I tried Magic Jack, I did not see the need to look further. I must note that if you use the home product for your computer, the Magic Jack Go costs $59.00 for your first 12 months and then gets less expensive there after. The Magic Jack Plus is only $39.95 for the first 6 months and then it gets less expensive there after. The renewal cost is kind of up to you. You can opt for 1 month, or several years. Check here for prices. Now, for the best part. The phone application is always free unless you want to make a call outside of the free calling area.
They even have a Kindle Fire MagicApp so you can make free calls on your Kindle Fire HDX too!
We are influencers and brand affiliates.  This post contains affiliate links, most which go to Amazon and are Geo-Affiliate links to nearest Amazon store.
I have worked in and around many different types of computers. In the Navy, I used a magtape drive computer that was a step down from pen and paper. I later worked for a big computer company and after that, taught computer class's nation wide. I had the privilege of teaching 14,000 students in a 2 years period of time. Afterwards, I owned a small computer training and repair shop for a few years. I have owned C-64's, Pc's of various types, Amiga's, and even Mac's. I now have included the android to my collection. At any time, I have close to 15-20 computers or combinations of computers and game systems in the house. I look forward to more.