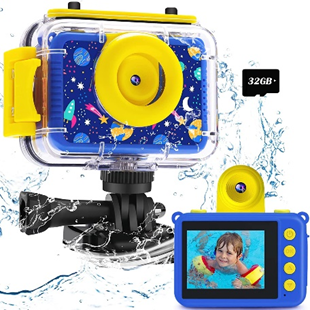 Would you like your child to learn how to use a camera, but don't want to spend hundreds of dollars? The kid's camera is the perfect gift
Children are curious and as you know, they love toys, so sometimes it can be difficult to find a toy that can offer them hours of fun. You can find remote control cars, stuffed animals, helicopters, and a lot of children's toys that your child will surely love, but surely you are looking for something different for your child to have fun with his friends. The children's camera sounds like a perfect gift for your child to start taking videos and photos without the need to spend hundreds of dollars. It is a great gift for children to spend more time away from home, and it is a good way for them to learn how to use technology.
The camera for children is not a camera with professional image quality or anything like that, it is able to offer an incredible and fun HD recording, which will be enough to surprise children. Most children's cameras usually record at a maximum resolution of up to 1080p, plus they include a small screen so that children can view the recordings without removing the SD memory. All this is still impressive even if you consider that this is a toy for children, plus children's cameras are not expensive.
The AILEHO children's camera is the perfect gift if you are looking for your child to start taking fun videos and photographs at any time. Designed to be easy to use, so children over 4 years old can learn how to use the camera in just a few minutes. Below, discover the most interesting features of this product.
Features of the AILEHO kids' camera
Recordings in 1080p 30FPS
Although this camera is designed for children over 4 years old, the quality of recordings is amazing. Kids can get 1080p 30FPS video quality, so, your kid can take two videos with their friends. This kid camera can also take pictures at 20MP, so whether they're on the beach, pool, park, or anywhere, your kid can get a recording or photo. Something you should keep in mind is that it is designed for children, so do not expect the quality of a Canon or Sony camera, but, even so, the quality will surprise any child.
The camera can be submerged up to 30 meters underwater
Something incredible about this camera is that it is designed to dive underwater at a distance of up to 100 feet, which ensures that the camera continues to work if your child is in the pool or if it is raining. To keep the camera safe underwater it is necessary to use a waterproof case, which also helps protect the camera from accidental shocks. Please note that to ensure that the camera is fully waterproof, sound recording is not available while the waterproof case is in use, it should not be a problem if your child plans to use the camera at the beach or pool.
Durable battery and 2-inch display
Although this camera is small (it has a similar shape to a GoPro), the battery offers a rather amazing usage time. The 500mAh rechargeable battery allows kids to use the camera for up to 2.5 hours, which will be enough for kids to take amazing videos. This kid-friendly camera also has an HD screen so kids can not only watch the recordings but also play on the menu. If you want to watch the recordings on your computer you only have to remove the 32 GB SD card (included).
You can buy this item here on Amazon