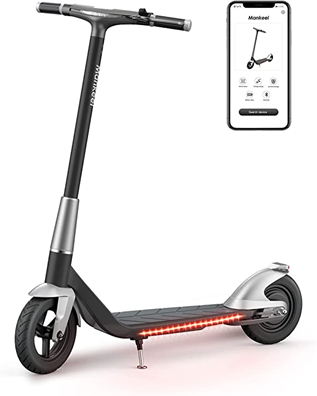 Looking for a good scooter that allows you to get anywhere?
When it comes to transporting us in a vehicle, people may not always be happy that their own cars can significantly pollute the environment and if you think that way, I congratulate you. Carbon emissions are increasing every year, so using electric vehicles can be a great long-term solution. I would say that the electric bike and the electric scooter are two means of transport that will allow you to not only have fun but also save money, so, it is a great option if you are looking for an environmentally friendly means of transport. Most electric scooters allow you to reach high speeds, so you should be able to drive on the streets without any problems.
As mentioned above, the speed that a scooter can reach will depend on the power of the engine and the quality of the accessories, so according to your budget, you could choose a specific model. You probably wouldn't want to spend too much money on your first scooter, but it's still important to choose a good quality one. You should expect to spend at least $500 on a scooter with good specifications.
A great option to consider is the Mankeel Electric Adult Scooter. It is a scooter with a high-performance engine that will allow you to get anywhere. It offers good autonomy so you can travel long distances without worrying about the battery. Below, discover the most interesting features of this product.
Features of Mankeel Electric Scooter for Adults
Powerful 500W brushless motor
If you are looking for a scooter that allows you to reach high speeds, you need a powerful engine. The Mankeel Electric Scooter provides a 500W brushless motor, which will allow you to reach a top speed of up to 19mph so you can drive quickly through the streets of your city. The most incredible thing is that it can launch at the maximum speed in just 3 seconds. Please note that the maximum speed may depend on the weight of the user and ground conditions.
High-performance batteries
Lithium-ion batteries ensure that the scooter can travel long distances before having to recharge. On a full charge, you can travel a distance of up to 28 miles, which should be enough to traverse and explore the streets of your city or town. Charging the batteries will only take 3 or 5 hours, so you will have your scooter recharged again in no time.
Comfortable and safe
The wheels of the Mankeel electric scooter are designed to cushion road bumps, allowing you to ride comfortably. The 10-inch tires are responsible for easily passing through rough roads. This scooter also features IP54 waterproofing to protect it from water splashing. Only high-quality materials have been used, in this way the service life is extended, unlike other Scooters. The maximum load that this scooter can support is 270 pounds.
The Mankeel Electric Scooter is undoubtedly a great option to consider if you are looking for an environmentally friendly means of transport. You will surely love the modern design and it has additional functions that you can use by installing the "Mankeel" app. Make your life more exciting with this high-performance electric scooter.
You can buy this item here on Amazon
My name is Joel! I love to read, I go to university like most people my age.
In my free time I usually train boxing, I love music, I also know how to play the guitar and the harmonica.