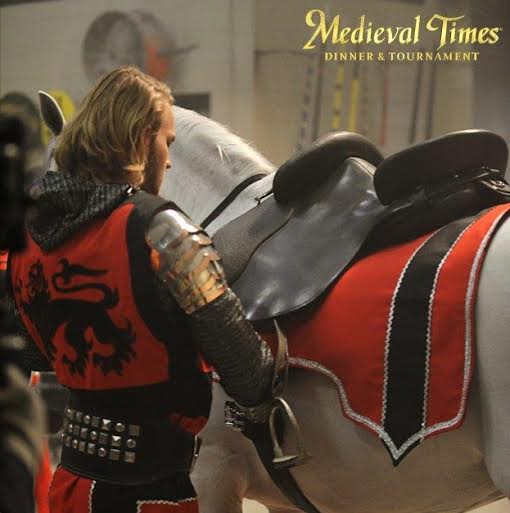 Who doesn't like getting the chance to eat with their hands and watch a good live story unfold while they eat. Let your inner geek out and watch some role play while eating.  I have a guest staying with me and this is his first trip to Canada so I thought a great place to take him and my family would be Medieval Times Dinner and Tournament in Toronto, Ontario. There are also 8 locations in the United States. It is a great place to let go and unwind with family and friends.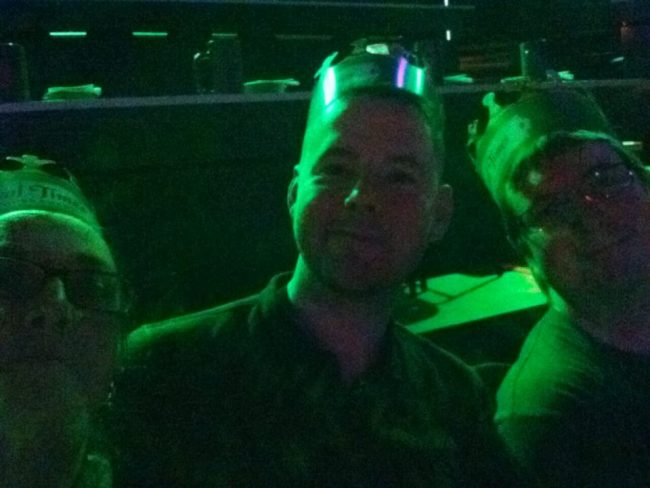 When you arrive you are given a crown to the color section you will be seated in and that is the knight you will cheer for.  After that, you can get your picture taken with the King and Queen.  You are always addressed as Lord or Lady. The staff to a wonderful job at staying in character and speaking as if you are currently in the Medieval times.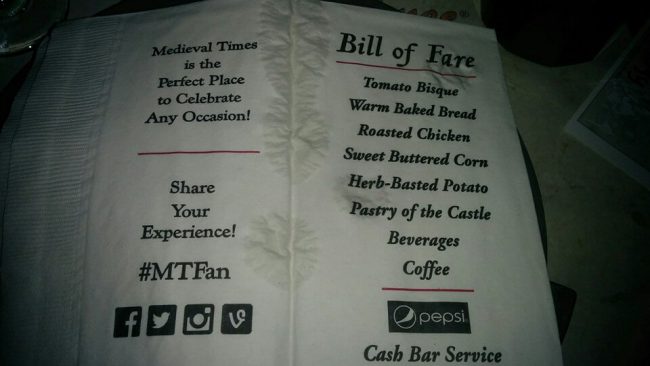 The food here has always been good. The portions are big and you do not go home hungry. My kids who are very picky ate everything offered I was shocked.  You can call ahead if you do have dietary restrictions and they can accommodate you so no one will feel they can't go to enjoy themselves.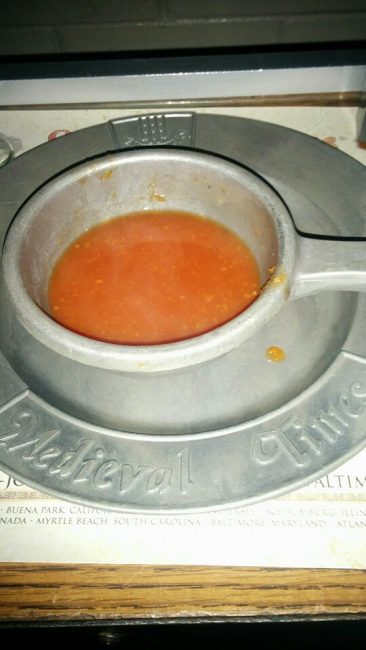 You do not get any utensils to eat with but that just makes for a more authentic "knight" out. The tomato soup here is one of the best I have ever had.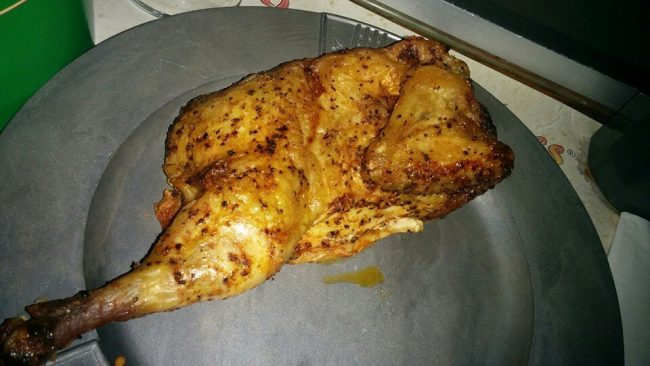 The chicken portion is huge. Last time I was here it was only a quarter chicken but you got a large bbq rib. Now you get a half chicken that was delicious and very filling.  This change to the menu was a great idea.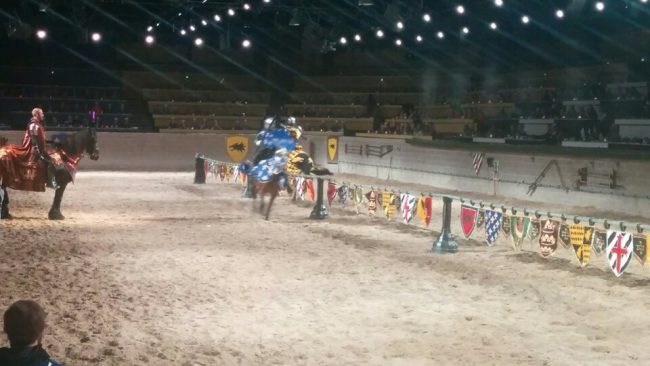 There is a story line through the show which makes this great to follow. My kids were cheering our green knight and booing all the others as instructed by our server Daniel who was fabulous and friendly. The lances would break on contact during the battles engaging the fans. It was a pretty full house last night and everyone sounded like they were having a great time.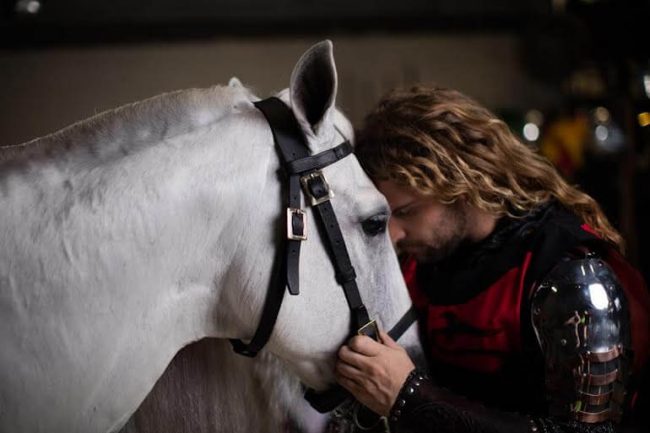 One thing I like the most is to see how well the horses seem to be treated. You can see the bond between the horses and handlers. They were so beautiful to look at. After the show the staff lead the horses back to their stables and there are windows where you can go to get a closer look at them.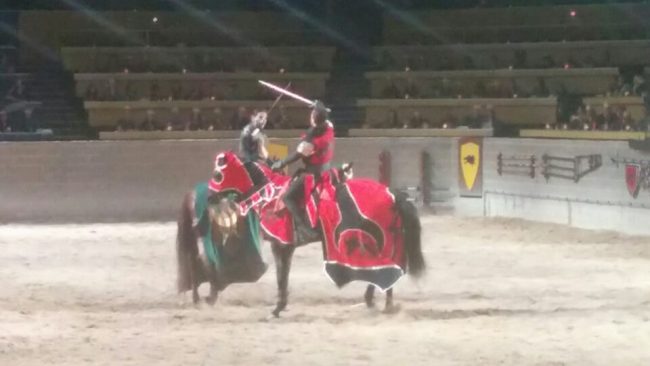 Now During the show there are many types of battles to watch. They do battles on the horses, sword fights, jousting and use other weapons as well. You can actually see sparks fly when the swords make contact with each other.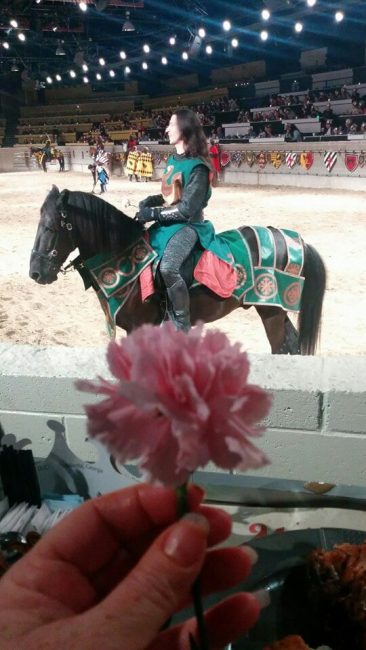 If a knight wins during the smaller competitions the queen gives them flowers to hand out to people in their section. My daughter and I received them.  You honor them with cheers and they honor you back with flowers.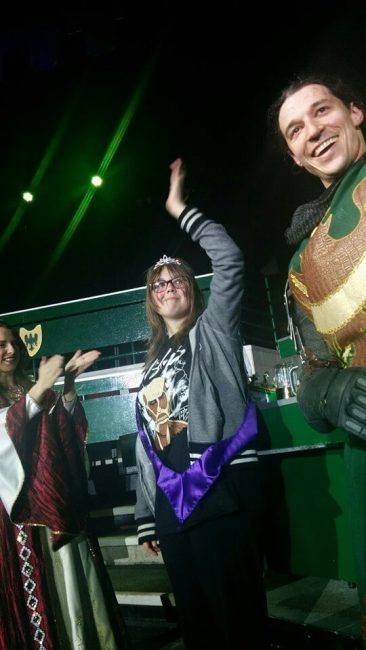 At the end of all the battles, our Knight was victorious. The Queen and our Knight came over to our section and chose my daughter to become a Queen as well. The gave her a sash and crown that she got to keep and they took her picture and framed it that she also got to keep. We have never sat in the winning section before so this part was all new to us.  My daughter said it was the best "knight" of her life so far.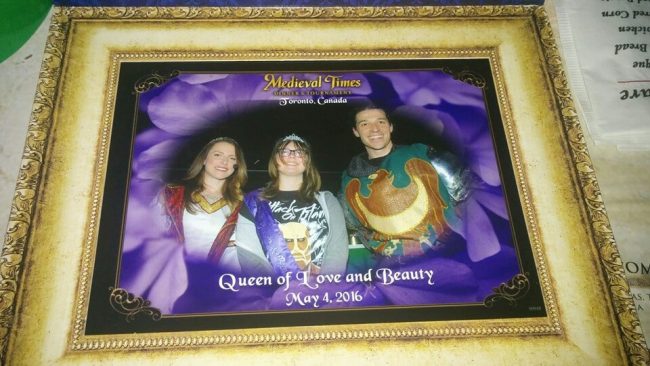 Medieval Times currently has some special offers running through the month of May. 50% off for teachers valid from May 1st 2016-May 29th 2016 as well as a Mother's Day Promo use the code BOGO and it is valid from May 2nd 2016- May 8th 2016. The do have offers all the time however so check them out regularly. You can also check out their Facebook page as they are always posting updates with specials, information about the horses and they also run giveaways so you could win your chance to go see this.  The Mothers day special includes the photo, a drink and a sash to wear.  It was an amazing night and everyone had so much fun. I look forward to doing this again.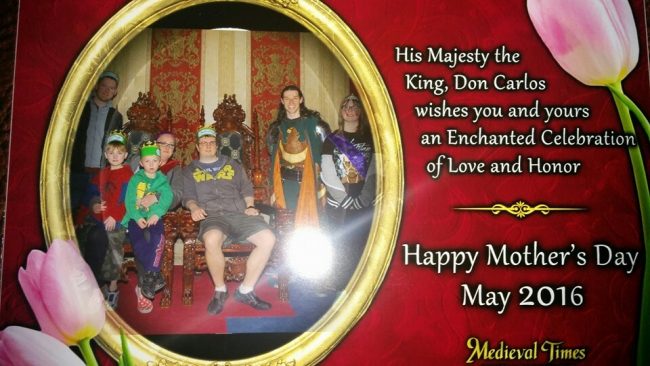 I am a stay at home mom of 3 crazy kids. I love Game of Thrones, Harry Potter, Lord of the rings, marvel movies etc..