We are influencers and brand affiliates.  This post contains affiliate links, most which go to Amazon and are Geo-Affiliate links to nearest Amazon store.
Ever heard of wireless electricity? You use it all the time in the form of WiFi: electrical signals that can be transmitted wirelessly to different devices. You also use this same energy when you listen to the radio in the morning when you go to work. In fact, what if I told you that you could also tap into something more high-powered to charge your phone without even having to plug it into the wall?
Some phones have this built into them, and the company behind it calls it Qi. Similar to Chi, or generally speaking "invisible life-force energy," it is essentially just that, but on a technological level. This electricity won't harm you, of course, but it is able to be picked up and utilized by small chips in certain devices. In Qi-enabled phones with these chips, you can place your phone within a range of certain equipment to charge your phone, such as this Wireless Charging Mouse Pad from Mobile Edge.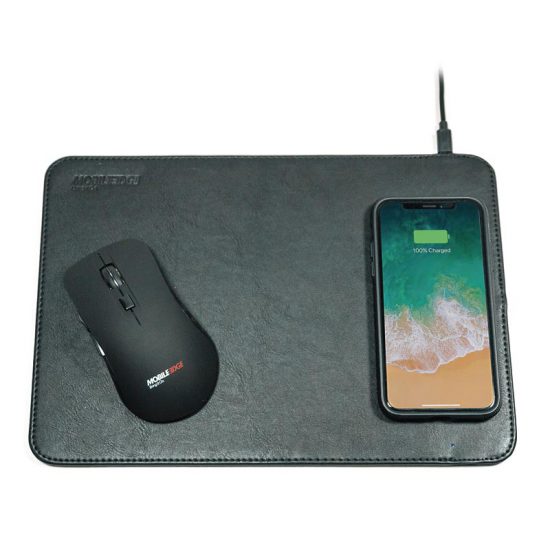 If you're a heavy computer user, this might benefit you quite a bit, especially at work. Imagine just setting your phone (preferably your work phone) down at work while you're at your desk job in your little cubicle (or wherever you might be), and not having to worry about your phone passively losing charge in your pocket? And although I don't encourage it in inappropriate settings, if you need your phone for work (or your employer allows you to use it at work), it's readily available for use.
This specific model includes 3 Micro USB ports to plug it in, so that you can angle the mouse pad in almost any direction or position you like without messing with or bending the power cable. With it comes a Micro USB cable for plugging it in (which is important, because sometimes you have to buy it yourself), and an LED power indicator that shows if it's on or not. Besides, just look at it. It looks stylish and I like the leathery appearance. The stitching on the edge is very nice and makes me feel uber professional.
Something else you might be forgetting is that if you have a Qi-enabled wireless mouse, you could also charge it on the mousepad and never have to worry about batteries or cables again. That sounds pretty dang nice if I do say so myself. The only thing you have to worry about is that lithium-ion batteries usually don't last as long as good-quality mouse cables (from my experience and logic), but that's nothing too major.
This mouse pad just screams accessibility and style, and if you're an edgelord like me, then that's even better, because it's all black and sleek. Come pick yourself up one today, if you want to splurge on something neat, but always remember to be smart with your money.
Much love. Roxie out~
We are influencers and brand affiliates.  This post contains affiliate links, most which go to Amazon and are Geo-Affiliate links to nearest Amazon store.
So… I'm Roxie. To be fair, I'm just some person… girl… thing… on the internet who likes to shout my opinion as loud as I can while also doing it respectfully and trying to come from a place of good intents. I'm an extremely spiritual individual (the legit logic-based para-psychological stuff, not the "woo-woo" nonsense) who has a lot of diverse interests, and spends her time working on herself and trying to get ahead in life. I want to provide my views on topics that would normally be a bit controversial to some in the gaming, sci-fi, tech – whatever you'd call this blog – industry. I play games because I see them as an experience, something to enjoy and get immersed in. My favorite games used to be MMORPG's but I'm learning to enjoy more single-player experiences as of recently. I've felt alone for most of my life, so the ability to interact with other players in games has been something of a comfort to me. Oh and I'm also a heathenous little thing that has to filter myself incessantly just to write these articles.