We are influencers and brand affiliates.  This post contains affiliate links, most which go to Amazon and are Geo-Affiliate links to nearest Amazon store.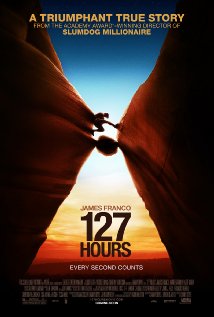 127 Hours, directed by Danny Boyle (Slumdog Millionaire), stars Academy Award Nominee James Franco (Pineapple Express, Spiderman), Kate Mara (Iron Man 2, Entourage TV series), and Amber Tamblyn (The Grudge 2, House TV series) in a film based on the true story and book "Between a Rock and A Hard Place" by Aron Ralston, a dare-devil outdoors-man who gets trapped under a boulder while canyoning alone in the Utah mountains.
The film opens with images of people carrying out repetitious mundane daily life tasks while Ralston gathers equipment from around his apartment, shoving the contents into a backpack. In one scene he turns on a faucet to fill his water bottle and in another, his hand is fumbling around on a shelf searching for his Swiss Army Knife that was just a couple of inches from his fingertips—which has to be left behind.
Franco stars as Ralston, an extremely experienced outdoorsman who finds himself at the bottom of a narrow canyon, his right forearm wedged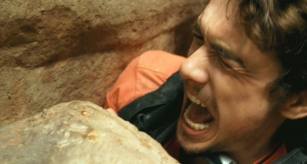 by a massive boulder, with no way to contact anyone for help. Frantically trying to budge an immovable boulder from his hand, like an animal caught in a trap, Ralston tried desperately to pull himself free. Sensing the emergence of the moment, Ralston begins to assess his situation by emptying the contents of his backpack onto the very boulder that binds him: a video camera, a pocket all-purpose tool, and a bottle of water.
I am certain that many people who have not yet seen 127 Hours already know about what happened in the actual story, and knows how the film will end. So I will spare you the gory details of his being trapped, deprived of food and water—which results in drinking his own urine and enduing a montage of dizzying memories and regrets, leading up to the graphic depictions of his escape. However, what is phenomenal about watching this film was that in some way, I watched as if I were reliving those disheartening and brutal events. I empathize with Ralston. I even applauded when he finally broke free from the last fleshy remnants of his arm and then was able to walk away a freed man.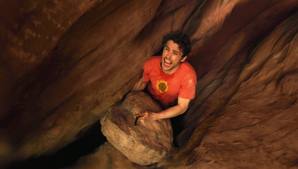 Ovations to Franco for making such a believable and harrowing experience, worthy of his Oscar Nominated performance.  The film only deals with one actor, Franco, who carried the entire film sequences, solo. When you watch the film, you "get" that the character, portrayed as overly confident, and overly independent, lived for the day, pursuing every waking moment to feel alive—then be humbled by the realization of his vulnerabilities that began to surface. I did not fail to appreciate the fantastic cinematographic effort and talent taken to bring to the screen the beauty and the vastness of the Utah Mountains, and the convincing, narrowed claustrophobia of Ralston's once reality.
I refuse to accept "the real" Aron Ralston's boulder entrapment as a tragedy—or describe his survivalists' actions as an "unexpected" turn of events—or begin to over sensationalize Boyle's successful ability to magnify Ralston's idiocies. There is nothing heroic about watching an individual exercise poor judgment by hiking alone, falling into a canyon, and forced to lose an arm.  However, I applaud this film and director's ability to depict human frailty and how we should never take life, and the people we love, for granted.
Just before the credits ran at the end of the movie, viewers were privy to the news that Aron Ralston was doing well and that he never stopped doing the things he had done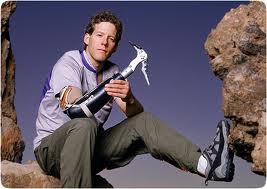 before. He continues on, adventuring—maybe with a little less fervor than he once had. I began to envy Ralston's freedom and his ability to continue to live his life adventuring and taking risks and still abandoning the monotonous tasks that life puts forward for a chance to appreciate the true beauty of nature and the natural world that surrounds. There just are not many of us who are able to do this—and why not? Just as long as you are sure to leave a note behind to say where you are.
127 Hours on Blu-ray includes over an hour of gripping, behind-the-scenes footage. The cinematography of the Blu-ray will allow viewers to experience the high-definition footage of majestic views of the Blue John Canyon and will even get to see the intimate scenes where Ralston was trapped in the narrowed crevice. The soundscape of the dessert available in 5.1 DTS HD Lossless surround sound and the Blu-ray format offers viewers the highest quality, cinematic visual experience.
127 Hours Blu-ray Disc features
Disc 1:  127 Hours Movie
Commentary with Danny Boyle, Christian Colson & Simon Beaufoy discussing how the film was made and the performance by Franco as Aron Ralston.
Search and Rescue – The events that aided the search and rescue of Aron Ralston.
127 Hours: An Extraordinary View – A unique collaboration between the director and actor.
Deleted Scenes and alternate ending – Not wanting to spoil the details of the alternate ending featured within the extra's list–it gave great insight on some of the details surrounding the rescue of Aron Ralston.
God of Love: short film by Luke Matheny.
Disc 2:
127 Hours DVD features
Commentary with Danny Boyle, Christian Colson & Simon Beaufoy.
Deleted Scenes

127 Hours is rated 'R' for language, disturbing, violent content, and bloody images.
All image credit: IMDb
We are influencers and brand affiliates.  This post contains affiliate links, most which go to Amazon and are Geo-Affiliate links to nearest Amazon store.
When AIDY isn't writing poetry, she likes to write film reviews. If she is curious about something she seen or heard, she'd maybe write about that, too.