We are influencers and brand affiliates.  This post contains affiliate links, most which go to Amazon and are Geo-Affiliate links to nearest Amazon store.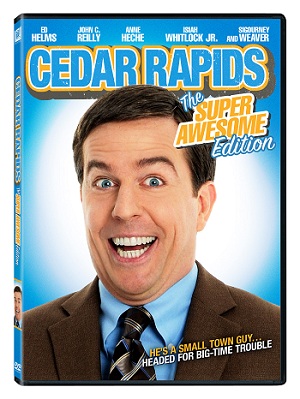 Cedar Rapids (2011) is a comedy directed by Miguel Arteta and written by Phil Johnson and stars Ed Helms (The Hangover I & II), John C. Reilly (Step Brothers, Cirque du Freak), Anne Heche (Donnie Brasco), Isiah Whitlock Jr (25th Hour), Sigourney Weaver (Aliens), and Stephen Root (King of the Hill voice Bill Dauterieve) in a brilliant indie film about a naive guy who has no idea what he is in for when he is sent to Cedar Rapids, Iowa.
What happens when you take a socially naïve guy out of the safety and comfort of his small, Midwestern town and throw him into the mix of influential, socially adept and grizzled party goers? Quite possibly, the most hilarious movie I've seen in a long time. Readers, I would like for you to meet the folks over at BrownStar Insurance.
"If you want to survive in this business, you got to dance with the tiger!"
Welcome to BrownStar Insurance, located in Brown Valley, Iowa. The company has won the coveted '2 Diamond Award' and the home of Tim Lippe (Helms), a 30-something insurance agent who prides himself for taking the straight path to success in life. Tim has never had a drink of alcohol, never smoked or done drugs. He is completely satisfied with his life, his lover–who was his former seventh grade teacher (Weaver), and of course, his job. After BrownStar's "golden-boy" Roger Lemke (Thomas Lennon) dies, Tim was appointed to take is his former colleague's place, and attend the insurance convention to deliver the speech that would ensure the company's win of a Diamond award for the fourth straight year.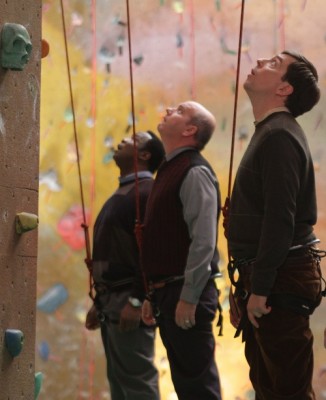 However, there's a problem. Tim never left his hometown. His boss (Root) didn't help matters either. He warned Tim that if he were to encounter certain people at the convention–he must avoid them at all costs–but it wouldn't be a great movie if he did what his boss told him to. So Tim packs his bags, dons his geeky fanny-pack, bid his lover, and hometown, a fond farewell and heads for the foreign land of Cedar Rapids, Iowa.
To Tim, the temptations of Cedar Rapids are wonders to behold; from the rental-car lot, to the string of hotel chains and malls, he finally arrives at his destination–oblivious to the "come ons" of the hotel prostitute–Bree–asking him for a light for her cigarette. He, instead, gives her a butterscotch and continues on his way. Once to his room, he's surprised to meet the new members of his fellowship–Ron (Whitlock), an insurance agent practically married to his business, and is as nerdy as Tim. He also meets the "Foxy" Joan (Heche) who relishes in her time away from her family–but the real fun of the trip begins when Tim meets Dean–"Denzy" (Reilly)–with his raunchy and creatively dirty dialogue. Dean sets the entire crew up on an eventful venture to self-discovery–making this a totally unexpected, inspirational film.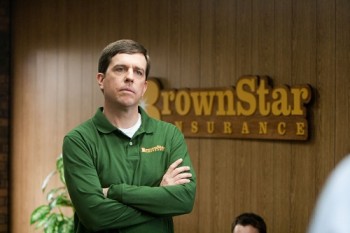 Tim and his crew get involved in a bit of everything; from performing in the convention's talent show, to participating in a scavenger hunt, involving a bit of rock climbing. Everything is a new experience, or "enlightenment" for Tim–including him dabbling in a bit of alcohol, marijuana, and gets involved in a steamy, drunken affair with Foxy after a night of Denzy induced shenanigans.
From Tim's integrity-built persona to Dean's outlandishly loose candor, Cedar Rapids, is a wonderfully written script by Phil Johnson, and is brilliantly directed by Miguel Arteta, and it's a film one would not want to pass up. What I enjoyed most about this film is that it took Tim's moral-built-personality, and pairs it up with a group of individuals who aren't as morally influential. It does show that it isn't always easy to trust everyone you meet, but when people prove just how much they can be trusted, eventually, these experiences turns out to be an inspiration–for each of them. Each actor demonstrates solid performances, and I got to experience a bit of variety in the social situations Tim haphazardly gets himself into.
Overall, Cedar Rapids is the optimal comedy for adults. Special features on the DVD are just as enjoyable as the film itself–including the "Top Notch" commercial, persuading you to buy Top Notch insurance.
[xrr label= "'Cedar Rapids (2011)' movie rating" rating=4/5]
[youtube width="555″ height="261″]http://www.youtube.com/watch?v=f9VspqcwtJQ[/youtube]
Cedar Rapids DVD Features:
Deleted Scenes
Dinner with Macy
Song Dedication
Cart Ride
Fire Extinguisher Fight
Goodbye to Bree
Cabin Extras
Gag Reel
Mike O'Malley – Urban Clogger
Tweaking in the USA
Wedding Belles –  Crashing a Lesbian Wedding
Top Notch Commercial
[easyazon_block asin= "B004X8AIE8"]
Image credits: Fox Searchlight
We are influencers and brand affiliates.  This post contains affiliate links, most which go to Amazon and are Geo-Affiliate links to nearest Amazon store.
When AIDY isn't writing poetry, she likes to write film reviews. If she is curious about something she seen or heard, she'd maybe write about that, too.