I had the honor to test and review the MPOW MBOX . This little  speaker was something  different that I have never used before . To be honest I wasn't expecting much from this based on other Bluetooth speakers that I have seen in stores but I was pleasantly surprised as a result of testing it.
When it showed up I was thinking how cool it was that this was my first time testing out a Bluetooth speaker, I had been used to reviewing keyboards, mice, and other peripherals, but Bluetooth speaker is a first. I open the pack and see this plain white box with a blue strips and  a small picture with some labeling on it .  This was a no thrills type off packaging to me.
This company definitely didn't put the product in an oversized box, the speaker was a tight fit for the box itself no waste of cardboard here as you can tell from the pictures.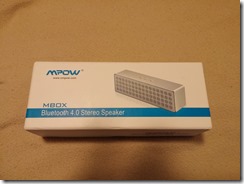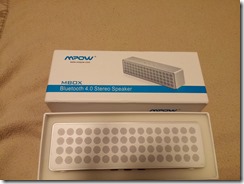 So as I open this package I find in it  the normal stuff a line in cord and a USB charging cord. I also find an instruction Manual . The thing that blows me away is the modern look of the speaker . The aluminum alloy housing and sleek look that it has, most will be plastic square or rectangle speakers, typically black with no discernible style. But this speaker, reminded me of a place I visited the other day with some modern light fixtures that I wanted for my house . This look was a big plus in my book for the speaker that is for sure, but we know a Bluetooth speaker is about sound quality first, but hey how it looks sitting on a desk, table or on a piece of furniture has to count for something too.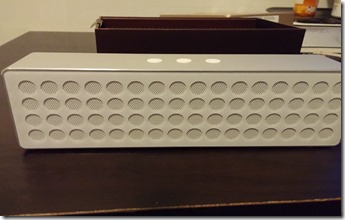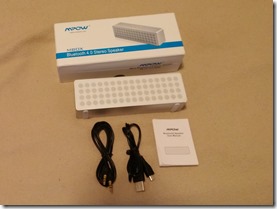 So as I pressed on and I started to read the instructions and hook the speaker up . For those who are familiar with Bluetooth speakers it is pretty standard, for those who aren't just know that it was easy to use . I even had my 12 year old kid try  it and see if it was easy for kids to use.  Yes it was that easy to use and pair with a device which was even better.  As many of you know you buy stuff and yours kids end up with it half  the time. So no need to help them with this they can get it with no issue . I tried the speaker out playing song after song and was like why is it so quiet? . I just thought I was right at first that it was like the rest if the speakers I seen in store low volume and no thrills . Well I was wrong it was my phone settings as I adjusted the settings  this little speaker got better and better . You can hear the  treble and bass . The lows and highs with ease . So I decide to test the distance  to see how far you can move away from this speaker with your phone . In my house with walls I would say 25 feet . In straight lines a good 30 feet before it started to break up from my testing. This in my book was a good distance, and not many people will have it that far away anyways or else it would mean you are trying to listen to your tunes from a completely different room!
On the back of the Mpow Mbox you have the power, USB and line-in slots and button . On the top of the device you have the play and forward and reverse. Which also functions as volume and bluetooth pairing.
You can also check out my Mpow Mbox review unboxing video  here:
So as the night went on, I keep using this speaker for even calls and it works better then I even thought it would. The wife even got in on this and started using it to my amazement also since it was a Star Trek night . She thought this speaker would be great for a picnic at the park or the beach.  When all is said and done the Mpow Mbox is a nice Bluetooth speaker well worth the price. I would give this speaker a solid 4.5  stars for the look and a half start for ease of use and function. If your in the market  this would be a nice choice to get.
Disclaimer:  Mpow sent us one of the Mbox Bluetooth speakers so that we could do an honest and accurate review of the product, all opinions are 100% mine and mine alone.
Hi everyone I'm James Braga. I was born in Oregon and moved to New Hampshire a few years back. I love most things that have to do with video games and electronics, It doesn't matter if it for a car or a house, if it has electricity in it i will love it . I'm also in school for Information Systems Technology.