Mpow Swift Bluetooth headphones are a very cable set of headphones.  They are Bluetooth 4.0, stereo and you can use them has hands-free calling.  an added feature I liked was the ability of the Mpow Bluetooth headphones to support two connected Bluetooth devices.  This is great for those, like me, who use a phone primarily for calling and a tablet for media consumption.  I may do a podcast or two off my phone but most of my podcasts and music is heard via my tablet and not having to pair the device each time I wanted to switch sources was a big plus.
In the box you get the headphones, a USB cord to charge the headphones.  You also get multiple configuration for in ear comfort and stability.  I can't say I am the most active person but I did some work around the house, jumped on a treadmill and ran some errands and never did the headphones come out.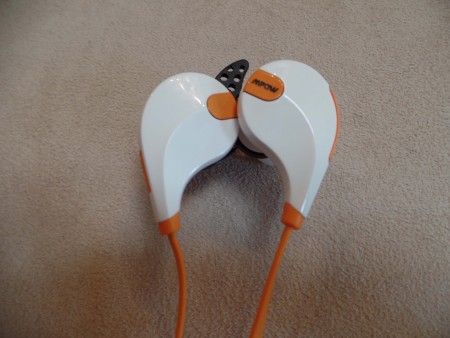 Sound quality is good with  podcast, music and a movie I watched all sounding good and perfectly acceptable for a Bluetooth earbud.  The Mpow Bluetooth Earbuds are designated as noise canceling and with the right setup of the ear buds outside noise is minimal.  A couple of times the wife tried to talk to me and I didn't hear her from 15 feet away or so while the earbuds were in, so this is the risk of the job I guess.
Orange might not have been my color of choice but I am a Bronco fan so it worked out for me.  The actual piece that sticks into your ear and has the volume controls on it is big but a trade off for having easy access to the volume and power controls.  I am fairly vain and I didn't mind the way they looked when I wore them.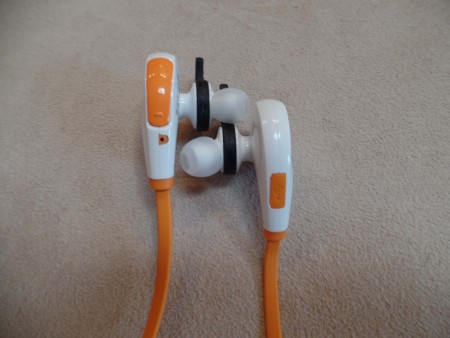 The Mpow Swift Headphones volume controls on the headphones also can act as jump to next song or last song controls.  You can answer, decline and end a call right from the headset controls.  Answering a call on the iPhone did require answering on the headphones and on the phone which seemed like a glitch as accepting a call on the Bluetooth device should have answered the call.  I also paired it with my wife's Galaxy S5, my Nexus 7, and my Carbon X1.  Phone calls as well as Skype calls where all of good quality and voice clarity was very good.
Expected battery life is 5 hours.  I got pretty close to that with pretty consistent use, and in my tests I got right around 4.5 hours.  Obviously more would be awesome but  I feel like this is still really solid battery like a set of chargeable headphones.  I really like the Mpow Swift Bluetooth Stero headphones.  These are my first pair of Bluetooth Headphones to date.  But I an recommend these to anyone needing a multi use pair of Bluetooth headphones.  Whether that is for hands free calling or just for wireless media consumption.