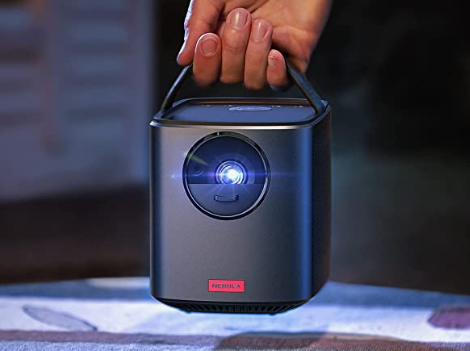 Looking for a portable projector to enjoy a night of movies with your family or friends?
When you want to spend time with your family or friends watching a movie is possibly one of the best ways to entertain yourself healthily. Using a projector may be the best solution if you want to expand the playback size. Portable projects have become popular the latter and it is now possible to get them for an incredible price. You need to be careful when trying to buy a portable projector. Cheap portable projectors often offer a lousy picture, so you probably wouldn't want to have a bad experience when you're trying to spend a nice time with your family or friends. Investing a little money in a good projector could significantly improve the playback quality, so you can view the content in high quality.
Among one the best outdoor projectors are the NEBULA Mars II Pro 500 projector. Not only can this projector transmit the image of a computer or mobile device, but it can play directly from the projector using popular applications by pre-installing, so you will not have to necessarily connect to a computer. You will certainly have a pleasant time using this portable projector. Next, discover the most interesting features of this product.
Video Showcase of Mars II Pro Projector
Why chooses this projector?
NEBULA is a brand that is part of the renowned manufacturer ANKER, so you will have the certainty of receiving a high-quality product, unlike most common projectors. Another important fact is that unlike cheap projectors this projector does not need a connection to your computer or cell phone to work, you can directly use the applications pre-installed on the projector, but you can connect your cell phone or computer if you wish.
Features of the NEBULA Mars II Pro 500 outdoor projector
The NEBULA Mars II Pro 500 outdoor projector will surely help you spend pleasant moments with your family or friends. The main feature of this projector is that it can reproduce a sharp and bright image at all times. This project reproduces an image in a native HD resolution of 720p (1080 x 720). Another feature of this projector is that it can be used outdoors and get a sharp image even if there is still a little light around, so if you prefer to enjoy a movie outside the home surely this projector will be useful in that situation. This projector can offer up to 3 hours without the need to reload which will be enough to enjoy up to 2 movies, plus it will fully charge in just 3 hours. You will get a clear image thanks to the 500 lumens that this projector can offer. Please note that when the battery level is below 20% the number of lumens will be reduced to 200 to ensure optimal performance. An interesting feature is that you will be able to stream the screen of your PS4 or favorite console, using the HDMI port, so you will be able to play using a large screen. Powerful speakers are included for clear sound at all times. Another fact to keep in mind is that you won't be able to share the screen of apps like Netflix if you do it from a mobile device, instead, use the app directly from the projector. Finally, inside the box is included everything you need to start using the projector immediately (charger, control, manual).
Summary
If you want to spend pleasant moments with your family surely the NEBULA Mars II Pro 500 projector is what you need. It is a high-quality projector with a lifespan of up to 30,000 hours, so it will surely be a long time before change this projector. The only disadvantage is that its price is somewhat high compared to ordinary projectors, but you should know that this projector can work on its own, so you will not have to connect a device mandatorily. A great purchase.
You can buy this item here: Amazon.com: Outdoor Projector, Anker NEBULA Mars II Pro 500 ANSI Lumen Portable Projector, Native 720P, 40-100 Inch Image TV Projector, Movie Projector with WiFi and Bluetooth, 3Hr Video Playtime, Watch Anywhere : Electronics