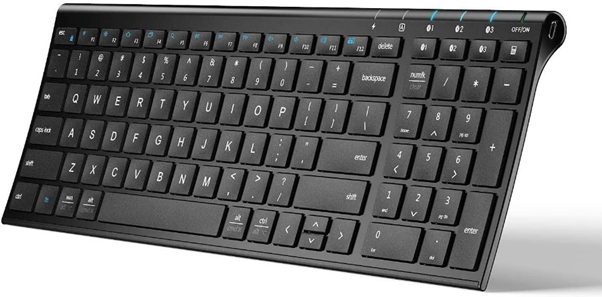 Looking for a wireless keyboard that offers you comfort when typing for a long time?
When we need to type for a long time, we might end up tired if we use conventional keyboards. Not all keyboards are designed to type, so not always a gamer keyboard is best if you are looking for something that allows you to write comfortably during your writing work. If you're looking for something for work or college, then you need to use a keyboard with low keys so you can type quickly. Normally low-key keyboards are usually membrane, this can also improve the comfort of writers, so it can be a good option if you think your keyboard is not doing the job well.
Before choosing a keyboard, also know if you are looking for a wired or wireless keyboard. I think nowadays we should all use a wireless keyboard. Computers need a lot of cables to work and as you know, that gives your room or office a bad look. Wired keyboards are also a great option if you don't want to recharge the battery, but keep in mind that wireless keyboards can last more than 80 hours on a single charge, so you decide it's better. Also keep in mind that typing keyboards aren't designed for optimal gaming, and I mean you can play using this type of keyboard, but they don't usually have RGB lights or anything like that.
One option to consider is the iClever BK10 Bluetooth keyboard. A keyboard with a simple appearance, but very useful for when you need to type for a long time, so, your wrist will surely thank you. Below, discover the most interesting features of this product.
Features of the iClever BK10 Bluetooth keyboard
Ergonomic design so you can write without getting tired
The iClever BK10 is designed to make people feel comfortable typing for a long time, so this will probably be much better than most expensive gaming keyboards (based only on typing tasks). This keyboard is built with stainless steel and ABS to ensure long service life. The keys are also designed to have a long service life and can withstand up to 3,000,000 keystrokes. The iClever Bk10 keyboard is lightweight, so you can place it almost anywhere without problems.
Compatible with 4 operating systems
The wireless keyboard is not only compatible with Windows and Mac OS, but you can also use it on your Android and IOS mobile devices thanks to Bluetooth connectivity. And if this wasn't enough, you can connect up to 3 simultaneous devices and choose between one of them without any problem.
Bluetooth 5.1 for a stable connection
If you are looking for a reliable Bluetooth keyboard, then it is necessary to have the latest Bluetooth version, so you can have an incredibly stable connection. The iClever Bk10 includes the most up-to-date version of Bluetooth 5.1 so you can get the best experience. As if that were not enough, the Bluetooth range is up to 33 feet so you can use the keyboard without having to be in front of your computer.
Long-lasting rechargeable battery
The battery of the iClever Bk10 keyboard is quite amazing. You can use this wireless keyboard for up to 90 hours without having to recharge it. A charging cable is included so you can charge it easily. It includes a feature that will automatically turn off the keyboard after 30 minutes of inactivity, saving power when you forget to turn it off the keyboard.
You can buy this item here at Walmart
My name is Joel! I love to read, I go to university like most people my age.
In my free time I usually train boxing, I love music, I also know how to play the guitar and the harmonica.