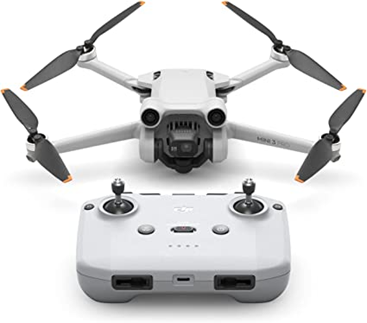 Do you need a good-quality drone that allows you to get 4K recordings?
Drones are very fun remote-control vehicles that also allow us to obtain incredible recordings. Drones are also used for professional recordings, but it is common for many people to use them for their recordings. You can do many things with a drone (record the landscape, get film and spectacular sports recordings). Unlike in previous years, it is now much cheaper to get a drone of very good quality, although you must be careful, you can find hundreds of cheap drones that do not always meet expectations, so it is better to invest a little and get something that can work well.
I would say that the most popular brand in terms of drones is "DJI". This brand is characterized by offering drones of very good quality, most of its models can allow us to obtain recordings in 4K. And no, I do not mean the fake 4K that many brands try to sell us, DJI offers us an authentic 4K of very high quality, so you can use them in your social networks without any problem. I think this is one of the reasons why many people choose DJI and not another brand, it has a good reputation and of course, they are very popular on YouTube. Perhaps the prices of these drones are a little higher, but it is worth it if you are looking for a product with good specifications.
The Mini 3 Pro model is a great option to consider if you're looking to try a DJI drone. This drone is compact and lightweight, so you can take it anywhere without any problem. Great performance and an optimized battery so you can use it for more than 30 minutes. Below, discover the most interesting features of this product.
Features of DJI Mini 3 Pro Drone
Lightweight design so you can take it anywhere
The DJI Mini 3 Pro weighs just 249g, so it works incredibly well while at heights. The compact size makes it very easy to carry in a backpack. No worries, this drone does not require registration.
Good autonomy
The DJI Mini 3 Pro's battery allows you a flight type of up to 34 minutes, so you can use it for a long time without worrying about the battery. The duration of the bacteria can vary depending on the height and functions you are using. Note that the charger is not included, but you can use a 30W cell phone charger.
4K 60fps camera
We know that many cheap drones offer us a ridiculous 4K that does not exactly look good. The DJI Mini 3 Pro not only allows us to record in 4K but also allows us to record in the same resolution at 60fps, so you can get a recording of the best quality. You can also take photos of the same quality.
Smart Features
No matter what you are recording, this drone allows you to enhance all your recordings with smart features. You can use object tracking, timelapse, MasterShot, and many more. Some of these features allow you to follow an object automatically, this can be useful if you are looking to get sports recordings. They will also allow you to improve your cinematic recordings
You can buy this item here: Amazon.com: DJI Mini 3 Pro – Lightweight and Foldable Camera Drone with 4K/60fps Video, 48MP Photo, 34-min Flight Time, Tri-Directional Obstacle Sensing, Ideal for Aerial Photography and Social Media : Toys & Games
My name is Joel! I love to read, I go to university like most people my age.
In my free time I usually train boxing, I love music, I also know how to play the guitar and the harmonica.