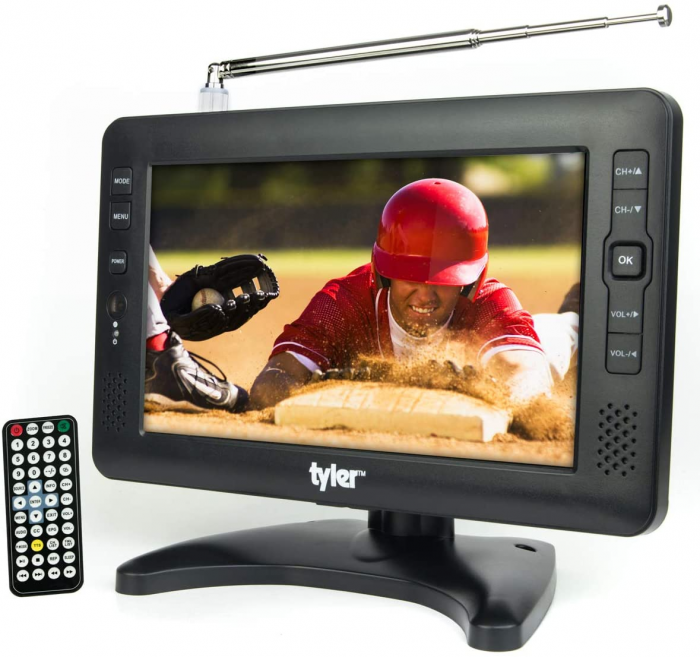 Looking for a TV to wear during travel?
This amazing portable TV is the ultimate solution. There is no excuse to be able to watch the news no matter where you are. It is an interesting invention that will make his life easier. It is available in two versions. This television works like any television. It includes all connections so you can play games, connect USB, and more. It includes a stand so that it can be installed in the car. Simply turn on the TV and enjoy the channels thanks to the signal antenna (included). This compact TV is specially built for places with little space. It is comfortable and easy to use. This TV is a perfect gift for your child. This amazing TV is an excellent purchase for your home and best of all, it is available at an incredible price. This portable TV is available on Amazon.
Features of the Tyler 9" Portable TV
The Tyler 9" Portable TV is an excellent compact device ideal for places with limited space. It includes many interesting features. And it has a good quality screen of 9″ enough to visualize the images in good detail. This compact TV includes all the functions to be able to make the most of it. The compact 9″ display includes LCD technology that allows you to view a clearer and sharper image at all times. The most interesting thing about this portable TV is that it includes a rechargeable battery, this is incredibly useful and really allows you to use the TV no matter where you are. The battery can last up to 4 hours and is perfect to avoid missing your favorite program, news or sports match. The kit of this portable television includes all the accessories to use the television immediately. It includes a good quality antenna that is enough to tune the most important channels without paying. The portable TV also allows you to use this TV as a monitor and works on video game consoles (ps4, ps5, Xbox one). You can connect this TV to external audio outputs. This portable TV includes 2 high-quality speakers that are powerful enough to hear a clear and loud sound. In addition, it includes a control to manipulate the television in a more comfortable and fast way. The portable and compact TV is illuminated and displays the information at all times, you can know the level of charge when it is on. Includes a power adapter to charge it. The Tyler 9″ portable TV is an excellent purchase for your home. It is perfect for trips or places with reduced space. This spectacular portable TV is available on Amazon.
Summary
If you are looking for a compact TV for travel or places with little space the Tyler 9″ is what you need. This spectacular portable TV includes everything you need to get a clear picture. With this television, you can stay informed at any time and no matter where you are.
You can buy this item here: Amazon.com: Tyler 9″ Portable TV LCD Monitor Rechargeable Battery Powered Wireless Capability HD-TV, USB, SD Card, AC/DC, Remote Control Built in Stand Small for Car Kids Travel : Electronics
My name is Joel! I love to read, I go to university like most people my age.
In my free time I usually train boxing, I love music, I also know how to play the guitar and the harmonica.