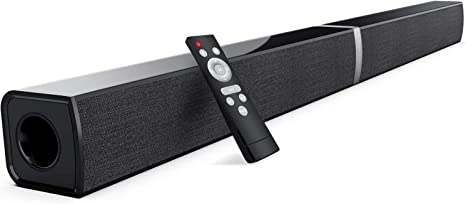 Looking for a soundbar to increase the volume capacity of your TV?
Enjoying an afternoon of family movies can be interrupted if your TV plays a low sound level, although most televisions usually incorporate good quality speakers and cannot always cope with noisy environments, so adding a soundbar could significantly improve the sound quality and experience. Soundbars allow you to greatly increase the sound capacity, so you get a louder sound, and also allow you to use the television even in noisy environments. Soundbars are usually easy to install, and you will only need a few minutes to add them to your TV.
Among one the best options to improve the sound of your TV is the MZEIBO soundbar. It is a bar with great sound quality at an affordable price, so this should solve the low sound level, in addition to improving the sound quality. This soundbar offers interesting features such as the possibility of dividing the bar into two parts for a more balanced sound. Available for less than $100 is undoubtedly one of the best options to consider. If you are looking for a soundbar with these features you would surely like to know more about this product.
Features of the MZEIBO TV Soundbar
MZEIBO has designed an incredible soundbar that will allow you to increase the sound quality, in addition to increasing the sound capacity, so you can use this bar in noisy environments. The main feature of this soundbar is how easy to install. To start using the soundbar simply add the bar to one of the ports on your TV (HDMI ARC, AUX, or Bluetooth 5.0). The necessary cables are included inside the box, so you don't have to worry about buying individual cables. Another interesting feature is that this soundbar can be divided into two, which allows you to place the bars on both sides of the TV instead of just having a full bar, this will work well if your TV is very large. Splitting the soundbar will also allow for a better-balanced sound. Surely one of the most interesting features of this bar is its 4 high-quality speakers, each speaker offers power, so you can get a loud sound in your room, ideal for playing movies and music. This soundbar also includes a remote control for a faster setup. The remote control allows you to lower or raise the volume, as well as adjust the settings of the soundbar. Inside the box, you can find everything you need to start using the soundbar immediately.
Summary
If you feel that your TV plays a low sound you should seriously consider purchasing the MZEIBO soundbar. It is a soundbar with 4 powerful speakers, plus it can be split in two for a more balanced sound. The soundbar is easy to install, and everything you need to start using it immediately is included.
You can buy this item here: Amazon.com: Sound Bar, MZEIBO Detachable TV Soundbar 50W Bluetooth 5.0 Sound Bars 4 Speakers Deep Bass Home Theater TV Speaker with HDMI, Optical, RCA, AUX Connection Remote Control : Electronics