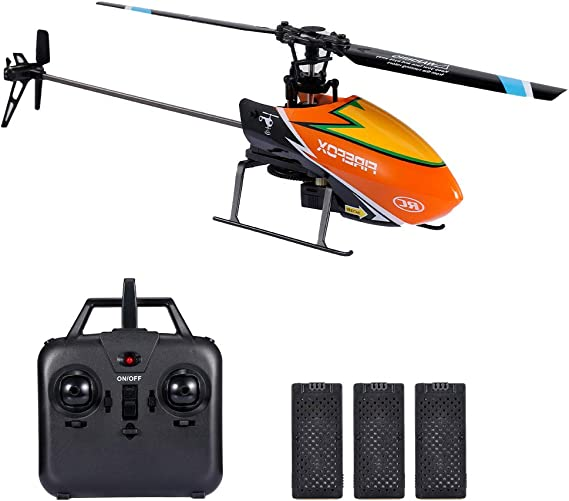 Looking for a high-performance remote-controlled helicopter, but at an affordable price?
Helicopters are one of the best creations that man has made, so it is common for many people to dream of traveling sometimes and even being able to pilot them. The truth is that helicopters are too expensive and getting a license can be a headache. The good news is you don't need to spend thousands of dollars on a full-size helicopter, you better save all that money and buy a remote-control helicopter that you could pilot with great ease, so if you're an aviation lover or know someone who is, it will certainly be a fun gift. In my opinion, helicopters are more entertaining than drones, since they retain the essence unlike drones with boring designs.
As I mentioned earlier, remote control helicopters are toys that could offer a lot of fun time with the difference that you won't have to spend hundreds of dollars. The price range varies depending on the manufacturer, but less than $100 is sure to get a high-quality product. The only downside to a remote-controlled helicopter is that they don't include cameras (at least most), but that shouldn't be a problem considering you'll be using it near your house.
One of the best options to consider is the GoolRC C129 remote-controlled helicopter. It is a remote-control helicopter that can be used by adults and children, so if you do not have much experience using these types of toys you will not have to worry. Without a doubt one of the best gifts that any aviation lover would like to have. Next, discover the most interesting features of this product.
Features of the GoolRC C129 remote control helicopter
The GoolRC C129 is a fun remote-controlled helicopter that promises to eliminate boredom. The main feature of this remote-controlled helicopter is the 6-axis gyroscopes which considerably improve the stabilization of the helicopter, so it will be easier to maneuver. Another feature is that the remote control uses a 2.4 GHz connection that allows you to use the helicopter at a distance of up to 100 meters (if you exceed that distance the helicopter could lose the signal). This helicopter is designed without eaves to ensure better stabilization even during light wind, so if you are a beginner sure to fly this helicopter will be an easy task. Another of the most interesting features is that it includes an intelligent function that allows locking the height of the helicopter, so it will be easier to control. The usage time is about 15 minutes and 60 minutes to charge the helicopter, this should be enough for you or your children to have fun.
Summary
If you are looking for a fun gift for you or your loved ones, surely the GoolRC C129 remote-control helicopter is what you need. This helicopter is easy to use and offers good stability even during a light wind. Make sure you don't exceed the recommended maximum distance or you'll lose the signal.
You can buy this item here: Amazon.com: GoolRC C129 RC Helicopter for Adults and Kids, 4 Channel 2.4Ghz Remote Control Helicopter with 6-Axis Gyro, Aileronless RC Aircraft with Altitude Hold and 3 Batteries (Orange) : Toys & Games
My name is Joel! I love to read, I go to university like most people my age.
In my free time I usually train boxing, I love music, I also know how to play the guitar and the harmonica.