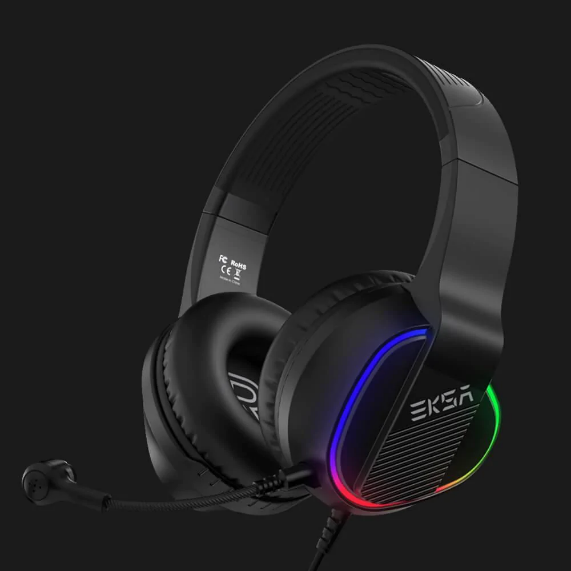 Looking for a reliable headset to play for long hours?
Choosing a good headset will always be a problem for the vast majority of gamers, especially if you don't want to spend a lot of money. With the immense number of manufacturers, it can be a difficult task to choose the best gaming headset. The good news is that you no longer need to spend a lot of money to get a reliable, good-quality headset. It is possible to get a good Headset for an affordable price, so they are certainly a great option that you should consider.
One of the gaming headsets you should be aware of is the EKSA® E400. These headsets will certainly help make your gaming experience much more comfortable, so you will surely be able to improve your performance in competitive games. They will be easy to use and above all comfortable. Best of all, you can take advantage of the discount available on the official EKSA website. There is currently a 73% discount, so instead of paying $47.99 you will be able to get them for only $12.99, this is a great deal that you can't waste. Remember that the offer will only be available for a limited time. Before buying it, you would surely like to know more about the characteristics of these headphones.
Features of the EKSA® E400 gaming headset
The EKSA® E400 Headset is certainly a great option to consider if you are looking for good quality Headset, but that is available at an affordable price. The main feature of this Headset is that they work with cables, so you will be able to experience a stable connection at all times. Although the Bluetooth connection is not available on these headsets you should keep in mind that you will no longer have to worry about charging the Headset, simply connect the Headset to the port of your computer and you can use them immediately. The connection will work thanks to the 3.5 mm cable, and you can also use this Headset on a large number of computers (including PC, PS4, PS5, Xbox One, Tablet, and many more). Another feature of these headsets is how powerful they can be thanks to the 40mm drivers. The driver not only offers high sound quality but also allows you to take advantage of surround sound for better immersion while playing, this will allow you to play competitively and gain an advantage over other players. This Headset also stands out for the comfort they can offer, this is achieved thanks to the breathable pads, so you can feel comfort in each of the ears, in addition, the pads are made of memory foam that makes them sweatproof. These Headsets include LED lights for an authentic gamer experience. This Headset also includes a microphone, plus you can use the function to reduce outside noise. The included controller will allow you to lower or raise the volume, plus you can mute the microphone. Inside the box is included everything you need to use the Headset immediately.
Summary
If you are looking for a good quality headset, but that is available at an affordable price you should consider the EKSA® E400 gaming headset. Using the 73% discount available on the official ESKA website you can get this Headset for only $12.99. Without a doubt, a good Headset will improve their performance in games. Ideal for use on PC, game consoles, and tablets.
You can buy this item here: EKSA® E400 3D Stereo Sound Gaming Headset- EKSA