Need a way to unwind and de-stress while improving your bodies circulation and thermal energy? LifePro's portable heating sauna blanket will help you feel better by eliminating toxins and helping you to relax and enjoy deep sleep. You will find that our portable heating blanket will help you to feel better and relax. The best way to detox at home is to do it at home rather than going to a spa and spending a lot of money! I've used quite a few different Sauna devices and this one is by far the most interesting. So without further ado, let me tell you a little bit about LifePro's product.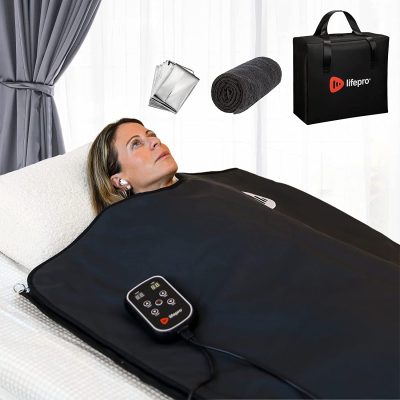 Features
LifePro's infrared sauna allows you to sweat like never before while becoming more relaxed and burning calories while doing it. Use the sauna wrap to boost your body's thermal energy and increase circulation for just 30 minutes, 4 times a week. This provides a number of health benefits, including reducing your risk of a heart attack! Regain your health and vigor! LifePros home sauna's far infrared light penetrates deeply to promote healing. Your immune system will be strengthened as you unwind and enjoy being covered in the sauna blanket. What a fantastic value!
On top of all this the LifePro Sauna Blanket is good for the skin! A good steam opens all your pores and allows for easier cleaning of contaminates caught in the skin. A few sauna sweats a week and you'll be feeling like a brand new you in no time! The blankets far infrared stimulates tissue growth and fills the user with energy allowing you to recover quickly after a hard day. A good bit of relaxation has never killed anyone so why not give it a try! Your blanket comes in a lightweight package that allows for easy storage and is extremely fold friendly! This makes for an especially easy, quick to store blanket which given how bulky these can generally be makes for quite the nice point in its favor! It's made of fantastic non-toxic materials, comes with multiple detox wraps, and reaches a temperature of up to 176 degrees to promote fat loss and detoxification .
All in all, LifePro is known for its fantastic wellness products, and this is no exception. The numerous health benefits combined with the various features make it an absolute blockbuster of a product, but they went even further including a soft head towel and again multiple detox wraps!
We are giving you a chance to win one for yourself!  All you have to do is enter below and note that only a USA address can be eligible to receive the prize and there are no substitutions for this one.
Enter to Win LifePro Far Infrared Sauna Blanket

Enter to win the LifePro Far Infrared Sauna Blanket


I am just a 25 year old doofus who enjoys rpgs, sugar rushes, and passing out at odd hours.