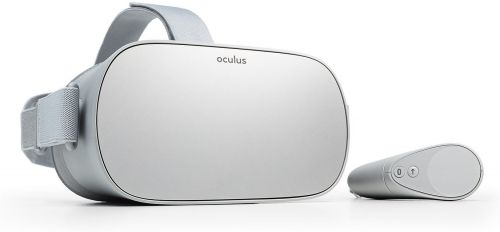 Virtual Reality in gaming has taken over the gaming market by storm and being able to play on consoles as well as PC is something that is pretty standard these days. However, the mobile market is also of importance with people wanting to be able to lay back and plug a headset into their smartphone and watch Netflix or play a few games. The Oculus Go is a mobile VR headset that does just that and it is by a name in VR that you can trust.
The Oculus Go is a very lightweight headset that isn't going to put a lot of strain on the users head or feel too tight. The lenses provide a very wide range field of view with very significantly reduced glare and thus providing a very crystal clear picture.
The Integrated Spatial Audio has speakers built right into the headset so no need for any additional earbuds or headphones and they also provide some very clear audio. This device also does not require any sort of additional cables or hardware as everything is built right into the headphones themselves. The only thing you will need is to download the Oculus Companion App on your iOS or Android device.
Lightweight headset with injection foam
Oculus Lenses that provide an excellent field of view
No need for additional hardware
Wide Quad Fast Switch LCD