With everyone getting SSD drives lately you may not want to throw out your old HDD drives just yet, why not turn them into external storage devices that give you the ability to access your data or archive your data without taking up that precious space on your more expensive SSD drive.
This is where the ORICO SATA USB Hard Drive Docking Station comes in.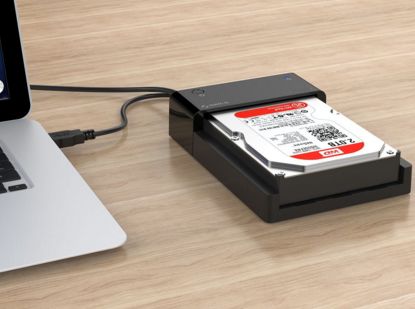 What you get is a USB Docking Station that allows you to plug in your SATA III drive whether it be SSD or HDD and plug it into any USB 3 port in your laptop or PC.  The tool free installation means you can simply plug and play your drives into the docking bay.  It supports a max capacity of 8TB SATA Hard Drive and comes equipped with a 12V power adapter to make sure that drive is powered.   The bottom line is if you store software, photos, music, or more then keep them accessible via a USB drive and free up your SSD for the immediate running applications.  If you upgrade or replace your existing HDD with a newer SSD with lower capacity, this is a great option for keeping all the data on your old drive accessible if you don't have a hard drive bay inside your PC available, or you don't have a spare bay in your laptop.  This docking station also supports 3.5″ or 2.5″ drives so doesn't matter which type you have!
Enter to win the ORICO SATA USB Hard Drive Docking Station Now!
ORICO Tool Free SATA USB Hard Drive Enclosure Giveaway