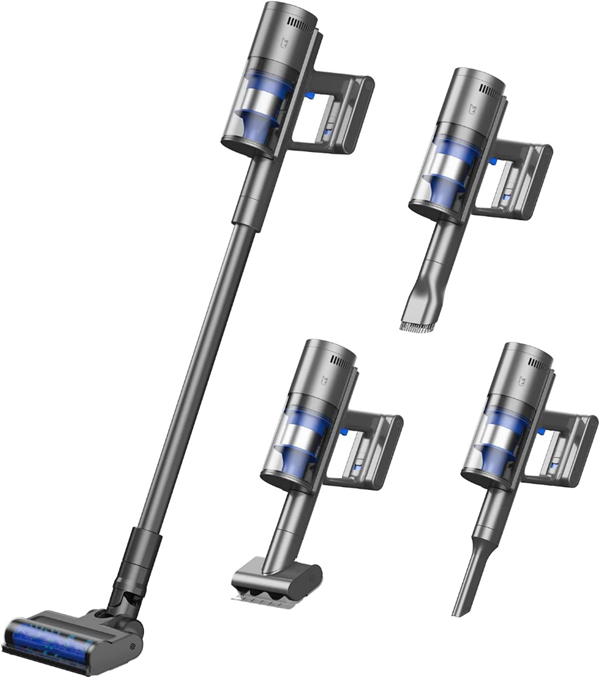 Looking for a powerful cordless vacuum cleaner to clean your home easily?
Cleaning at home is not always a fun task, but it is important to keep the home free of dust if you want to avoid giving it a bad look, in addition, dust can create serious problems for the health of people. When it comes to cleaning the home there are many products that will be of great help to achieve it, but without a doubt that the vacuum cleaner is one of the best products if we want to get rid of the annoying dust in the home. Most people usually choose a traditional vacuum cleaner or a robot vacuum cleaner, both are great, but a cordless vacuum cleaner will surely work in more places compared to a robot vacuum cleaner.
The cordless vacuum usually offers a higher suction power compared to the robot vacuum cleaner, but both have many advantages, the robot vacuum cleaner can do much of the cleaning d automatically, but having a cordless vacuum cleaner will also be of great help to achieving cleaning in places where the robot vacuum cleaner can not work. The price of a cordless vacuum cleaner can vary depending on the power and smart features, so find some cheap brands, but if you do not want to worry about clogging, then investing in a good cordless vacuum cleaner is the best recommendation.
The OSOTEK cordless vacuum cleaner is a great option to consider if you are looking to get rid of dust and dirt in your home. This cordless vacuum cleaner is incredible in all aspects, it offers a high level of suction power, so you can clean your home in a much easier and faster way. The battery also offers a great performance so you can complete the cleaning on a single charge. Next, discover the most interesting features of this product.
Features of the OSOTEK cordless vacuum cleaner
If you are looking to vacuum dirt on all types of floors then the OSOTEK cordless vacuum cleaner is what you need to try. This is not just any vacuum cleaner, this is a high-powered cordless vacuum cleaner, this means that this cordless vacuum cleaner is capable of offering a suction power of up to 33000pa (a robot vacuum cleaner usually offers a suction power of 2000pa). The power is incredibly efficient no matter what type of floor, which ensures that your home ends up clean after using the cordless vacuum. Worried about tangled hairs? For the OSOTEK cordless vacuum cleaner that is not a problem, it is equipped with horizontal blades to cut tangled hairs, which will be of great help if you keep in mind that this is one of the main problems of cheap cordless vacuum cleaners. The electric motor offers a power of 750W and you can choose between 3 levels of suction. Battery life is another important aspect, a single charge allows you to use this cordless vacuum cleaner for up to 60 minutes (using eco mode), which is enough to clean most of your home. Although the eco mode is a lower power mode, it still has up to 5 times stronger suction power compared to most robot vacuum cleaners. Finally, you should know that the OSOTEK cordless vacuum comes with a friendly 2-year warranty.
You can buy this item here on Amazon
My name is Joel! I love to read, I go to university like most people my age.
In my free time I usually train boxing, I love music, I also know how to play the guitar and the harmonica.